My 1985/86 Gitane Professional

11-26-09, 11:47 PM
Senior Member
Join Date: Oct 2008
Location: Syracuse, NY
Posts: 209
Bikes: 1978 Raleigh Team Record, 1979 Motobecane Mirage, 1985 Gitane Professional
Mentioned: 0 Post(s)
Tagged: 0 Thread(s)
Quoted: 0 Post(s)
My 1985/86 Gitane Professional
---
Not sure if many of you remember but a little over a month ago I came upon a too small 1984 Gitane Team Pro on the local CL for a price I couldn't let pass even though it wasn't my size.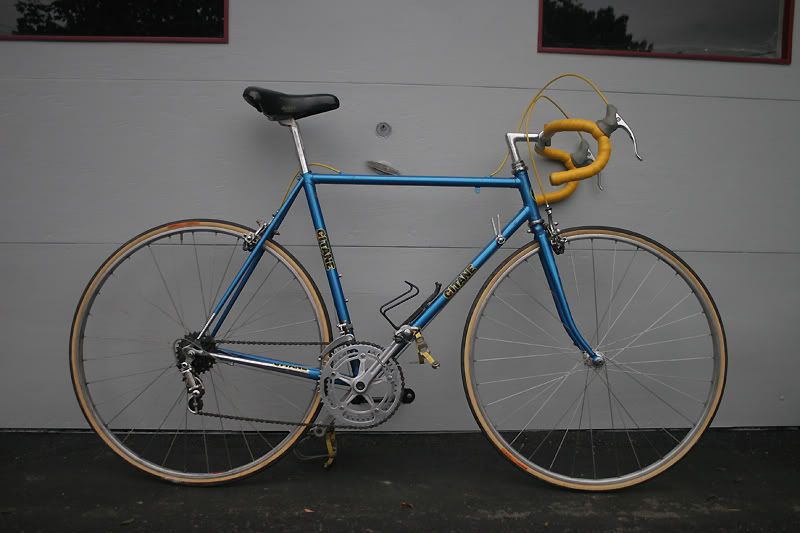 My original intent was to flip it right off of the bat, but I also left the option open that if I could find an equal frame in the right size I would be up for a trade, not thinking I would actually find someone. But then a member of the Gitane USA message board sent me a message saying he had an 85/86 Professional frame that was too large for him and needed a frame the size of the one I had. A few weeks later and that 85/86 frame is here and my 84 is in the mail
I just finished building it up with full Campy NR that I stripped off of the '84 at my buddies shop on Tuesday and was able to snap some pictures this morning before heading off for Thanksgiving festivities. I still have a few more things to do to it before I have it right where I want.
And now for the photos!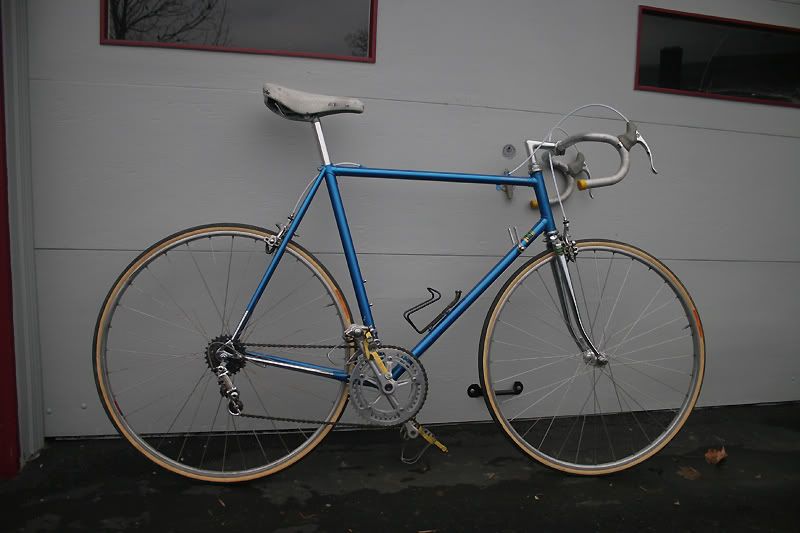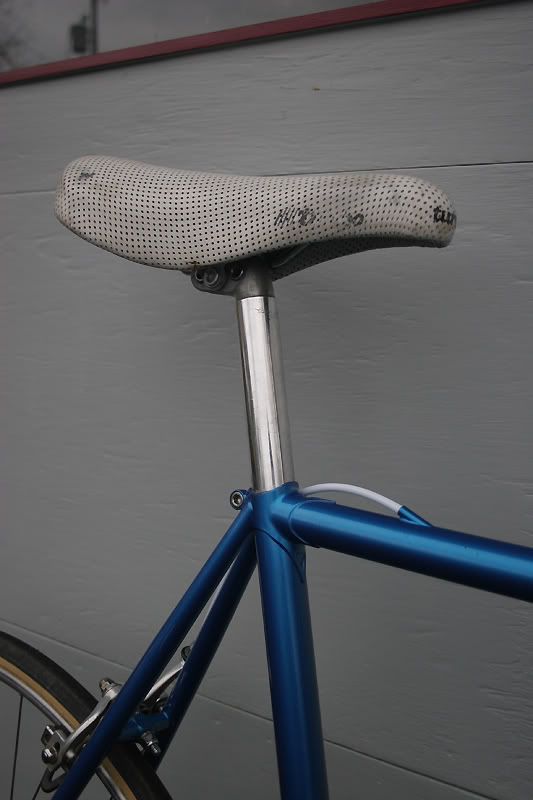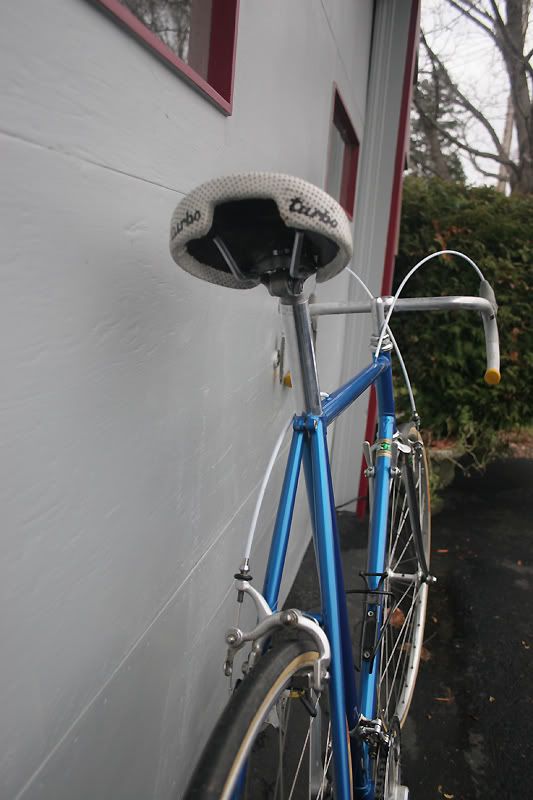 According to the previous owner the frame was sent to some team in Cali which is why it is lacking all of the usual Gitane Decals, he did include a set of 1984 Decals, I'm still deciding if I want to use those or if I want to get the correct year decals. The earlier ones are more minimal and subdued.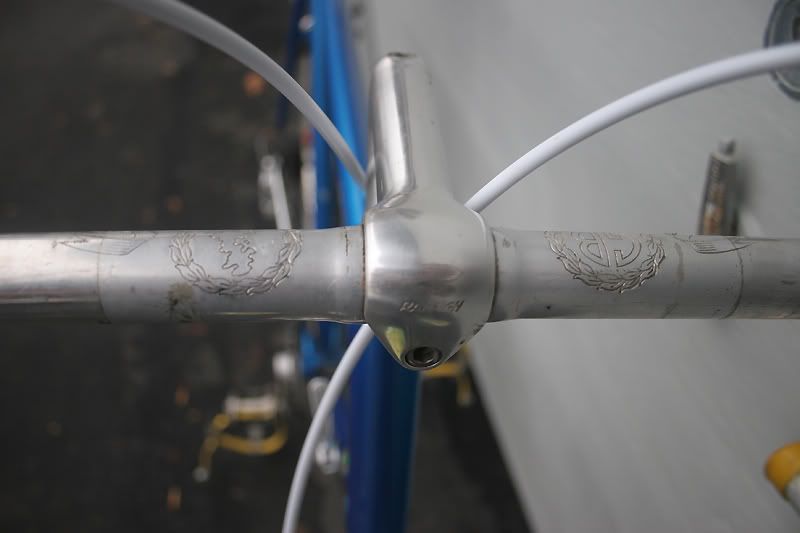 Yes I am going to wrap the bars, but first I need to replace with Raleigh stem and GB bars with some more correct Cinelli bits(if anyone has any and needs some Raleigh bars and stem....). But right now it's the end of the season so I'll wait until I have the right stuff before wrapping.
So far I haven't taken it on any long rides yet, just a quick run around the neighborhood to make sure everything is meshing. But just from that I gotta say, the ride of this bike is PHENOMENAL! It's amazing the difference the 531c has over the regular 531p that my Raleigh Team Record has, along with the super smooth Ofmega hubs and the tubulars. This bike just wants to go, and go fast, it's no wonder this design has 3 Tour de France wins! I had a huge grin on my face the whole time I was riding this bike.
Oh aaaand I have under $200 invested into this bike including the original price, buying the right seat post and seat, mailing out my frame, and other misc. parts and labor to build it up...

11-27-09, 12:22 AM
Я люблю суп
Join Date: Jul 2008
Posts: 1,248
Mentioned: 0 Post(s)
Tagged: 0 Thread(s)
Quoted: 1 Post(s)
Congratulation, that is a beauty. The Gitane Pro is on my list of "got to have". Love the fast back and the electric blue.

11-27-09, 08:24 AM
Bianchi Goddess
Join Date: Apr 2009
Location: Fort Wayne, In
Posts: 25,419
Bikes: Too many to list here check my signature.
Mentioned: 84 Post(s)
Tagged: 2 Thread(s)
Quoted: 1150 Post(s)
beautiful bike.
__________________
Bianchis '87 Sport SX, '90 Proto, '90 Campione del Fausto Giamondi Specialisma Italiano Mundo, '91 Boarala 'cross, '93 Project 3, '86 Volpe, '97 Ti Megatube, , '90 something Vento 603,

Others but still loved,; '80 RIGI, '80 Batavus Professional, '87 Cornelo, '09 Motobecane SOLD, '?? Jane Doe (still on the drawing board), '90ish Haro Escape

11-27-09, 08:54 AM
Senior Member
Join Date: Sep 2007
Location: Scottsdale, AZ
Posts: 4,466
Bikes: many
Mentioned: 0 Post(s)
Tagged: 0 Thread(s)
Quoted: 17 Post(s)
My apologies for hijacking your thread, but I still can't post new threads. You would think that the IT people would have anticipated this problem or at least fixed it by now.

At any rate, I wonder if we should start our own informal frame exchange to trade same or similar models of C&V frames for fit purposes. This forum has to be the largest general C&V forum in the US.

11-27-09, 09:19 AM
#39
Join Date: Dec 2007
Location: Mountain Brook, AL
Posts: 7,039
Mentioned: 23 Post(s)
Tagged: 0 Thread(s)
Quoted: 320 Post(s)
French or English size stem? (Guessing English re: Raleigh stem)

11-27-09, 12:39 PM
Senior Member
Join Date: Oct 2008
Location: Syracuse, NY
Posts: 209
Bikes: 1978 Raleigh Team Record, 1979 Motobecane Mirage, 1985 Gitane Professional
Mentioned: 0 Post(s)
Tagged: 0 Thread(s)
Quoted: 0 Post(s)
English, Gitane went to English sizes and threading in 1978.

RFC: there is a trade thread in the Marketplace, it isn't frame specific though.

11-27-09, 02:35 PM
#39
Join Date: Dec 2007
Location: Mountain Brook, AL
Posts: 7,039
Mentioned: 23 Post(s)
Tagged: 0 Thread(s)
Quoted: 320 Post(s)
__________________
72 Frejus, Holdsworth Record & special CNC / 74 Italvega NR / c80 ?French? / 82 Raleigh Intl MkII / 83 Trek 620 / 87 Centurion IM MV / 03 Casati Dardo / 08 BF IRO / 09 Dogma FPX / 10 Vassago Fisticuff
For Sale: Litespeed Classic 53cm /
THIS POST

Posting Rules
You may not post new threads
You may not post replies
You may not post attachments
You may not edit your posts
---
HTML code is Off
---