Italian - English thread compatability question

03-05-10, 10:13 PM
Senior Member
Join Date: Feb 2010
Location: Chattanooga, TN
Posts: 50
Bikes: Motobecane Grand Record
Mentioned: 0 Post(s)
Tagged: 0 Thread(s)
Quoted: 0 Post(s)
Likes: 0
Liked 0 Times in 0 Posts
Italian - English thread compatability question
---
I'm looking at a 70/80's vintage Italian Columbus tube frame. All the parts I have to build it up are English thread Campy SR. I've read that English and Italian threads are close enough to use, but not so much w Campy. Should I punt on the Italian frame? It's not a good enough frame to go to the trouble to replace all the components I have, but would be a good buy and nice ride. Thanks.

03-05-10, 10:34 PM
www.theheadbadge.com
Join Date: Sep 2005
Location: Southern Florida
Posts: 28,409
Bikes: https://www.theheadbadge.com
Mentioned: 119 Post(s)
Tagged: 0 Thread(s)
Quoted: 2366 Post(s)

03-05-10, 11:22 PM
Old fart
Join Date: Nov 2004
Location: Appleton WI
Posts: 24,720
Bikes: Several, mostly not name brands.
Mentioned: 153 Post(s)
Tagged: 0 Thread(s)
Quoted: 3479 Post(s)
Italian and English *headsets* are close enough to be interchangeable, but Italian and English bottom brackets are not.

03-06-10, 04:46 AM
Senior Member
Join Date: Apr 2007
Location: Thunder Bay, Ontario, Canada - burrrrr!
Posts: 11,639
Bikes: 1958 Rabeneick 120D, 1968 Legnano Gran Premio, 196? Torpado Professional, 2000 Marinoni Piuma
Mentioned: 210 Post(s)
Tagged: 0 Thread(s)
Quoted: 1361 Post(s)
Likes: 0
That said, it is generally not a good idea to mix-and-match threads on anything.

-Kurt
This is incredibly good advice for all of us!

03-06-10, 06:34 AM
Senior Member
Join Date: Aug 2003
Location: Tampa, Florida
Posts: 14,106
Mentioned: 40 Post(s)
Tagged: 0 Thread(s)
Quoted: 413 Post(s)
Likes: 0

03-06-10, 06:40 AM
Senior Member
Join Date: Apr 2009
Location: Detroit
Posts: 10,327
Mentioned: 6 Post(s)
Tagged: 0 Thread(s)
Quoted: 17 Post(s)
Likes: 0
If I were confronted with mismatched BB threads on a bike I really wanted , I would consider this $60 solution from Velo Orange: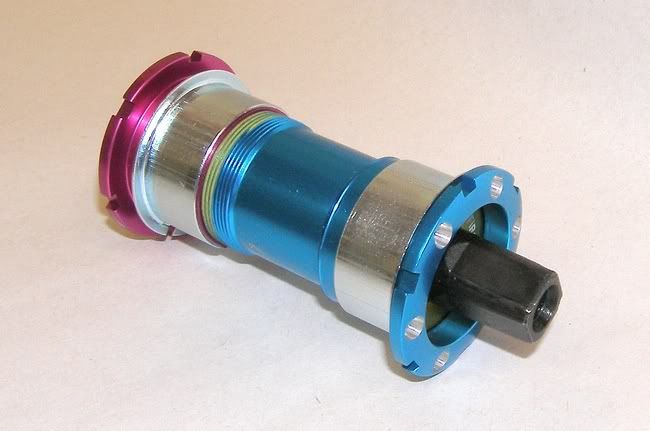 03-06-10, 02:07 PM
Veteran Racer
Join Date: Jul 2009
Location: Ciudad de Vacas, Tejas
Posts: 11,746
Bikes: 32 frames + 80 wheels
Mentioned: 26 Post(s)
Tagged: 0 Thread(s)
Quoted: 1316 Post(s)

03-06-10, 05:01 PM
Junior Member
Join Date: Aug 2008
Posts: 135
Mentioned: 0 Post(s)
Tagged: 0 Thread(s)
Quoted: 5 Post(s)
Likes: 0
Liked 0 Times in 0 Posts

03-06-10, 05:51 PM
Senior Member
Join Date: Mar 2005
Location: Pinole, CA, USA
Posts: 17,414
Mentioned: 24 Post(s)
Tagged: 0 Thread(s)
Quoted: 443 Post(s)
Likes: 0

03-06-10, 10:43 PM
Used to be Conspiratemus
Join Date: Jan 2009
Location: Hamilton ON Canada
Posts: 1,512
Mentioned: 4 Post(s)
Tagged: 0 Thread(s)
Quoted: 297 Post(s)
The derailleurs work in each other's derailleur hangers because there is not enough thread engaged for the 26 TPI to start binding against the 25.4. In hubs, you can thread a Shimano locknut (only 3 threads deep) onto a Campy axle no problem, but a Shimano cone will not work -- the mismatch eventually causes the cone to bind before it threads fully on.

(Back after a long period where I couldn't log in; the mods allowed me to use this new name.)
Thread
Thread Starter
Forum
Replies
Last Post

Posting Rules
You may not post new threads
You may not post replies
You may not post attachments
You may not edit your posts
---
HTML code is Off
---