1982 Raleigh Royal Touring Bicycle (Under Construction)

07-26-10, 03:02 AM
Marty
Join Date: Nov 2009
Posts: 12
Bikes: 1975 Raleigh Twenty (folding)
Mentioned: 0 Post(s)
Tagged: 0 Thread(s)
Quoted: 0 Post(s)
Likes: 0
Liked 0 Times in 0 Posts
1982 Raleigh Royal Touring Bicycle (Under Construction)
---
I'm currently part-way through building up this 1982 Raleigh Royal Touring bicycle: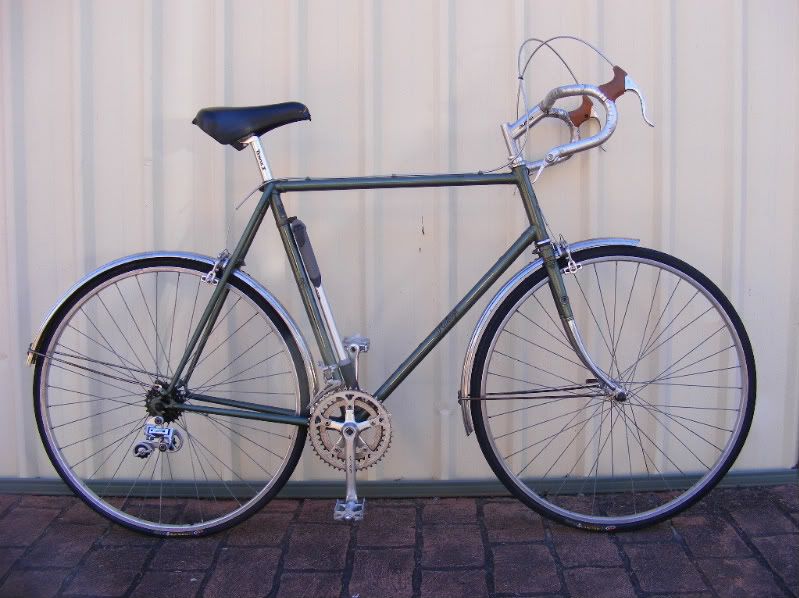 I bought it as a frame-only and have been slowly acquiring parts to build it up into a fully-functional touring bicycle. The frame is Reynolds 531 Double-Butted main triangle and forks, with hi-ten stays. It has a mixture of European and Japanese running gear.
1982 Raleigh Royal Frame (Made in Nottingham, England)
Alesa Wheels (Made in Belgium)
Zeus Pedals (Made in Spain)
42cm Touring handlebars (Made in England)
Dia-Compe Silver Shifters (going to replace these with suntour barcons)
Dia-Compe 610 Centre-pull brakes (good for both 700C and 27")
Sugino GT Triple Crankset
Suntour V-GT-Luxe Rear Derailleur
Suntour XC Front Derailleur
Shimano Golden-Arrow Brake Levers.
Stainless Steel Mudguards (anonymous 1980's stuff)
I'm going to replace the stem with something a little more suitable, and have a plain stove-pipe style seat-post and seat-clamp somewhere (have to find them!)
Stuff that I still need to get:
I'm bidding on a Brooks B17 saddle on ebay (hope I get that!)
Various P-clamps to sort out mounting the rear rack and mudguard
New Bottom-bracket to suit triple cranksets (this one only fits doubles)
7-speed free-wheel 13-15-17-19-21-24-32
And probably several more bits and pieces that I have forgotten to mention.
Without intending to, I've largely kitted it out with 1980's vintage stuff, except that the XC front derailleur in an early 1990's model. If I can get a genuine 1980's Suntour XC front derailleur, I'll use it.
---
Last edited by hartleymartin; 07-26-10 at

03:06 AM

. Reason: Forgot to mention a few things

07-26-10, 05:22 AM
Senior Member
That's a really nice looking frame. I suppose you're in Europe somewhere? It's funny to see a 1980's high-quality road bike with a light mount on the fork leg.

07-26-10, 05:43 AM
FBoD Member at Large
Join Date: Aug 2008
Location: Woodbury, MN
Posts: 6,246
Mentioned: 3 Post(s)
Tagged: 0 Thread(s)
Quoted: 30 Post(s)
Likes: 0
If you might be interested in a Mountech FD PM me. The FD didn't have the problem of the RD and has the range for your triple.

07-26-10, 07:55 AM
Senior Member
Join Date: Apr 2009
Location: Detroit
Posts: 10,327
Mentioned: 6 Post(s)
Tagged: 0 Thread(s)
Quoted: 17 Post(s)
Likes: 0
Your plans for it are right-on. New saddle, stem, etc., and you'll have a beautiful touring bike indeed.
__________________
- Auchen

07-26-10, 08:15 AM
Learning to Roll
Join Date: Jul 2010
Location: or
Posts: 385
Bikes: 72 Centurion rolled molly steel road bike
Mentioned: 0 Post(s)
Tagged: 0 Thread(s)
Quoted: 0 Post(s)
Likes: 0
Liked 0 Times in 0 Posts
That rear derailuer was first made in 1973 I believe it was top of the line for quite some time. I have that same one on my bike and it shifts like butter, Crazy for a 37 year old bike.
I love your drops, this bike is going to be sick!

07-26-10, 11:57 AM
Senior Member
Join Date: Dec 2006
Location: Colorado
Posts: 569
Bikes: Forty of them
Mentioned: 10 Post(s)
Tagged: 0 Thread(s)
Quoted: 99 Post(s)
Likes: 0
It's interesting to see how much things changed from your '82 to my '85. If I had that headlight mount I'm not sure I could resist putting on an old oil lamp

. They're great frames - enjoy.
Thread
Thread Starter
Forum
Replies
Last Post
Classic and Vintage Bicycles: Whats it Worth? Appraisals.
Classic and Vintage Bicycles: Whats it Worth? Appraisals.

Posting Rules
You may not post new threads
You may not post replies
You may not post attachments
You may not edit your posts
---
HTML code is Off
---