Brooks vintage saddle vs new

04-12-19, 11:18 PM
Junior Member
Join Date: Oct 2018
Posts: 21
Mentioned: 2 Post(s)
Tagged: 0 Thread(s)
Quoted: 16 Post(s)
Likes: 0
Liked 0 Times in 0 Posts
Originally Posted by
Salamandrine
spot on! thanks!

04-13-19, 01:23 AM
Senior Member
Good thread; surprised I haven't seen it before.

As the owner of 6 vintage Brooks saddles and four modern Brooks saddles, I can say it's my experience that the older saddles are very much thicker, stiffer and more durable. So if you like a softer, flexier ride (unlike me), buy a new one. I have a vintage Wright's W4N that's medium-soft and a Middlemore that's absurdly smooshy, but my vintage Belts and Adga's are all real hard, just like the vintage Brooks'.

A wide range of rides, and you just never know until you sit on it for 20 miles or so.
__________________
● 1971 Grandis SL ● 1972 Lambert Grand Prix frankenbike ● 1972 Raleigh Super Course fixie ● 1973 Nishiki Semi-Pro ● 1980 Apollo "Legnano" ● 1981 Miyata 1000 ● 1984 Bianchi Limited ● 1984 Nishiki Landau ● 1984 Peugeot Vagabond ● 1985 Trek 600 ● 1985 Shogun Prairie Breaker ● 1986 Univega Nuovo Sport ● 1986 Merckx Super Corsa ● 1987 Schwinn Tempo ● 1988 Schwinn Voyageur ● 1989 Trek 400 ● 1990 Cannondale ST600 ● 1993 Technium RT600 ● 1996 Kona Lava Dome ● And a Bike to Be Named Later ●

04-13-19, 05:04 AM
Senior Member
Join Date: Nov 2005
Location: NW Ohio
Posts: 2,445
Bikes: 1984 Miyata 310, 1986 Schwinn Sierra, 2011 Jamis Quest, 1980 Peugeot TH8 Tandem, 1992 Performance Parabola, 1987 Ross Mt. Hood, 1988 Schwinn LeTour, 1988 Trek 400T
Mentioned: 15 Post(s)
Tagged: 0 Thread(s)
Quoted: 210 Post(s)
I can't speak as to the suitability of the older Brooks saddles, but I have purchased three new B17 saddles over the past five years. All were treated with an application of Proofhide per the instructions prior to their first use. The first one took me some time to get used to, but that may be because that shape was new to me. The other two felt good right away. Now, I can't tell which is which, even though one has a lot more miles on it and one is practically new. They all feel the same, which is stiff enough to support, yet flexible to absorb bumps. None have the characteristic dimples where the sit bones make contact.

04-13-19, 05:34 AM
Freewheel Medic
@
jockstick
the now discontinued Brooks B5N came in black and utilized that design without any stitching. It is however narrower that the B17.
A NOS B5N is on the left and a vintage B15N is on the right.
__________________
Bob
Dreaming about riding in NH's summertime!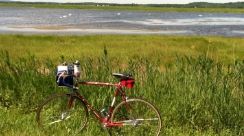 Visit my websites:
FreeWheelSpa.com
or
pastorbobnlnh.com

04-13-19, 09:43 AM
Extraordinary Magnitude
Join Date: Aug 2009
Location: Waukesha WI
Posts: 11,227
Bikes: 1977 Trek TX700; 1978/79 Trek 736; 1984 Specialized Stumpjumper Sport; 1984 Schwinn Voyageur SP; 1985 Trek 620; 1985 Trek 720; 1986 Trek 400 Elance; 1987 Schwinn High Sierra; 1990 Miyata 1000LT
Mentioned: 70 Post(s)
Tagged: 0 Thread(s)
Quoted: 1655 Post(s)
Agreed! I can't believe the entitlement of some of the cows these days.
"PC" is spreading to bikes- they don't even bother getting painted anymore.
__________________
*Recipient of the 2006 Time Magazine "Person Of The Year" Award*

Commence to jigglin' huh?!?!

"But hey, always love to hear from opinionated amateurs." -says some guy to Mr. Marshall.

04-13-19, 11:02 AM
Senior Member
Join Date: Oct 2015
Location: Los Angeles
Posts: 4,838
Bikes: 78 Masi Criterium, 68 PX10, 2016 Mercian King of Mercia, Rivendell Clem Smith Jr
Mentioned: 105 Post(s)
Tagged: 0 Thread(s)
Quoted: 1687 Post(s)
Likes: 0
I have several modern Brookses, and they are all 5.0 mm. I don't have any vintage Brooks saddles currently, but I don't recall them being substantially different. There was likely more variation.

04-14-19, 10:06 AM
aka Tom Reingold
Join Date: Jan 2009
Location: West Village, New York City
Posts: 36,983
Bikes: 1962 Rudge Sports, 1971 Raleigh Super Course, 1971 Raleigh Pro Track, 1973 Raleigh Twenty, 1974 Raleigh International, 1975 Viscount Fixie, 1982 McLean, 1996 Lemond (Ti), 2002 Burley Zydeco tandem
Mentioned: 413 Post(s)
Tagged: 0 Thread(s)
Quoted: 5301 Post(s)
That saddle finish looks, um, stimulating.

04-14-19, 11:54 AM
Senior Member
Join Date: Apr 2007
Location: Thunder Bay, Ontario, Canada - burrrrr!
Posts: 9,079
Bikes: 1958 Rabeneick 120D, 1968 Legnano Gran Premio, Rocky Mountain Cardiac
Mentioned: 142 Post(s)
Tagged: 0 Thread(s)
Quoted: 565 Post(s)
Likes: 0
I have owned and ridden older Brooks (seventies or earlier) and newer Brooks (84 and newer). I will take the older stuff every time. The older saddles look the vintage part and stand up really well, in my opinion. The newer ones do not seem to be as durable nor as attractive (again, an opinion).
Mid seventies Brooks Pro and had it since you know who was a boy...
1984 Brooks Pro bought NOS a few years ago...
__________________
Learn how to find, restore and maintain vintage road bicycles at...
MY "TEN SPEEDS"

04-14-19, 03:20 PM
Senior Member
Join Date: Jan 2007
Location: Ontario
Posts: 1,796
Mentioned: 6 Post(s)
Tagged: 0 Thread(s)
Quoted: 138 Post(s)
Likes: 0
Liked 0 Times in 0 Posts
My late 60s B5N has holes for laces but a smooth top. Also very narrow at just around 6". Feels great on the nether regions.
My 70s B15 has no holes and also a smooth top. Also around 6" wide but perhaps a little wider. Also feels good in an upright riding position.
My new (to me) B17 Champion Special (90s?) has no lace holes and a smooth top, around 6 3/4" wide. Haven't ridden any distance, and I am looking forward to see/feel how it goes as I had thought I liked the narrower version better. This one definitely has potential (just got it last week).
The only "new" brooks I have had is my B67 and its great. Had it around 10 years now and its soooo comfortable on an upright bike. But it had a distinct break-in to the extent I remember one day going "holy crap - this thing feels great" after several months of "hmm - what was all the fuss about?".
I also have what must have been a Wrights equivalent of a B15 that @
rhm
recovered as a "Kaydex No 5"....it doesn't get a lot of miles as its on a cool but uncomfortable bike (38 CCM) so jury is still out as it remains pretty hard.....
Finally, I have a Flyer S special that I thought my wife would like but I was mistaken. Its a gorgeous saddle but not very forgiving. Looks like @
randyjawa
's 84 above but shorter and sprung.....
As to overall quality they all seem equally well made.. I like the look of the older saddles but that is due to PO wear rather than anything specific to the generation of saddle.