Pinarello Veneto

08-18-10, 11:54 AM
Senior Member
Join Date: Aug 2010
Location: Toronto
Posts: 1,814
Bikes: Pinarello Veneto, Pinarello Montello, Bianchi Celeste
Mentioned: 2 Post(s)
Tagged: 0 Thread(s)
Quoted: 25 Post(s)
Likes: 0
Pinarello Veneto
---
pinarello veneto
I posted this in the forum under this one but noticed that this forum gets way more hits and a couple other members told me it's probably better to post on this forum than the other one so i just reposted in here. if the modorator can delete the other one that would be great, thanks. I got some info on the seat post and the chrome issue from the other forum, but there's a few other questions i could use help on., like what it's worth now and where i can find the catalogue for this exact model, and if anyone can give me an exact year of the bike, any help would be great!!....
Hey guys hows it going, just started biking again after many many years, i just picked up a couple rides and this is my most recent one.
i just joined the site and got a few questions for you guys.
this is a bike i just acquired about 3 weeks ago, it was covered in dirt/grease, a bit of rust and so on, i cleaned it up....
btw it is a pinarello veneto
BEFORE: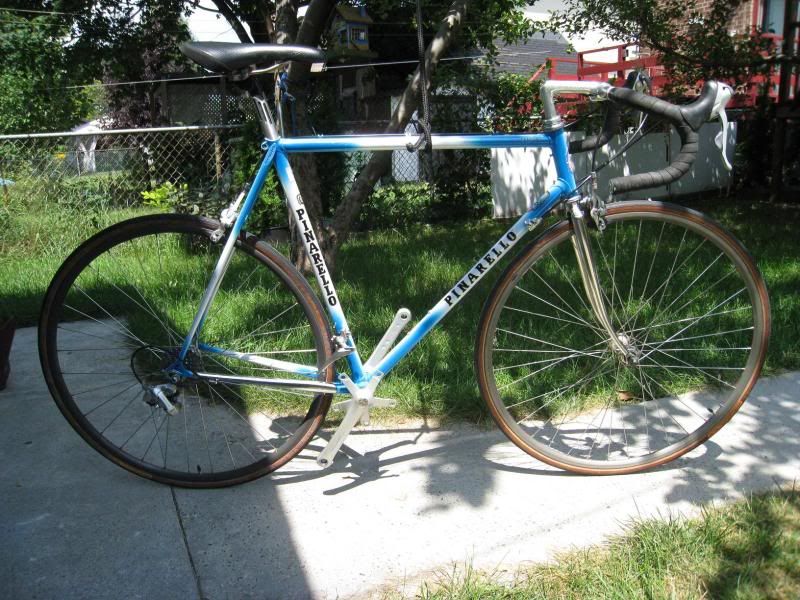 this is my finished product, pretty much just finished it today, new fizik seat, new handlebar wraps, new pedals, new vittoria zaffiro white tires, and a couple other things i can't remember right now, also grease bearings, cleaned out the cassettes and crank, and rebuffed the shiny parts with special metal buffing compound.
AFTER: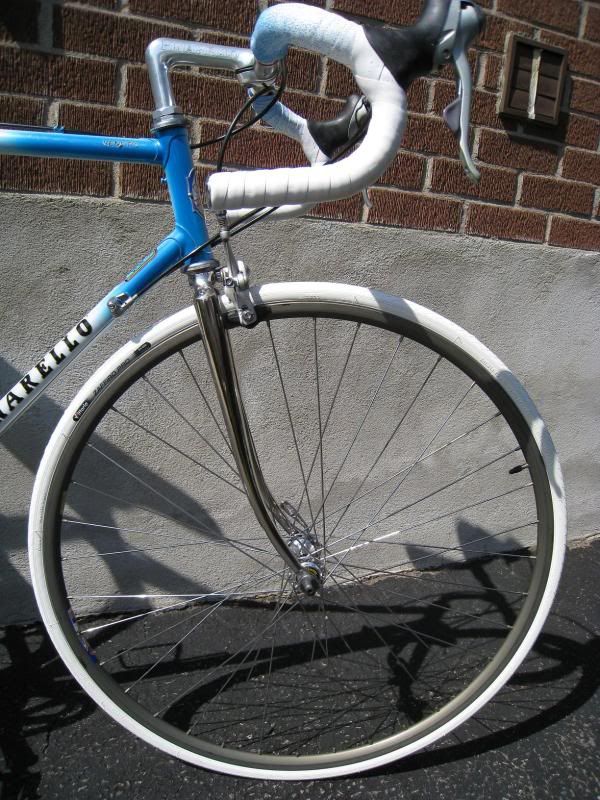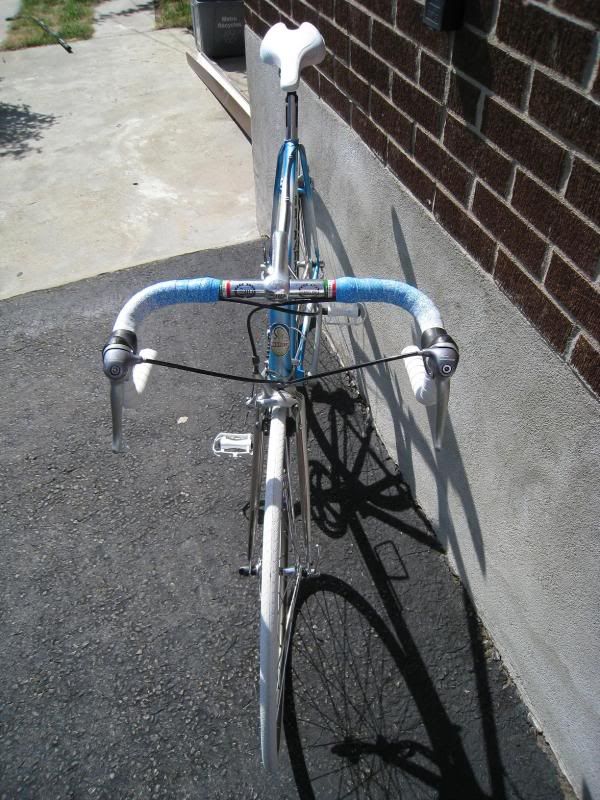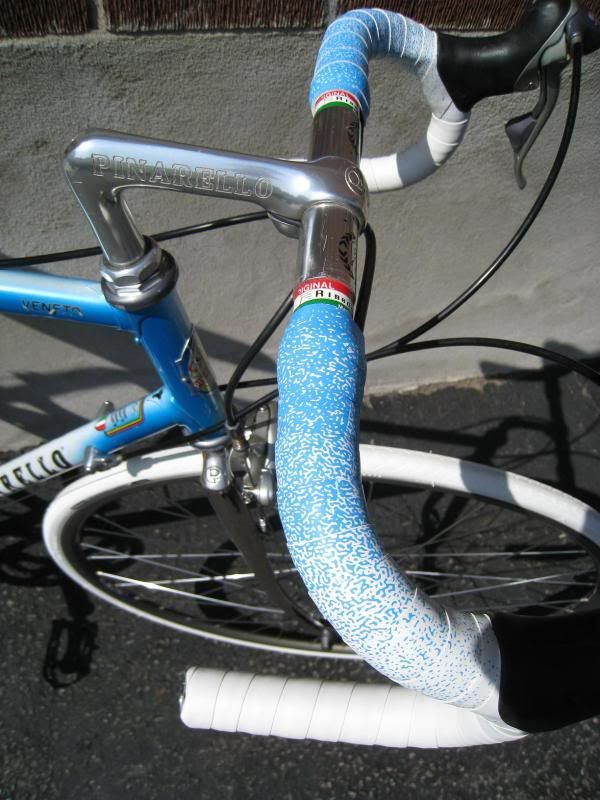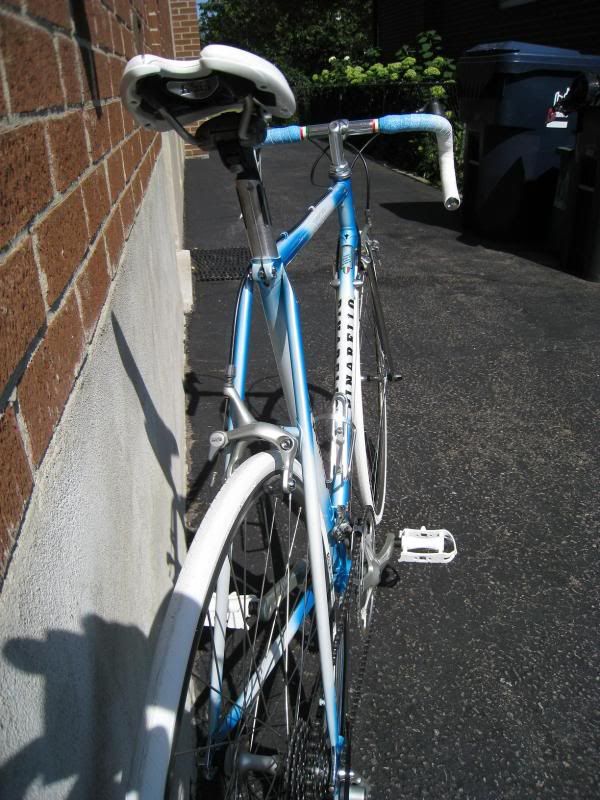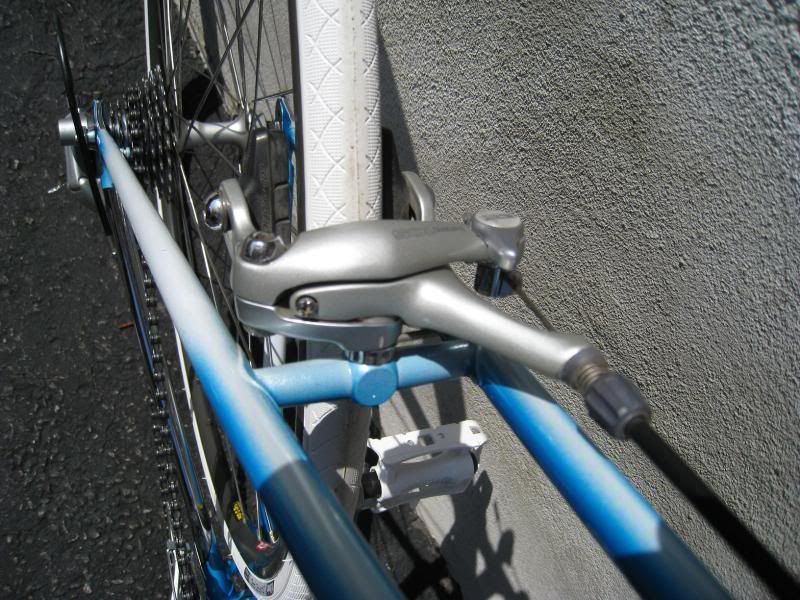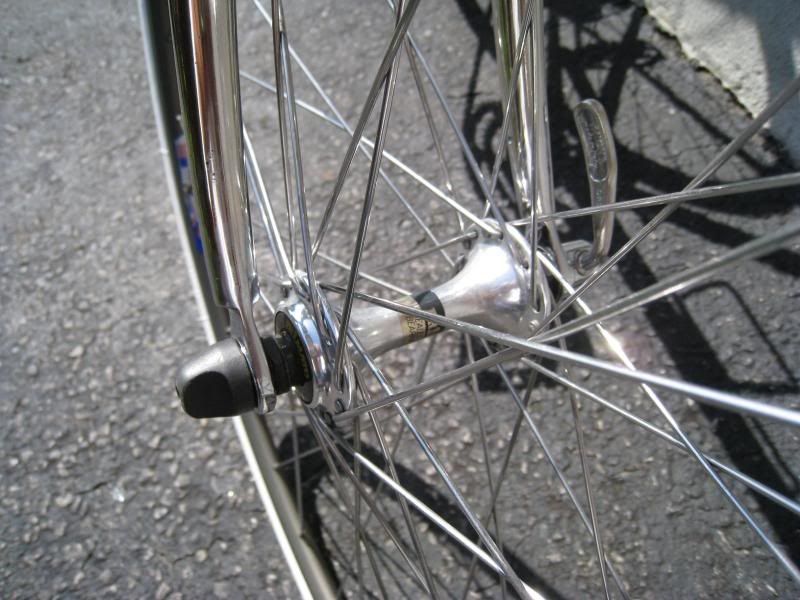 I have a few questions
1) i've seen sites like bulgier.net - /pics/bike/Catalogs/ and so on but i can't find a catalogue with this bike in it (pinarello veneto), i saw one that site but i don't think it's no where near the same year. what year is it? What did it sell for in it's time? Where this model stands in the pinarello line, mid-range, high, top? The shifters are the one's where you shift in the brake levers, for some reason i have a hunch this may have been upgraded from downtube shifters, but i could be wrong. any info on the bike would be fantastic cause i've had a hell of a time trying to find info on google.
2) What is this worth now approximately, it has shimano 105 group for everything and considering the fact that i've put all these new parts on it and cleaned it up nice and spiffy.
3) I wanted to change the seat post to find something super shiny and chromy, it is a 26.8mm seat post. The only thing i've narrowed it down to is a thomson elite silver seat post, do you guys know where i can get one super cheap, i just missed a brand new one on ebay that went for 35 bucks, i wanted to drop kick myself for that, i missed it by minutes. Or if you guys have another seat post you would suggest i get in size 26.8 that is super shiny then let me know.
4) the fork came out pretty shiny, but i was taking some rust off with 800 sand paper and may have put some scratches in it, i tried using 2000 grit to smooth it out and it worked a little, i still have some areas on the fork that look like it has a dull residue left on it. you can't really notice it, but i'm kinda nitpicky with that stuff, you guys have any tips for fully restoring the fork to it's original full shine? or chrome restoration, i'm assuming it's a chrome fork.
5) also some decals aren't so great, the veneto sticker near the headset is crumbling off like cookies, the ones on the frame are 90% ok, i head pinarello bikes are notorious for flaking or peeling decals, but that's the only bad thing i've ever heard, so i'll take that..... anyways how easy is it to get replacement decals for this bike, do i have to order straight from pinarello?
hope you guys like my ride, thanks for your time, if you can provide me with any information on any of this stuff it would be super duper greatly appreciated.
---
Last edited by mapleleafs-13; 08-18-10 at

11:58 AM

.

08-18-10, 03:10 PM
Senior Member
Join Date: Sep 2009
Posts: 629
Mentioned: 0 Post(s)
Tagged: 0 Thread(s)
Quoted: 0 Post(s)
Likes: 0
since you ask a 'what's it worth' question, i suspect your thread will be quickly moved to that forum. i also want to say your bike looks great. and also don't think you've brought its value up very much with the non italian gruppo, however nice looking and functional it might be. if you really want to boost value, i'd think a period correct campy set up would be the ticket, but that would be hard to do w/o finding a donor bike. unless you have one?

on the fork, too bad you hit it with the sandpaper. i think your best bet at this point would be to take the finest steel wool you can find, smooth those still visible areas with it when soaked with wd40, then follow with mother's metal polish.

i brought back a very pitted old chrome fork recently by using neverdul wadding.

08-18-10, 03:17 PM
Senior Member
Join Date: Jul 2009
Location: Toronto, Ontario
Posts: 489
Bikes: 1984 Nishiki Landau, 1991 Merlin Titanium, 199? Lotto MBK Team
Mentioned: 0 Post(s)
Tagged: 0 Thread(s)
Quoted: 0 Post(s)
Likes: 0
Liked 0 Times in 0 Posts
Very nice Pinarello. It looks somewhat like a Pinarello Veneto I sold at the beginning of the summer, but mine had a red and white "lattice" paint job.

To give you an idea of price, I sold mine after I cleaned it up really well for $450. This was in Toronto (where judging by your name, you are from) and I believe I achieved the maximum fair value in this market. I sold it in two days and probably could have got $500 if I asked and waited it out a little longer, but I don't like to gouge. I have seen a much crappier green Veneto for sale on the Toronto CL for a few months now. Obviously nobody is going that high as the Veneto was on the "lower" end of Pinarello's line up (aka probably a higher part of the mid spectrum bike).

Good luck!

08-18-10, 03:33 PM
Senior Member
Join Date: Mar 2007
Location: Saskatchewan
Posts: 2,465
Mentioned: 0 Post(s)
Tagged: 0 Thread(s)
Quoted: 3 Post(s)
Likes: 0
A Chorus grouppo would look really nice on that bike but I image it would cost what the frame is worth. But it may be easier to sell.
But if your going to ride it who cares if its period correct.

08-18-10, 03:55 PM
Senior Member
Great looking Pinerello, although I also commented on it in the appraisals section.
I'm also on the hunt for a seat post (and stem) so I'm curious to hear what the others say too. Currently, I've got a Campy Centaur grouppo on mine with, I believe, a black Thompson post, which I don't like. I'm looking for something to compliment my groupset, although if you do end getting a new seat post, we should talk about a sale on your old one (PM me).
Also, that Pinarello stem is gorgeous. Very classy. I'm on the hunt for that as well!
Good luck and beautiful ride!

08-18-10, 09:55 PM
Senior Member
Join Date: Aug 2010
Location: Toronto
Posts: 1,814
Bikes: Pinarello Veneto, Pinarello Montello, Bianchi Celeste
Mentioned: 2 Post(s)
Tagged: 0 Thread(s)
Quoted: 25 Post(s)
Likes: 0
how much would a gruppo like that cost on average, i don't need the latest and greatest, just a decent year
i love how campy stuff looks, it's so classy
on the other note to "5 cagm"
i am from toronto, i checked out your website, nice work, there's some interesting stuff on there...
---
Last edited by mapleleafs-13; 08-18-10 at

10:01 PM

.
Thread
Thread Starter
Forum
Replies
Last Post
Classic and Vintage Bicycles: Whats it Worth? Appraisals.
Classic and Vintage Bicycles: Whats it Worth? Appraisals.

Posting Rules
You may not post new threads
You may not post replies
You may not post attachments
You may not edit your posts
---
HTML code is Off
---