Another Brooks Goes Under the Knife

10-29-10, 11:13 PM
Señor Member
Join Date: Jul 2009
Location: Boston Burbs
Posts: 1,701
Bikes: Bedford, IF, Hampsten, DeSalvo, Intense Carbine 27.5, Raleigh Sports, Bianchi C.u.S.S, Soma DC Disc, Bill Boston Tandem
Mentioned: 0 Post(s)
Tagged: 0 Thread(s)
Quoted: 3 Post(s)
Likes: 0
Another Brooks Goes Under the Knife
---
One of my Raleighs came with a sad old B17 (I think, could have been a 15) and I removed it for something else and it has sat in a parts bin since. It has some slight tearing on the forwardmost rear rivet on each side, the leather is a little flimsy and it generally wasn't in great shape.
I was thinking of trying out a Swallow or maybe getting a B17 and cutting it but remembered this saddle so I decided to practice on it. I still need to do a little straightening / evening out of my cuts and the cut should go higher up in the middle but I'm pretty happy with how it came out. I haven't taken it for a ride yet but but it feels pretty comfy.
I feel confident to try it on a nicer saddle now (with better planning and a sharper blade). I forgot to take a shot of the underside but will post one after I cut again. Anyway, here are a few pics.
(sorry for the flash photography and goofy lugless bike)
Not quite here yet...but hey it was my first shot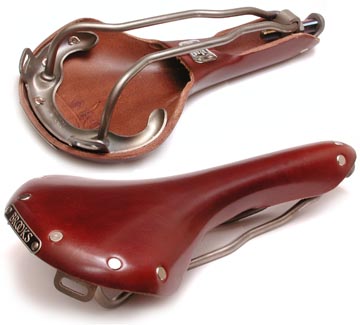 ---
Last edited by 4Rings6Stars; 10-30-10 at

12:05 AM

.

10-30-10, 08:35 AM
www.theheadbadge.com
Join Date: Sep 2005
Location: Southern Florida
Posts: 28,193
Bikes: https://www.theheadbadge.com
Mentioned: 112 Post(s)
Tagged: 0 Thread(s)
Quoted: 2262 Post(s)

10-30-10, 09:05 AM
Senior Member
Join Date: Sep 2007
Location: Scottsdale, AZ
Posts: 4,466
Bikes: many
Mentioned: 0 Post(s)
Tagged: 0 Thread(s)
Quoted: 18 Post(s)
Likes: 0
Considering the condition of the saddle, I don't think it is a bad start at all. I'm sure others have better ideas, but I would
1) Clean up the edges a bit with small scissors or a razor blade;
2) Run a black Sharpie along the edges to darken;
3) Polish it up well with extra shoe polish on the edges;
4) If the edges still look ragged, a layer of carefully applied SuperGlue will harden them up.

10-30-10, 10:10 AM
Senior Member
Join Date: Mar 2010
Posts: 205
Mentioned: 0 Post(s)
Tagged: 0 Thread(s)
Quoted: 0 Post(s)
Likes: 0
I never understood cutting the skirts off like that, and never really like the look of the "Swallow" models. The really classic modified Brooks are from the Italians, and the work is done around the cantle plate. Removing the bags loops and trimming the plate all the way up to the rivets. Installing big rivets and sometimes re-shaping the plate for a narrower crown. Then maybe just a bit off the skirt. That is the look of the classic race saddle that eventually became the shape of the Unicanitor, etc.

No offense either, but you did not achieve sexiness with what you've done there.

10-30-10, 06:37 PM
Señor Member
Join Date: Jul 2009
Location: Boston Burbs
Posts: 1,701
Bikes: Bedford, IF, Hampsten, DeSalvo, Intense Carbine 27.5, Raleigh Sports, Bianchi C.u.S.S, Soma DC Disc, Bill Boston Tandem
Mentioned: 0 Post(s)
Tagged: 0 Thread(s)
Quoted: 3 Post(s)
Likes: 0
Update.
Trimmed a little more and died it black. Still need to do some sort of polishing but it is starting to look a lot better.
Last picture shows the bottom. I laced the two sides together with heavy waxed thread and then poured some more wax on it to seal it.
@ gooch, is this "sexy" enough for you?
---
Last edited by 4Rings6Stars; 10-30-10 at

08:04 PM

.

10-30-10, 07:00 PM
Senior Member
Join Date: Mar 2010
Posts: 205
Mentioned: 0 Post(s)
Tagged: 0 Thread(s)
Quoted: 0 Post(s)
Likes: 0
Thread
Thread Starter
Forum
Replies
Last Post
Classic and Vintage Sales

Posting Rules
You may not post new threads
You may not post replies
You may not post attachments
You may not edit your posts
---
HTML code is Off
---