Gitane Grand Sport Deluxe

11-20-10, 06:55 PM
Junior Member
Join Date: Nov 2010
Posts: 5
Mentioned: 0 Post(s)
Tagged: 0 Thread(s)
Quoted: 0 Post(s)
Likes: 0
Liked 0 Times in 0 Posts
Gitane Grand Sport Deluxe
---
She's got Weimann vainqueur 999 model 610 brake system, Suntour Honor Derailluer (rear), Simplex (front), pivo stem and bar, Good-Bad or Ugly??

11-20-10, 07:50 PM
Bianchi Goddess
Join Date: Apr 2009
Location: Shady Pines Retirement Fort Wayne, In
Posts: 27,328
Bikes: Too many to list here check my signature.
Mentioned: 142 Post(s)
Tagged: 2 Thread(s)
Quoted: 1940 Post(s)
Hi Nich or you riding, fixing up/restoring, selling or looking to buy? can you post some pics?
__________________
Bianchis '90 Proto, '90 Campione del Fausto Giamondi Specialisma Italiano Mundo, '91 Boarala 'cross, '93 Project 3, '86 Volpe, '97 Ti Megatube, '93 Reparto Corse SBX

Others but still loved; '80 Batavus Professional, '87 Cornelo, '?? Jane Doe (still on the drawing board), '90ish Haro Escape SLX Bertoni "Speckled Trout"


11-21-10, 12:07 AM
brain damaged bovine
Join Date: Feb 2005
Location: back on the dental floss ranch, wielding zircon encrusted tweezers
Posts: 625
Bikes: Schwinn wrecked ol' Probe 1x2, 84 Bianchi Limited,Cannondale F400,Raleigh 20 folder,78 Schwinn LeTour III Fixed Gear,Redline Conquest Pro,71-73 Gitane TdF,Gitane Grand Sport de Luxe,78 Raleigh Super Course,80 Schwinn World Sport
Mentioned: 0 Post(s)
Tagged: 0 Thread(s)
Quoted: 2 Post(s)
Likes: 0
Liked 0 Times in 0 Posts
Ugly. Not there's anything wrong with that.
Here's mine a few modifications ago.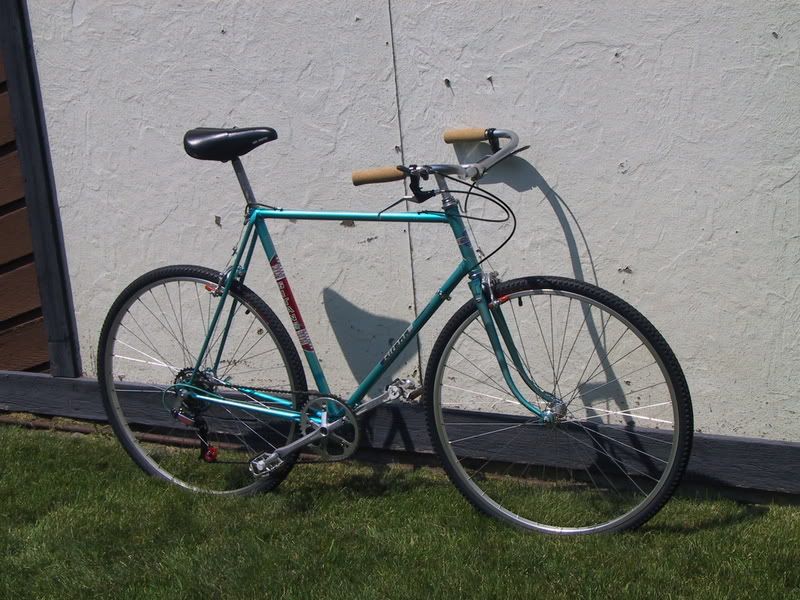 ---
Last edited by muccapazza; 11-21-10 at

12:11 AM

. Reason: add picture

11-21-10, 08:47 AM
Death fork? Naaaah!!
Classic French boomer. The RD is a replacement for the Simplex that no doubt gave up the ghost sometime in the Carter administration. Decent enough entry level bike for those not frightened by French threading and indifferent workmanship.
Top
__________________
You know it's going to be a good day when the stem and seatpost come right out.


(looking for a picture and not seeing it? Thank the Photobucket fiasco.PM me and I'll link it up.)

11-21-10, 09:13 AM
My everyday rider. I love it.
The Gitane GSD came with steel rims, kinda clunky and poor braking.If you can pick up a used alloy set it makes a big difference in the ride.
I put a Sugino Maxy crank on mine. The Sugino BB spindle was a good fit with the original french BB cups.
Thread
Thread Starter
Forum
Replies
Last Post
Classic and Vintage Bicycles: Whats it Worth? Appraisals.
Classic and Vintage Bicycles: Whats it Worth? Appraisals.
Classic and Vintage Bicycles: Whats it Worth? Appraisals.
Classic and Vintage Bicycles: Whats it Worth? Appraisals.

Posting Rules
You may not post new threads
You may not post replies
You may not post attachments
You may not edit your posts
---
HTML code is Off
---