Opinions on Vintage Huffy Escape and Winter Tires

12-22-10, 03:55 PM
Newbie
Join Date: Dec 2010
Posts: 2
Mentioned: 0 Post(s)
Tagged: 0 Thread(s)
Quoted: 0 Post(s)
Likes: 0
Liked 0 Times in 0 Posts
Opinions on Vintage Huffy Escape and Winter Tires
---
Hi! I'm not sure whether this is the right place to post for this but I'll give it a try. I'm pretty close to buying a Vintage Huffy Escape from like the mid 70's. I have tried looking up opinions on the bike but I haven't really come across a lot of talk about it.

I'm just commutting on my college campus and the surrounding area. It's not for any long distance cycling or rough terrain. I am a complete novice to bikes so any opinions or thoughts from people who have ridden a huffy escape would be great!

Also, I live in the Northeast where a little thing called winter is setting in. I would like to be able to ride it now, but I know the roads will be icy and slippery. How easy it would be to get winter tires for this bike? I don't know whether it being so old would effect me finding winter tires for it. Or if this bike is good for winter riding in general.

I'm sorry if I'm not being clear I am trying to educate myself on bikes but it's a slow process for me. Any help would be awesome, thanks!

12-22-10, 04:13 PM
perpetually frazzled
Join Date: Sep 2008
Location: Linton, IN
Posts: 2,470
Bikes: 1977 Bridgestone Kabuki Super Speed; 1979 Raleigh Professional; 1983 Raleigh Rapide mixte; 1974 Peugeot UO-8; 1993 Univega Activa Trail; 1972 Raleigh Sports; 1967 Phillips; 1981 Schwinn World Tourist; 1976 Schwinn LeTour mixte; 1964 Western Flyer
Mentioned: 0 Post(s)
Tagged: 0 Thread(s)
Quoted: 5 Post(s)
Likes: 0
I'm sure others will have other opinions but, here's mine...

Keep the Huffy - use it for commuting. Change the cables and tires, but don't spend any real money on it. You can probably get it working in decent enough condition that you don't want to kill yourself every time you ride it. Get some fenders for it, and buy tires at Wal Mart. You don't really need super duper tread when going through snow, and aside from studs, nothing works on ice. Just take it slow, feel it out, and go with it.

Then, when you get some cash saved up, get a better bike from Craigslist or Ebay.

ETA: Being that it's a 3 speed, it'll very likely be pretty bombproof, and you won't have to worry about craptastic derailers or anything on it. I maintain that you probably shouldn't dump a crapload of money into it, but it'll be serviceable. I commuted for a winter on a similar bike (80's Free Spirit 3).
---
Last edited by mickey85; 12-22-10 at

04:17 PM

.

12-22-10, 06:22 PM
Senior Member
Join Date: Apr 2009
Location: Detroit
Posts: 10,327
Mentioned: 6 Post(s)
Tagged: 0 Thread(s)
Quoted: 17 Post(s)
Likes: 0
I don't know of any winter tires for an old 3-speed.
For harsh winter conditions, you would do well to get yourself an old hardtail mountain bike, with 26" wheels.
The best 26' winter tires that I know of are
Nokians
. I have their
"Mount and Ground" studded tires
, and I ride them every day, regardless of icy conditions. The carbide studs are very durable and don't fall out.
(With these tires glare ice is your friend: but rutted roads with heaps of slushy snow is still a bit of a problem.)
I have the Planet Bike Hardcore-Freddy fenders. These too are highly recommended.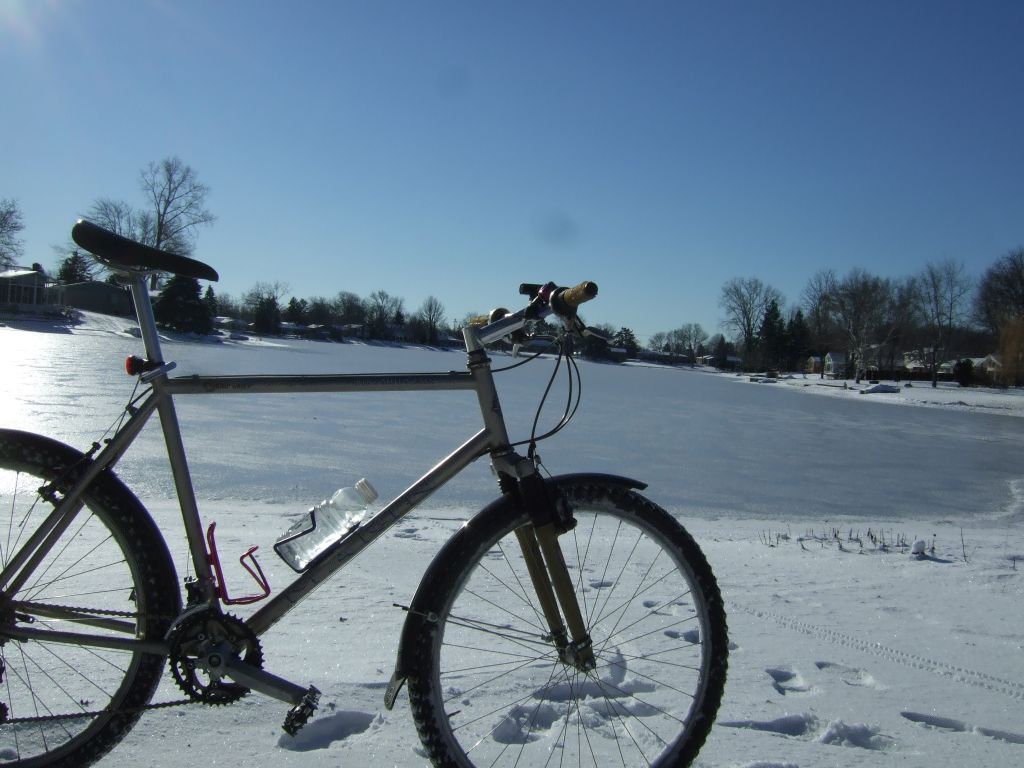 __________________
- Auchen

12-22-10, 09:45 PM
Senior Member
Join Date: Oct 2004
Location: Toronto, Ontario
Posts: 1,755
Bikes: Miele Azsora, Kuwahara Cascade
Mentioned: 1 Post(s)
Tagged: 0 Thread(s)
Quoted: 5 Post(s)
Likes: 0

12-23-10, 05:08 AM
Spin Forest! Spin!
Join Date: Sep 2007
Location: Arrid Zone-a
Posts: 5,964
Bikes: I used to have many. And I Will again.
Mentioned: 2 Post(s)
Tagged: 0 Thread(s)
Quoted: 5 Post(s)
Likes: 0
I'm assuming this Huffy takes 26 x 1 3/8" tires. You're not going to find much of a selection of tires at Walmart these days. I noticed they are reducing their bulk inventory and slow moving items in the bike dept. All tires left are foldable tires, no wire bead. And all seem to start at $20.
I'd try online, Niagara Cycle (or their portal on Amazon). IIRC, they stock a knobby 26x1 3/8" tire at a reasonable price. I would also get a new chain and new brake cables and check the bike for road worthiness.
Learning to ride during the winter, with an old bike, is not stacking the odds in your favor. I would be very prudent about riding in bad weather, ie. snow and sleet.

12-23-10, 06:14 AM
people's champ
Join Date: Oct 2010
Location: joisey
Posts: 1,517
Mentioned: 0 Post(s)
Tagged: 0 Thread(s)
Quoted: 1 Post(s)
Likes: 0

12-23-10, 06:53 AM
Thrifty Bill
Join Date: Jan 2008
Location: Mountains of Western NC
Posts: 23,414
Bikes: 86 Katakura Silk, 87 Prologue X2, 88 Cimarron LE, 1975 Sekai 4000 Professional, 73 Paramount, plus more
Mentioned: 90 Post(s)
Tagged: 0 Thread(s)
Quoted: 1190 Post(s)
If you are going to pay for a bike, get a rigid frame MTB. Tremendous tire choices, room for fenders, racks, whatever, extremely durable, and cheap.

12-23-10, 07:49 AM
Bike Junkie
Join Date: Jun 2005
Location: South of Raleigh, North of New Hill, East of Harris Lake, NC
Posts: 9,600
Bikes: Specialized Tarmac, Specialized Roubaix, Giant OCR-C, Specialized Stumpjumper FSR, Stumpjumper Comp, 88 & 92Nishiki Ariel, 87 Centurion Ironman, 92 Paramount, 84 Nishiki Medalist
Mentioned: 1 Post(s)
Tagged: 0 Thread(s)
Quoted: 62 Post(s)
Likes: 0
__________________
Roccobike BF Official Thread Terminator
Thread
Thread Starter
Forum
Replies
Last Post

Posting Rules
You may not post new threads
You may not post replies
You may not post attachments
You may not edit your posts
---
HTML code is Off
---