Hodge Podge Bikes

01-15-11, 08:45 PM
is just a real cool dude
Join Date: Aug 2010
Location: The Thumb, MI
Posts: 3,163
Mentioned: 7 Post(s)
Tagged: 0 Thread(s)
Quoted: 24 Post(s)
Hodge Podge Bikes
---
You ever look at your all your parts and decide to build up a new bike just because? Well I got the urge this morning to build something from my parts. It's a no holds barred since it's got new stuff, old stuff, American stuff, Japanese, Italian. I won't kid you as it's not the prettiest. I'm was debating on the frame but it's in pretty good condition compared to the World Sport I was going to use. Plus it already had the shifters, derailleurs and cables already mounted so that was big selling point. Well after further ado...
the Raleigh Technium
Shimano SIS derailleurs
Campy low flange hubs w/Mavic GP4 tubulars
FSA Compact carbon cranks
cheapo plastic molded in toe clip pedals
Concor saddle
EighthInch track bars(that's right...track bars!)
Cinelli stem
Dia-Compe aero levers
miss match Campy calipers
and the topper....a Pedro's bottle cage!
I tried a saddle San Marco Selle saddle but that didn't do it for me
The brake cables were even new that I found out in the garage. The things you don't even know you have! It's completely rideable besides glueing on tubulars and finish coloring the side walls black cause my sharpie ran out. The gumwalls just don't do it for this bike. I wasn't sure about the track bars but they feel decent and were the only bars I had that fit in the Cinelli stem. Love it or hate it...it was fun to do on a Saturday. I think this fills in my void of having a bike mostly from the 80's. I know the cranks are a bit over the edge but the original Sakae's didn't have any chainring and I didn't have a good bottom bracket for any square tapered cranks.

01-15-11, 08:53 PM
26 tpi nut.
Join Date: Mar 2008
Location: Rhode Island (an obscure suburb of Connecticut)
Posts: 5,703
Bikes: one of each
Mentioned: 5 Post(s)
Tagged: 0 Thread(s)
Quoted: 7 Post(s)
That thing must be light.
Here's one that I built a while back. I called it Berty Bott's Every Flavor bike. There's parts from 13 different counties starting with the Swiss frame. I forget all what else. It was too small for me (thus the goofy handlebars) so I sold it this spring.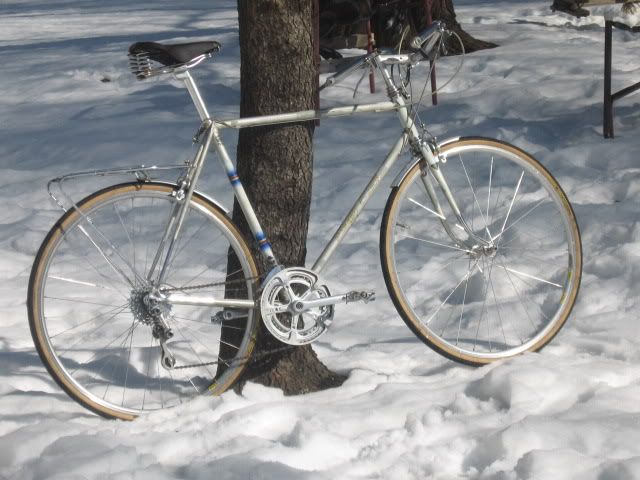 Mmmm. Chrome lugs and shorty fenders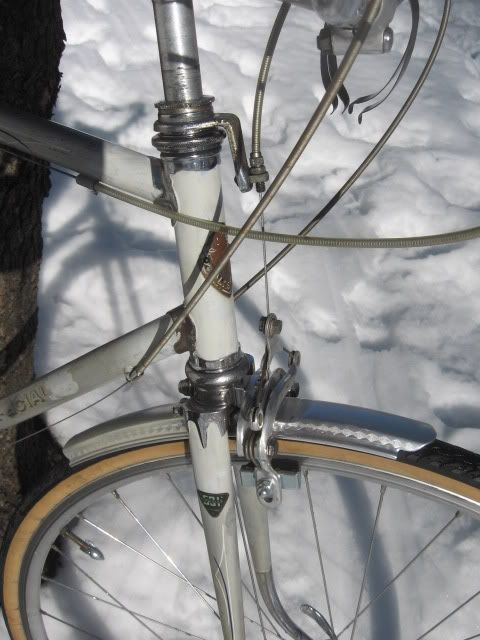 __________________
I have spoken.

01-15-11, 08:57 PM
Mote of Dust
Join Date: Nov 2010
Location: Oregon
Posts: 741
Mentioned: 15 Post(s)
Tagged: 0 Thread(s)
Quoted: 38 Post(s)
Until I came here I thought that was the only way to build a bike.

01-15-11, 09:02 PM
is just a real cool dude
Join Date: Aug 2010
Location: The Thumb, MI
Posts: 3,163
Mentioned: 7 Post(s)
Tagged: 0 Thread(s)
Quoted: 24 Post(s)
I thought I was going to have to buy something to finish it but it was absolutely free! Finding those cables saved my life! I still have enough parts to probably build something else but that definitely won't be pretty. lol.

01-15-11, 09:06 PM
Bianchi Goddess
Join Date: Apr 2009
Location: Fort Wayne, In
Posts: 24,785
Bikes: Too many to list here check my signature.
Mentioned: 66 Post(s)
Tagged: 2 Thread(s)
Quoted: 864 Post(s)
looks great how does it ride? nothing wrong with Hodge Podge bikes. some of the best riders I knew in the Boston area rode Hodge Podge or Franken bikes. and for our team, 10Sdp Drive or Cdale gave us frames but you should have seen the 'kits' we put on them
__________________
Bianchis '87 Sport SX, '90 Proto, '90 Campione del Fausto Giamondi Specialisma Italiano Mundo, '91 Boarala 'cross, '93 Project 3, '86 Volpe, '97 Ti Megatube, , '90 something Vento 603,

Others but still loved,; '80 RIGI, '80 Batavus Professional, '87 Cornelo, '09 Motobecane SOLD, '?? Jane Doe (still on the drawing board), '90ish Haro Escape

01-15-11, 09:07 PM
Senior Member
Join Date: Nov 2009
Posts: 7,107
Mentioned: 1 Post(s)
Tagged: 0 Thread(s)
Quoted: 1 Post(s)
that technium is a mess. (i love it)

01-15-11, 09:12 PM
is just a real cool dude
Join Date: Aug 2010
Location: The Thumb, MI
Posts: 3,163
Mentioned: 7 Post(s)
Tagged: 0 Thread(s)
Quoted: 24 Post(s)
I had some NR shifter and a Record RD I was going to put on it but that dang Shimano stuff worked good. I'll be able to put a notch on having a 80's bike with indexed shifting to my collection.

Posting Rules
You may not post new threads
You may not post replies
You may not post attachments
You may not edit your posts
---
HTML code is Off
---