Schwinn/Paramount Series 90 PDG Before pic heavy

05-10-11, 09:45 PM
www.markreynoldsfund.org
Join Date: May 2005
Location: Illinois
Posts: 461
Bikes: 1993 Titanium Miyata Elevation 8000, Scattante XRL
Mentioned: 0 Post(s)
Tagged: 0 Thread(s)
Quoted: 0 Post(s)
Likes: 0
Liked 0 Times in 0 Posts
Schwinn/Paramount Series 90 PDG Before pic heavy
---
Some of you may have heard the story of Mark Reynolds. He was killed by a mountain lion at Whiting Ranch in Cali around 10 years ago. We went to college together and were fraternity brothers. He is the person who got me into cycling. Anyway back in college he had a bike almost just like this one. I saw it on Craigs list and had to have it. A bone stock Paramount Series 90 pdg Mountain bike with the Red/White/Blue paintjob. It has Suntour XC Pro shifters, derailures, crankset, peddles, brake levers, bottom bracket, and Hubs laced to Araya Rm 17 rims . Tioga Avenger headset and Diacompe 986 Cantilever brakes. Ritchey Handlebars and Seatpost. Here are the before pics. I will post the "after" pics when finished cleaning it up. I then hope to make it out to Whiting and ride it up to his memorial bench.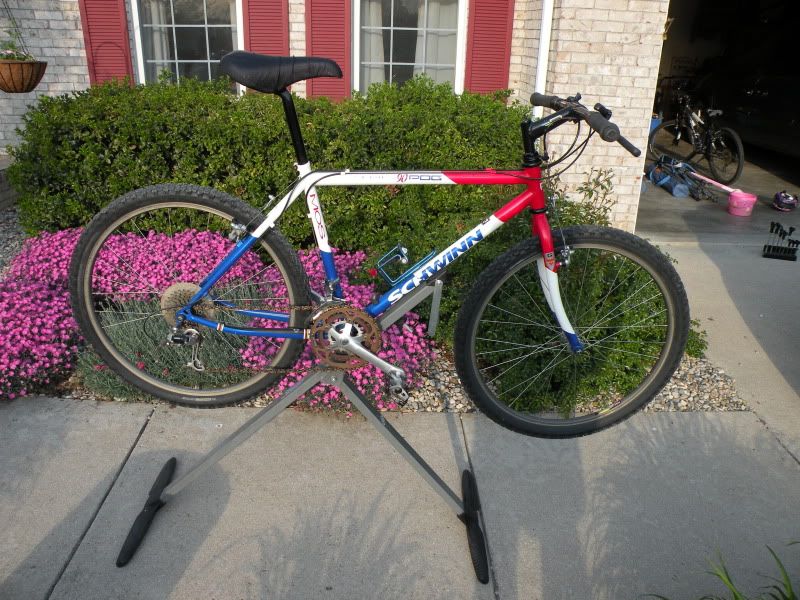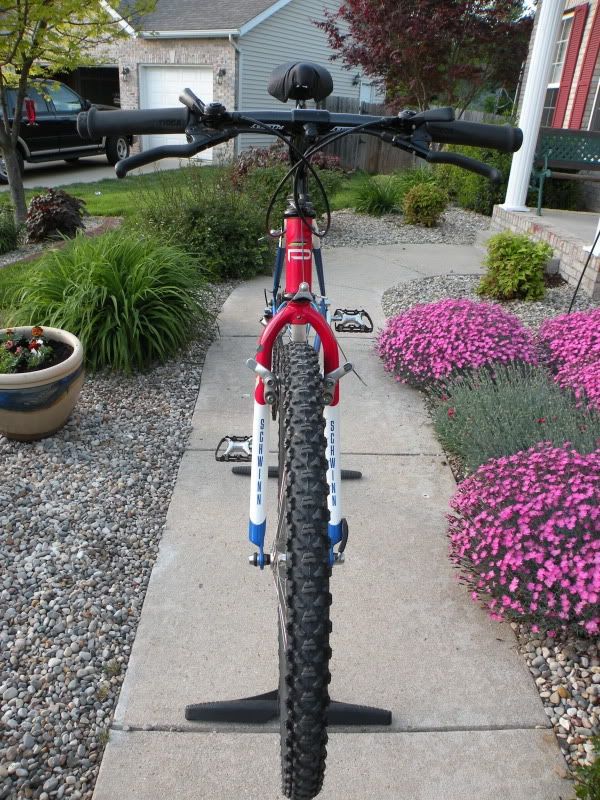 __________________
Mudu93

Please donate to the Mark Reynolds Memorial First Bike Fund at www.markreynoldsfund.org

05-11-11, 04:42 AM
Freewheel Medic
Very nice! Looks as if it was well cared for. Great tribute.
__________________
Bob
Dreaming about riding in NH's summertime!
Visit my websites:
FreeWheelSpa.com
or
pastorbobnlnh.com

05-11-11, 06:29 AM
is just a real cool dude
Join Date: Aug 2010
Location: The Thumb, MI
Posts: 3,162
Mentioned: 9 Post(s)
Tagged: 0 Thread(s)
Quoted: 24 Post(s)
Likes: 0
Liked 0 Times in 0 Posts
Very nice Paramount with the team colors. Are you going to just rebuild it and freshen it up or rebuild it with more newer parts?

05-11-11, 03:11 PM
www.markreynoldsfund.org
Join Date: May 2005
Location: Illinois
Posts: 461
Bikes: 1993 Titanium Miyata Elevation 8000, Scattante XRL
Mentioned: 0 Post(s)
Tagged: 0 Thread(s)
Quoted: 0 Post(s)
Likes: 0
Liked 0 Times in 0 Posts
__________________
Mudu93

Please donate to the Mark Reynolds Memorial First Bike Fund at www.markreynoldsfund.org
Thread
Thread Starter
Forum
Replies
Last Post
Clydesdales/Athenas (200+ lb / 91+ kg)
"The 33"-Road Bike Racing

Posting Rules
You may not post new threads
You may not post replies
You may not post attachments
You may not edit your posts
---
HTML code is Off
---