Garage sale RB-1

08-19-11, 12:32 AM
Senior Member
Join Date: Aug 2011
Location: Puyallup, WA
Posts: 446
Bikes: Tommasini Super Prestige, Kamra Triathlee, Nishiki Tri-A equipe', Sakai 2000
Mentioned: 1 Post(s)
Tagged: 0 Thread(s)
Quoted: 0 Post(s)
Likes: 0
Liked 0 Times in 0 Posts
Garage sale RB-1
---
So I've got a nine year old that's just itchin to get a road bike so she can ride with dad. She's pretty small and I'm doubting there's one out there for her. But I spotted this from the car passing a garage sale! At 46cm, she's still got some growing to do but she'll be eating her veggies! It's an '87 as far as I can tell with almost a full GPX group. Pretty awesome shape for the most part. Only issues are missmatched brake levers -both are left hand and the one on the right was never tightened and he used the wrong type of cable so it dosn't function at all. - "...oh well, guess I'll just put this new tape on the bars anyways. The next guy can deal with it!" The clamp peices for the seat post seam to have been poorly scavenged, but they do hold a saddle on there for now. The chain is a cheappo and was shorted a few links too many. Like I said she's still got some growing to do, so I've got plenty of time to resolve these pretty minor issues. I got this and my "new" Kamra (what ever that is?) for $150! On top of that I'm welcome to come back to fish through his pile of crap bikes behind the garage any time. As of now, it is all crap, but who knows what'll find it's way back there...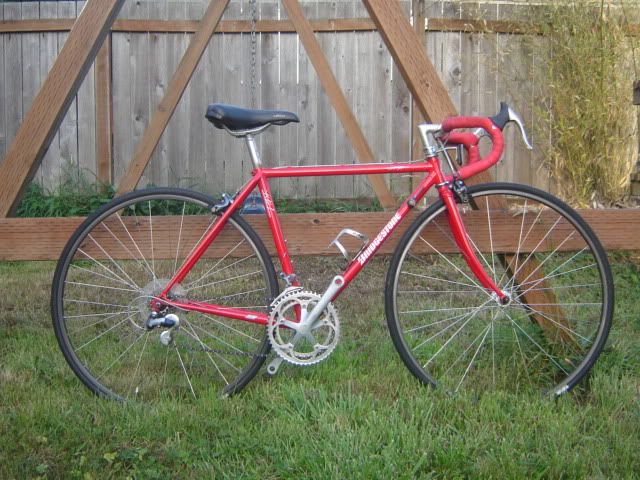 08-19-11, 06:26 AM
Senior Member
Join Date: Nov 2009
Location: Medina, OH
Posts: 275
Bikes: 85 Cilo, '91 Bianchi Volpe, '00 Gary Fisher, '74 Raleigh SuperCourse, '06 Soma Groove, '09 Nashbar X
Mentioned: 0 Post(s)
Tagged: 0 Thread(s)
Quoted: 0 Post(s)
Likes: 0
Liked 0 Times in 0 Posts
Nice... I got a 46cm Trek 600 for my kid a year or so ago & had him help with a rebuild. It fits him now that he's 11. Light years better than anything we would have had as kids. My wife won't let him ride it with her because he's too fast

.

08-20-11, 07:29 AM
Small Frame Guy
Join Date: Feb 2007
Location: San Francisco, CA
Posts: 110
Bikes: 2015 Bianchi Tipo Corsa, Pegoretti Palasanto,Trek Madone 5.2, Comotion Speedster (all campy equiped), Trek 8000, Masi Nuova Strada,93 Masi 3V, De Rosa Primato, Bridgestone RB1
Mentioned: 0 Post(s)
Tagged: 0 Thread(s)
Quoted: 1 Post(s)
Likes: 0
Hi Andycapp!

Really nice bike and your daughter is very lucky!! It is an 89. My friend had one just like it but in 56. Most likely it is a 48 center to top. I have an 88 frame in that size downstairs that was my first bike. GPX is really nice stuff.

Have fun!!!

08-20-11, 08:04 AM
Bianchi Goddess
that is nice. the GPX was pretty good group on par with 105.
__________________
Bianchis '87 Sport SX, '90 Proto, '90 Campione del Fausto Giamondi Specialisma Italiano Mundo, '91 Boarala 'cross, '93 Project 3, '86 Volpe, '97 Ti Megatube, , '90 something Vento 603,

Others but still loved,; '80 RIGI, '80 Batavus Professional, '87 Cornelo, '09 Motobecane SOLD, '?? Jane Doe (still on the drawing board), '90ish Haro Escape

08-20-11, 08:15 AM
Ellensburg, WA
Join Date: Aug 2008
Location: Ellensburg, WA
Posts: 3,394
Bikes: See my signature
Mentioned: 56 Post(s)
Tagged: 0 Thread(s)
Quoted: 186 Post(s)
Likes: 0
Very nice. My 13 yo daughter won't let anyone touch her Trek 610. The top tube was a little long at the beginning but she's grown enough now she's getting comfortable on the bike.
Thread
Thread Starter
Forum
Replies
Last Post
Cyclocross and Gravelbiking (Recreational)

Posting Rules
You may not post new threads
You may not post replies
You may not post attachments
You may not edit your posts
---
HTML code is Off
---