Univega Gran Rally

07-11-12, 09:14 AM
Senior Member
Join Date: Jul 2012
Location: Atlanta, GA
Posts: 179
Bikes: '84 Trek 660, '86 Schwinn Sprint
Mentioned: 0 Post(s)
Tagged: 0 Thread(s)
Quoted: 0 Post(s)
Likes: 0
Univega Gran Rally Resto Help and Advice needed
---
I am after info and help on "restoring" this bike. I've discovered the frame size probably won't work for me but i see no reason to not give restoring this one a shot so i can learn more about this stuff in the process.
Okay so i've been looking into getting back on a bike recently. Mainly because my 3 yr old son likes riding and it's something fun and also exercise that we can do together. In searching for a bike that would finally fit me (6'4" / 265) I've visited 2 local bike shops and tried to do my home work online but i'm totally lost. So this thread is to see if my impulse buy today has any potential in becoming something i can ride. I think i need something in the ball park of 59cm frame and 175 mm crankset. but have no clue if that's even close.
I'm not sure of any of the actual specs of the bike measurement wise i'll get that added when i get a chance tomorrow. but the seller i got the bike from took alot of nice pictures. I was able to snag it for $40.
****Edit****
Measured it from Center of Crank to top of the seat tube. 21.25 inches. So i'm guessing this is a 54cm Frame. Probably going to be to small for me.
My intentions are Tasteful Restoration.
I'm a fairly well mechanically inclined person. I've not worked on bicycles much but did assemble and ton of them for Wally World for about 6 months or so one summer.
Any tips or help figuring out if this has potential to be a comfortable ride for me are greatly appreciated.
It is missing the rear deraileur and i'm already looking for sources to get the matching Shimano 600 Arabesque one from somewhere like ebay. Seems like i might be able to get one for about $30 - 40 Bucks.
I know it's going to need tires and maybe some new spokes some are pretty rusted.
I picked up 2 of the wheels he had. The rear i took has a 6 speed cassette I picked it because it was the only one that was marker Shimano but i'm not sure if it's the one that went with it. I'm not sure what's there for hubs or how to go about figuring out what i need.
I like the color and look of these tires and think they would look good on the bike but have no clue about size etc so any help there would be awesome.
https://www.modernbike.com/itemgroup....1&SSAID=204502
I'm thinking White Cables for Shifter and Brake Cables.
No clue what to do about seat post or seat. But i'd Like to use light tan and white as my colors for stuff
The original padding on the bars is really worn and i'm not sure what to wrap them with.
I plan to polish and shine everything chrome on this bike. I absolutely love the detail in all the metal work on this bike. all the 600 series pieces.
Thanks for your Time and Help.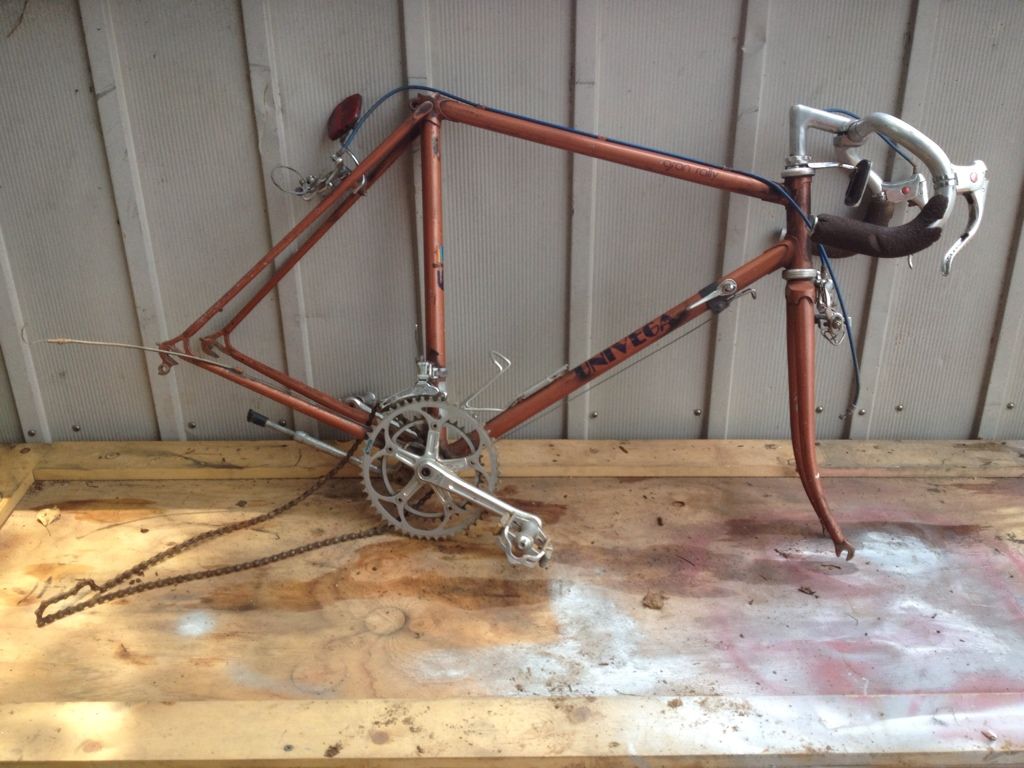 ---
Last edited by bigwooly; 07-11-12 at

07:42 PM

.

07-11-12, 07:47 PM
Senior Member
Join Date: Jul 2012
Location: Atlanta, GA
Posts: 179
Bikes: '84 Trek 660, '86 Schwinn Sprint
Mentioned: 0 Post(s)
Tagged: 0 Thread(s)
Quoted: 0 Post(s)
Likes: 0
Added some pictures of the bike as i got it.

I'm really just looking for some rebuild help and advice on this one.

I'd like to see it back rideable even if it's too small for me.

I ended up with two rear wheels because those were the only two that were the right 27 x 1 1/4 size for this bike.

Can i relace one on a front hub? Or should i buy a used wheel somewhere?

07-11-12, 09:35 PM
Senior Member
Join Date: Mar 2008
Location: Costa Mesa CA
Posts: 2,641
Mentioned: 0 Post(s)
Tagged: 0 Thread(s)
Quoted: 5 Post(s)
Likes: 0
I picked up a Gran Rally in the same condition. Beautiful metallic blue. I loved the bike. Ended up selling it, a move I always regretted. Sorry it's not your size, mine was a 58cm.

07-30-12, 09:44 PM
Hey, Bigwooly ... Cool Univega ... I just posted in C&V about a Gran Premio I recently got to be my go-fast road bike.

It replaced a Trek 330 in size 24" / 59cm ... which is way too big for me. I'm 5'8" ... but I still rode it for two years ... so it IS possible to make the wrong size work.

Only advice would be to disassemble your bearing parts, such as headset and bottom bracket. Overhaul, repack those if nothing else. Cartridge bottom brackets are pretty cheap these days and they are smooth and maintenance free, worth considering.

Anyway I hope you enjoy your new bike for many miles.

Cheers,
Phil
---
Last edited by pstake; 07-31-12 at

01:49 AM

.
Thread
Thread Starter
Forum
Replies
Last Post
General Cycling Discussion

Posting Rules
You may not post new threads
You may not post replies
You may not post attachments
You may not edit your posts
---
HTML code is Off
---