Blue Ridge Weekend

10-15-12, 10:49 AM
Senior Member
Join Date: Mar 2011
Location: Cowan Heights, CA
Posts: 975
Bikes: Wizard, Eisentraut, Paramount, Litton, Turner, Surley, Trek, Kona, Landshark, Hujsak, Masi, Tesch, Holland, Retrotec, Spectrum
Mentioned: 5 Post(s)
Tagged: 0 Thread(s)
Quoted: 35 Post(s)
Likes: 0
Liked 0 Times in 0 Posts
Blue Ridge Weekend
---
This past weekend my girlfriend and I went up to Blowing Rock in the Blue Ridge of North Carolina for a weekend of riding, food, and leaf peeping. We were successful on all counts.
This was her first road ride in NC and the maiden voyage of her Centurion (see the Centurion SN database thread for resurrection pics). I took my 74 Paramount. We rode the Beech Ball loop from the book Road Cycling: The Blue Ridge High Country . 38 miles of rolling hills right. I read the brief overview and typed out the route cues in 24 point so that my aging eyes could read them while riding and off we go.
Perhaps I should have read farther as the detail stated that the first climb (sans warm-up) was Cat 2 climb from the Tour DuPont. We reached top and GF is ready to kill me. Then the fellow that owns the art gallery/junk yard at the top of climb wanders across the road and, during the course of making small talk about cycling and the area in general, asks if we know about the detour.....the detour that is a Cat 3 and adds ~2 miles to the ride. We continue on.......
In the end it was a wonderful ride. Five gaps. Four rated climbs. No speed records. Incredible fall color and a great way to spend the day. GF loves her new bike and smiled the entire day, after the first climb. We found great meals. Did the tourist thing on the Blue Ridge Parkway - too many leaf peepers for a comfortable ride, so we drove.
http://app.strava.com/activities/25043539

10-15-12, 06:40 PM
Half drunk? Finish!
Outstanding. I was up there on Tuesday, going back. Glad it all worked out.
Tell her she's in "the club" now, with that Centurion.

We'll entertain her with wild regales of our daring deeds.
You can go play with the Paramount kids, or hang with us...
__________________
Robbie ♪♫♪...☻
I have unfinished business.



10-15-12, 06:46 PM
Freewheel Medic
Love those climbs in western NC! They make most NH climbs look easy.

Great pictures!
__________________
Bob
Dreaming about riding in NH's summertime!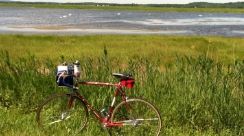 Visit my websites:
FreeWheelSpa.com
or
pastorbobnlnh.com

10-15-12, 08:26 PM
Thrifty Bill
Join Date: Jan 2008
Location: Mountains of Western NC
Posts: 21,871
Bikes: 86 Katakura Silk, 87 Prologue X2, 88 Cimarron LE, 1975 Sekai 4000 Professional, 73 Paramount, plus more
Mentioned: 65 Post(s)
Tagged: 0 Thread(s)
Quoted: 607 Post(s)
Likes: 0

10-15-12, 11:21 PM
Senior Member
Join Date: Sep 2005
Location: Hervey Bay, Qld, Australia.
Posts: 2,602
Bikes: Colnago (82, 85, 89, 90, 91, 96, 03), 85 Cinelli, 90 Rossin, 83 Alan, 82 Bianchi, 78 Fountain, 2 x Pinarello, Malvern Star (37), Hillman (70's), 80's Beretto Lo-Pro Track, 80's Kenevans Lo-Pro, Columbus Max (95), DeGrandi (80's) Track.
Mentioned: 2 Post(s)
Tagged: 0 Thread(s)
Quoted: 62 Post(s)
Likes: 0
Ah - local knowledge..... It looks like a beautiful location and a great place for a ride.

10-16-12, 09:50 AM
Senior Member
Join Date: Mar 2011
Location: Cowan Heights, CA
Posts: 975
Bikes: Wizard, Eisentraut, Paramount, Litton, Turner, Surley, Trek, Kona, Landshark, Hujsak, Masi, Tesch, Holland, Retrotec, Spectrum
Mentioned: 5 Post(s)
Tagged: 0 Thread(s)
Quoted: 35 Post(s)
Likes: 0
Liked 0 Times in 0 Posts
They are great climbs and low, almost no, traffic on most of the rides Even with all the leaf peepers.....Though one would have thought they were giving something away for free at the Mast General Store. Seemed like half of North Carolina, part of Tennessee and some of Virginia had come to buy candy.