Can anyone help ID our unknown tandem frame (Possibly Selbach?)

10-18-12, 03:21 AM
Newbie
Join Date: Oct 2012
Posts: 4
Mentioned: 0 Post(s)
Tagged: 0 Thread(s)
Quoted: 0 Post(s)
Can anyone help ID our unknown tandem frame (Possibly Selbach?)
---
Hi everyone, just got this old tandem for a restoration project and wondered if anyone could shed some light on who made her and when?
It's got some interesting features on it like a roller bearing in the bottom of the headset, tapered tubes (currently painted dayglow!) and the banana shaped forks - this is what makes me think she might be a Selbach or Granby?
Found a serial number on the fork stem and by the front bottom bracket on the tube of T111124 - could someone help ID her please!
Thanks for reading
Best Regs
Dave

10-18-12, 04:58 AM
Freewheel Medic
Join Date: Oct 2005
Location: Ascending or Descending the NH Mountains NW of Concord!
Posts: 10,978
Bikes: Snazzy* Schwinns, Classy Cannondales, & a Lonely '83 Santana Tandem (* Ed.)
Mentioned: 77 Post(s)
Tagged: 0 Thread(s)
Quoted: 374 Post(s)
Dave,
Welcome to C&V. Unfortunately your pictures are too small, and not detailed enough (show more closeups of various parts of the bike). It would be great to see the head tube, headset, fork, cranks, bottom brackets, and hubs in more detail. These are all clues worth sleuthing.

Also do you have links to websites or catalogs on Selbach or Granby? And where are you located? All is very helpful.
__________________
Bob
Dreaming about riding in NH's summertime!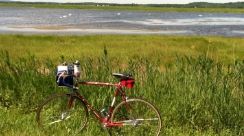 Visit my websites:
FreeWheelSpa.com
or
pastorbobnlnh.com

10-18-12, 05:08 AM
Get off my lawn!
Join Date: Nov 2010
Location: The Garden State
Posts: 6,202
Bikes: 1917 Loomis, 1923 Rudge, 1930 Hercules Renown, 1947 Mclean, 1948 JA Holland, 1955 Hetchins, 1957 Carlton Flyer, 1962 Raleigh Sport, 1978&81 Raleigh Gomp GS', 2010 Raliegh Clubman
Mentioned: 8 Post(s)
Tagged: 0 Thread(s)
Quoted: 60 Post(s)
Rear Fork looks unique, almost like it has a crown. Didn't Granby use a rear fork that began as square tubing and progress to a round tapper as it reached the rear dropout? The reason I ask is the rear fork on your frame appears to be rather unique and may give a clue as to it's maker. Good luck with your quest, it looks like a beautiful bike!

10-18-12, 09:11 AM
Newbie
Join Date: Oct 2012
Posts: 4
Mentioned: 0 Post(s)
Tagged: 0 Thread(s)
Quoted: 0 Post(s)
Thanks for the reply guys - will get some close up photos as soon as the primer coat has dried.
What I can say is I'm based in the UK so think it's an English manufacturer and that it's got Williams cranks with date marks - I've found out that the rear crank is from 1933 and the front is from the 50's - so guessing it was worn out or crashed or something so needed replacing.
She's pretty light too - nowhere near as heavy as I thought she was going to be.
Will get some photos of the rear fork/dropout so you can see what you think Velo

Best Dave

10-18-12, 10:34 AM
Newbie
Join Date: Oct 2012
Posts: 4
Mentioned: 0 Post(s)
Tagged: 0 Thread(s)
Quoted: 0 Post(s)
Got some close up photos showing headtube and the lugs etc - any clues from this?

03-08-13, 09:52 AM
Newbie
Join Date: Mar 2013
Posts: 1
Mentioned: 0 Post(s)
Tagged: 0 Thread(s)
Quoted: 0 Post(s)
Curious -did you find out on the numbers front? Looked very Selbachesque to me, especially with that large rollerbearing headset -lugs as on my MG racer- but mine's a later DP/sport model without that loverly bucket of a bearing race

03-12-13, 04:10 AM
Newbie
Join Date: Oct 2012
Posts: 4
Mentioned: 0 Post(s)
Tagged: 0 Thread(s)
Quoted: 0 Post(s)
Hi there, well after quite a bit of hunting around I'm fairly sure its a Selbach Super Taper Tube Tandem - I found a Selbach catalogue from 1932 that has a frame drawing exactly the same as ours.
Yeah the rollerbearing is amazing - as a long time racer first time tandemer I was expecting to have to do some Rocky training to be able to turn the thing but after a complete strip down and regrease it handles very easily... a little too easily sometimes!
Also found when stripping the paint that it was painted in Selbachs ruby red originally not the wyld gold he's famous for so tried to colour match when repainting - will get a photo up once we have a sunny day!
Got to say for an 80+ year old machine it's a beauty - they dont make things like this anymore FACT!

03-12-13, 04:37 AM
Cisalpinist
Join Date: Jan 2011
Location: Holland
Posts: 5,557
Bikes: blue ones.
Mentioned: 0 Post(s)
Tagged: 0 Thread(s)
Quoted: 2 Post(s)
Unique machine. Keep us posted on this very promising restoration


Posting Rules
You may not post new threads
You may not post replies
You may not post attachments
You may not edit your posts
---
HTML code is Off
---