Looking to gain insight on my '52 Schwinn

12-15-12, 10:48 AM
Junior Member
Join Date: Dec 2012
Posts: 16
Mentioned: 0 Post(s)
Tagged: 0 Thread(s)
Quoted: 0 Post(s)
Likes: 0
Liked 0 Times in 0 Posts
Looking to gain insight on my '52 Schwinn
---
Yesterday I acquired a Chicago-made 1952 Schwinn World frame, fork and most of the components which I plan to convert to a fixed-gear. I found the serial number and looked up the exact build date which is very cool, but I was not able to find much more information on the bike. I found ads for Schwinn's 1952 World series of bikes, but none of the branding matched what is on mine. Anyhow, I'd love to learn a little more about the bike, and/or some of the specifics about component sizes that will fit the bike.
It has a SunTour Spirit front derailleur, SunTour Honor rear derailleur and apparently matching SunTour components all around. The serial number on the left rear fork is G0282. Here's a picture:
Thanks!

12-15-12, 11:04 AM
Senior Member
Join Date: Jul 2010
Location: Grand Rapids MN
Posts: 233
Mentioned: 0 Post(s)
Tagged: 0 Thread(s)
Quoted: 1 Post(s)
Likes: 0
I'm pretty sure that bike is from the 70's, the components are low end. The frame cleaned up is worth maybe 50 bucks? Still a bike a lot of us vintage guys would look at and see potential if you have parts lying around.

12-15-12, 11:28 AM
26 tpi nut.
Join Date: Mar 2008
Location: Rhode Island (an obscure suburb of Connecticut)
Posts: 5,703
Bikes: one of each
Mentioned: 5 Post(s)
Tagged: 0 Thread(s)
Quoted: 8 Post(s)
Likes: 0
Liked 0 Times in 0 Posts
Yeah, looks like a 70's or 80's Japanese Schwinn, made by Giant or Panasonic. An excellent candidate for a fixy conversion. The Japanese made great bikes, even the low end ones show excellent craftsmanship and parts compatability is no problem, most everything you can get these days will fit.
__________________
I have spoken.

12-15-12, 11:49 AM
K2ProFlex baby!
Join Date: Feb 2007
Location: My response would have been something along the lines of: "Does your bike have computer controlled suspension? Then shut your piehole, this baby is from the future!"
Posts: 6,096
Bikes: to many to list
Mentioned: 0 Post(s)
Tagged: 0 Thread(s)
Quoted: 5 Post(s)
Yeah dude, if that were an early (50s) Schwinn anything it wouldn't be a lugged frame, electro forged maybe brazed yes, but not lugged. BUT (as mentioned) it will make a great conversion! Hopefully its a panasonic! Good luck and don't get your info and then vanish from the forum! stick around a bit and post pics when you've got her all sexy and ****! ;0)
__________________
You see, their morals, their code...it's a bad joke, dropped at the first sign of trouble. They're only as good as the world allows them to be. I'll show you. When the chips are down, these...These "civilized" people...they'll eat each other. See, I'm not a monster. I'm just ahead of the curve

12-15-12, 11:54 AM
Decrepit Member
Join Date: Aug 2005
Location: Santa Rosa, California
Posts: 10,472
Bikes: Waterford 953 RS-22, several Paramounts
Mentioned: 66 Post(s)
Tagged: 0 Thread(s)
Quoted: 617 Post(s)
Likes: 0
The G0282 on the driveside dropout is a date code (not a serial numer) indicating that it's a Giant (Taiwan) frame built for Schwinn in February, 1982. The only lugged frame Schwinn in 1952 was the Paramount.
EDIT -
My best guess is that it's a 1983 model year Schwinn World based on the color, the components, and the graphics. Look closely at the head badge for four small, lightly stamped digits. This is the bike's assembly date. The first three digits are the day of the year (001-366) and the fourth digit is the last digit of the year. If it's a World, it has a hi-tensile carbon steel frame, and is pretty heavy.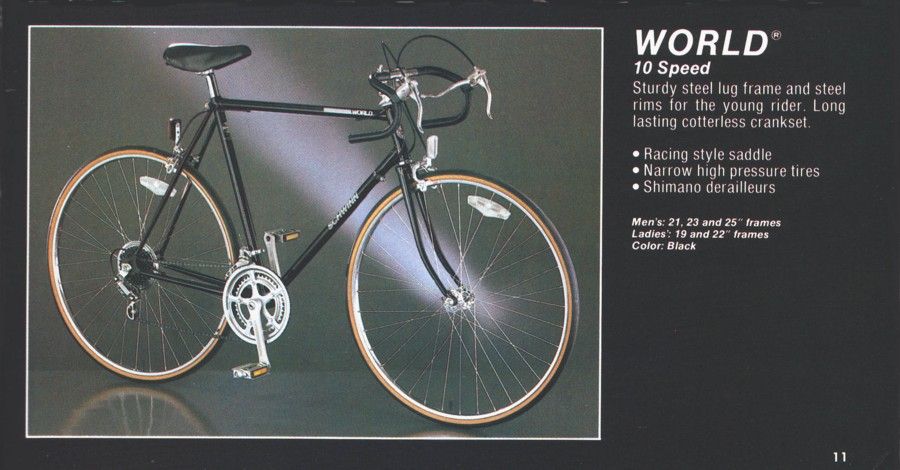 __________________
- Stan
my bikes
Science doesn't care what you believe.

---
Last edited by Scooper; 12-15-12 at

05:08 PM

.

12-15-12, 08:35 PM
Junior Member
Join Date: Dec 2012
Posts: 16
Mentioned: 0 Post(s)
Tagged: 0 Thread(s)
Quoted: 0 Post(s)
Likes: 0
Liked 0 Times in 0 Posts
Thanks for all the wonderful information! I definitely thought it looked too new to be a 50's bike! The four-digit code stamped on the head badge is 0412, so that should mean 41st day of the year in 1982, so February 10. That bike in the picture matches what I have exactly, the "World" is very faded but in the same location as in that picture.

The frame isn't all that heavy. The components on the other hand are probably twice the weight of the frame.

I'll read into this frame some more and hopefully get it built up soon!
Thread
Thread Starter
Forum
Replies
Last Post
Classic and Vintage Bicycles: Whats it Worth? Appraisals.
Classic and Vintage Bicycles: Whats it Worth? Appraisals.

Posting Rules
You may not post new threads
You may not post replies
You may not post attachments
You may not edit your posts
---
HTML code is Off
---