Rattling brake lever help

01-13-13, 09:05 AM
Senior Member
Rattling brake lever help
---
Hi all,
In the midst of Winter overhauls, and am trying to eliminate the rattle that occurs from Jenny's left brake lever. It is a Mafac Competition. I tried changing cables and housings, even brake calipers, but the rattle persists. It happens on and off, maybe 50% of the time, and seems to be coming from the rotating stop that the brake cable end pulls into. If I give the lever a tap in that spot while riding it will usually stop for a while, but I'm tired of disciplining it.
Is there any way to fix this? I really like the levers otherwise.
Pic of what the lever looks like: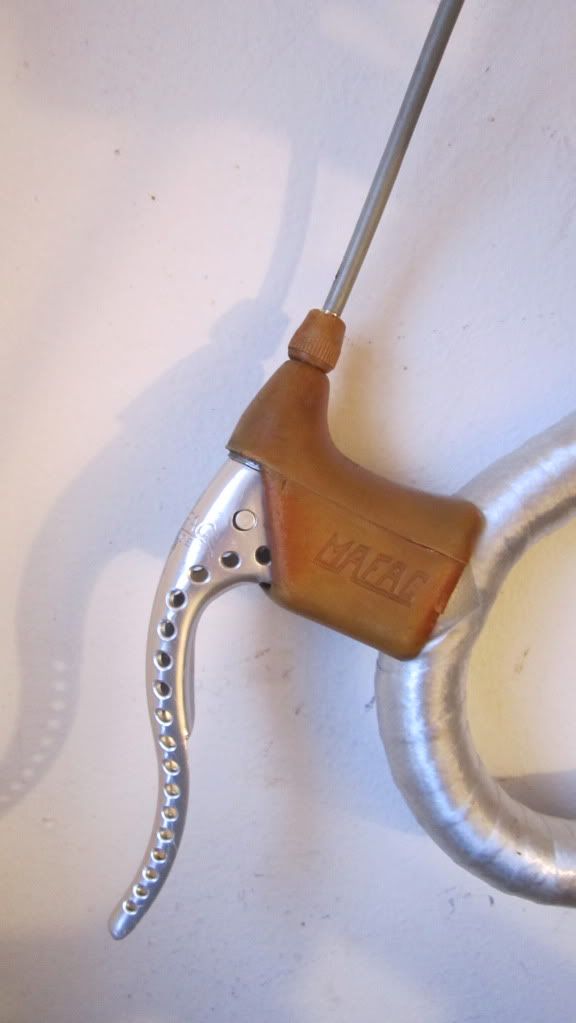 Many thanks!!!

01-13-13, 09:19 AM
Bianchi Goddess
Join Date: Apr 2009
Location: Shady Pines Retirement Fort Wayne, In
Posts: 29,401
Bikes: Too many to list here check my signature.
Mentioned: 187 Post(s)
Tagged: 2 Thread(s)
Quoted: 2781 Post(s)
It seems odd that the cable anchor would rattle, the tension of the brake cable should prevent it. How about a pic of the inside? Could there be a loose washer or an old cable end in there?
__________________

"

One

morning

you wake up, the girl

is

gone

, the bikes are

gone

,

all that's left

behind is a pair of old tire

s and a

tube

of

tubular glue

, all squeezed out"

Sugar "Kane" Kowalczyk

01-13-13, 09:50 AM
Senior Member

01-13-13, 10:32 AM
Senior Member
Join Date: Jul 2012
Location: Las Vegas, NV
Posts: 679
Bikes: 1949 'Italian' , 1950 San Giusto, 1897 Union, and a number of "projects"... 198? Grandis, a couple of Mixte's...
Mentioned: 0 Post(s)
Tagged: 0 Thread(s)
Quoted: 1 Post(s)
Likes: 0
Well, I don't know the Mafac's, but my Balilla and Universal levers, have thin plastic or nylon washers between the lever and the housing on the cross pin that hold them in. Perhaps you can find or make some thin washers to fit in there.
Joe

01-13-13, 11:30 AM
Senior Member

01-14-13, 09:28 PM
Ride, Wrench, Swap, Race
Join Date: Jan 2010
Location: Northern California
Posts: 8,967
Bikes: Cheltenham-Pedersen racer, Boulder F/S Paris-Roubaix, Varsity racer, '52 Christophe, '62 Continental, '92 Merckx, '75 Limongi, '76 Presto, '72 Gitane SC, '71 Schwinn SS, etc.
Mentioned: 131 Post(s)
Tagged: 0 Thread(s)
Quoted: 1476 Post(s)
I'm thinking that the brake's return-spring tension is somehow too low, but it's good that the cables were serviced if only as a diagnostic elimination step.

If you first slide the pad posts fully home into their eyebolts, the caliper springs will then have more tension after readjusting the pads (by tensioning the cable) to the usual proximity to the rim sidewalls.
Thread
Thread Starter
Forum
Replies
Last Post

Posting Rules
You may not post new threads
You may not post replies
You may not post attachments
You may not edit your posts
---
HTML code is Off
---