1959-61 J.C.Higgins Flightliner

07-27-13, 01:18 PM
Senior Member
1959-61 J.C.Higgins Flightliner
---
Just got this from a friend today. I'm going to strip it down and paint it pink and white, then enter it in a local Rat Rod v bike build off.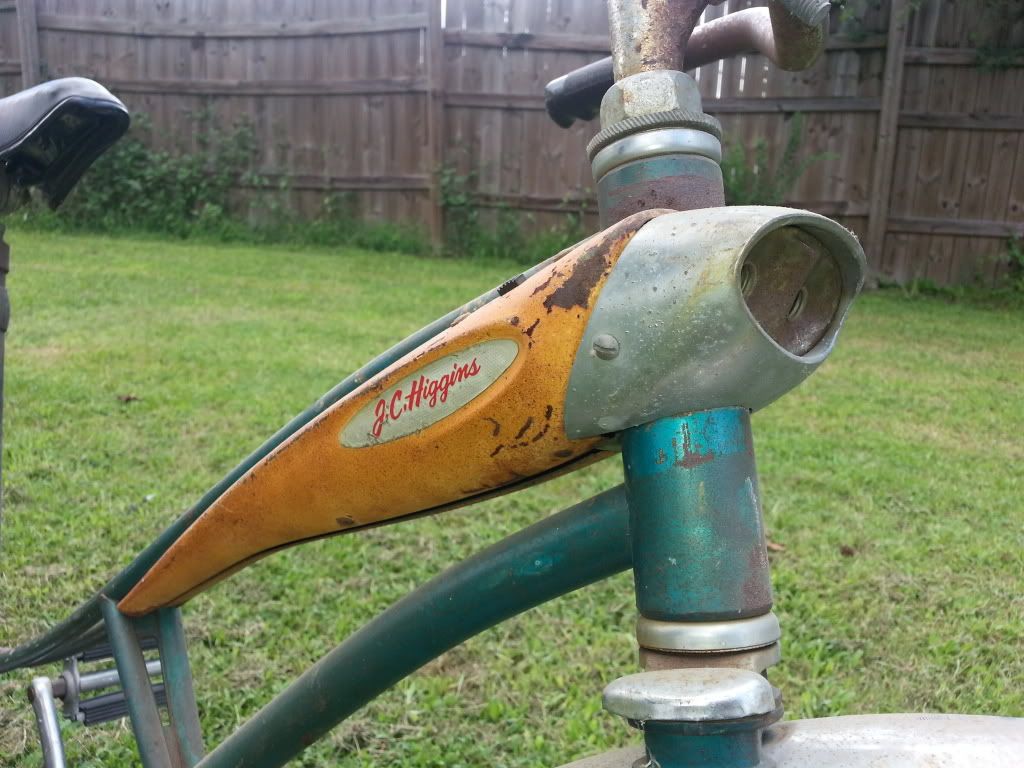 ---
Last edited by Drummerboy1975; 07-27-13 at

05:57 PM

.

07-27-13, 08:50 PM
Senior Member
Join Date: May 2010
Location: Hurricane Alley , Florida
Posts: 3,909
Bikes: Treks (USA), Schwinn Paramount, Schwinn letour,Raleigh Team Professional, Gazelle GoldLine Racing, 2 Super Mondias, Carlton Professional.
Mentioned: 10 Post(s)
Tagged: 0 Thread(s)
Quoted: 77 Post(s)
Don't forget to add pinwheels and tassels......Peewee.....

07-28-13, 08:29 AM
Drummerboy1975, It's more appropriate for a rat rod show as is, IMHO.

Brad

07-28-13, 09:34 AM
Senior Member
I agree, but it's loosely based on that idea. I have a 63 Typhoon built up that way, but decided to build a nicer bike after seeing what others are doing to theirs, I want to have a dog in the fight.

07-28-13, 04:14 PM
Schwinnasaur
That bike is not in such poor condition that would justify new paint. You need remove the rust and clean it up. If you repaint it will likely be worth less than it is now. Its your property, though.

07-29-13, 08:43 PM
Senior Member
So how do I get the orange rust out of the white paint on the tank?

07-29-13, 09:52 PM
Senior Member
Join Date: Jun 2012
Location: Central California
Posts: 1,084
Bikes: 2001 LeMond Nevada City, '92 Merlin Titanium, '84 Torpado Super Strada, '84 Schwinn Tempo, '81 Bianchi Limites, '73 Raleigh Supercourse
Mentioned: 17 Post(s)
Tagged: 0 Thread(s)
Quoted: 161 Post(s)
That bike is all kinds of awesome.
I especially like the first picture...you could go with that color scheme and make it a Miami Dolphins bike. My son (Dolphins fan) is giving it a

Thread
Thread Starter
Forum
Replies
Last Post

Posting Rules
You may not post new threads
You may not post replies
You may not post attachments
You may not edit your posts
---
HTML code is Off
---