Bianchi Steel Tubing

01-15-14, 03:38 PM
Senior Member
Join Date: Sep 2012
Location: Calgary
Posts: 642
Bikes: Condor, Cinelli SC, MKM Metcalfe, Peugeot AE08, Bianchi, Cougar, Miyata, Harry Hall, Holdsworth Special, Raleigh Int'l, Le Croco, Bob Jackson, Zeus
Mentioned: 26 Post(s)
Tagged: 0 Thread(s)
Quoted: 100 Post(s)
Bianchi Steel Tubing
---
My mid-70's Bianchi doesn't have any tubing stickers on it but it does have a model number sticker on the head tube (see photo for "00 5 11"). In the 1973 Bianchi catalogue, this model has, according to Google translate, "Frame: Tubular steel CR Ni Mo super lightweight". I believe CR Ni Mo is some sort of stainless steel but do any of you know anything more specific? Is it "normal" for this vintage of Bianchi to not have tubing stickers or have they been lost from my frame? Thanks in advance.
Brad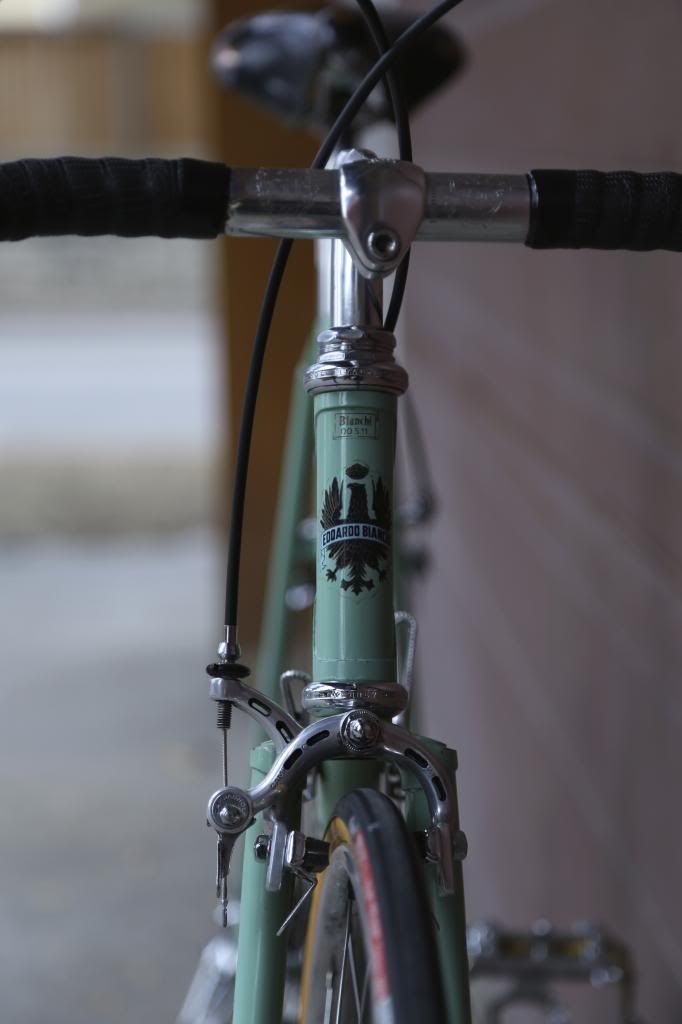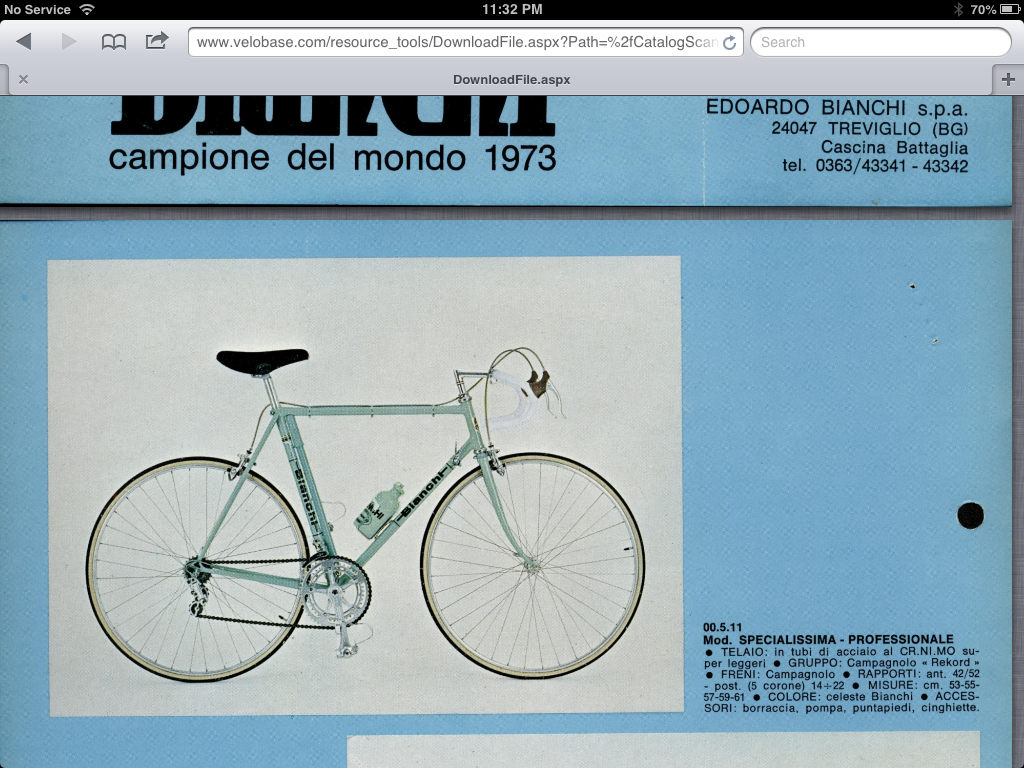 __________________
Better bike .. Better life!

01-15-14, 04:37 PM
aka Tom Reingold
Join Date: Jan 2009
Location: New York, NY, USA
Posts: 40,138
Bikes: 1962 Rudge Sports, 1971 Raleigh Super Course, 1971 Raleigh Pro Track, 1974 Raleigh International, 1975 Viscount Fixie, 1982 McLean, 1996 Lemond (Ti), 2002 Burley Zydeco tandem
Mentioned: 493 Post(s)
Tagged: 0 Thread(s)
Quoted: 6994 Post(s)
Is the bike light? Does it ride well? If so, you have good tubing.


01-15-14, 05:31 PM
Extraordinary Magnitude
Join Date: Aug 2009
Location: Waukesha WI
Posts: 13,022
Bikes: 1978 Trek TX700; 1978/79 Trek 736; 1984 Specialized Stumpjumper Sport; 1984 Schwinn Voyageur SP; 1985 Trek 620; 1985 Trek 720; 1986 Trek 400 Elance; 1987 Schwinn High Sierra; 1990 Miyata 1000LT
Mentioned: 79 Post(s)
Tagged: 0 Thread(s)
Quoted: 2364 Post(s)
I would walk around saying "cro ni mo" all the time.

I think I'll do that anyway.

cro ni mo....
__________________
*Recipient of the 2006 Time Magazine "Person Of The Year" Award*

Commence to jigglin' huh?!?!

"But hey, always love to hear from opinionated amateurs." -says some guy to Mr. Marshall.

01-15-14, 06:22 PM
category ii hoarder
Join Date: Aug 2011
Location: NYC+NNJ
Posts: 1,316
Bikes: i don't have a bike. a few frames, forks and some parts. that's all
Mentioned: 6 Post(s)
Tagged: 0 Thread(s)
Quoted: 54 Post(s)
(i'm not an expert or any sort, but)
if it were Ni-Cr-Mo, it's basically a low alloy steel sort widely used in the welding world? could this be relevant?
sorry if i confuses it more here.
*edit. this guess was completely incorrect and irrelevant, it turned out.

it seems some alloy formular, close to stain-less but not quite, if i am not mistaken.
---
Last edited by orangeology; 01-16-14 at

06:52 PM

.

01-15-14, 06:59 PM
Senior Member
Join Date: Jan 2010
Location: Pennsyl-tuckey
Posts: 684
Bikes: '86 Cannondale SR400, '86 Pugeot PX10, '92 Bianchi Axis, '95 Bianchi Campione d'Italia, '00 Fondriest X-Status, '08 Specialized Roubaix, '13 Cannondale CAADX
Mentioned: 0 Post(s)
Tagged: 0 Thread(s)
Quoted: 0 Post(s)
Likes: 0
Liked 0 Times in 0 Posts
If you're disappointed and want to throw it out, I'll pay shipping. It's Celeste lugged steel, and you look cool riding it.

01-15-14, 07:17 PM
mosquito rancher
It is definitely not stainless. At least in the early 80s Bianchis were typically Columbus SL, and I'd be surprised if things were much different in the early 70s.

01-15-14, 07:27 PM
Senior Member
Join Date: Jul 2004
Location: northern michigan
Posts: 13,277
Bikes: '77 Colnago Super, '76 Fuji The Finest, '88 Cannondale Criterium, '86 Trek 760, '87 Miyata 712
Mentioned: 19 Post(s)
Tagged: 0 Thread(s)
Quoted: 652 Post(s)
That bike is cool. I want one.


01-16-14, 05:39 AM
Senior Member
Join Date: Sep 2011
Location: The First State.
Posts: 1,165
Bikes: Schwinn Continental, Schwinn Paramount, Schwinn High Plains, Schwinn World Sport, Trek 420, Trek 930,Trek 660, Novara X-R, Giant Iguana. Fuji Sagres mixte.
Mentioned: 0 Post(s)
Tagged: 0 Thread(s)
Quoted: 34 Post(s)
We need more pictures of the bike. Drive side please. Not that I can help you identify a Bianchi, I just like looking at them.

01-16-14, 02:48 PM
Senior Member
Join Date: Sep 2012
Location: Calgary
Posts: 642
Bikes: Condor, Cinelli SC, MKM Metcalfe, Peugeot AE08, Bianchi, Cougar, Miyata, Harry Hall, Holdsworth Special, Raleigh Int'l, Le Croco, Bob Jackson, Zeus
Mentioned: 26 Post(s)
Tagged: 0 Thread(s)
Quoted: 100 Post(s)
Here's a photo.
I think this frame looks pretty close to the one Norwegian Roadie is enquiring about in this post:
https://www.bikeforums.net/showthread.php/930118-Vintage-Bianchi-with-Nuovo-Record-for-sale-good-buy-And-what-year?
It looks like the remnants of a Columbus sticker on that bike.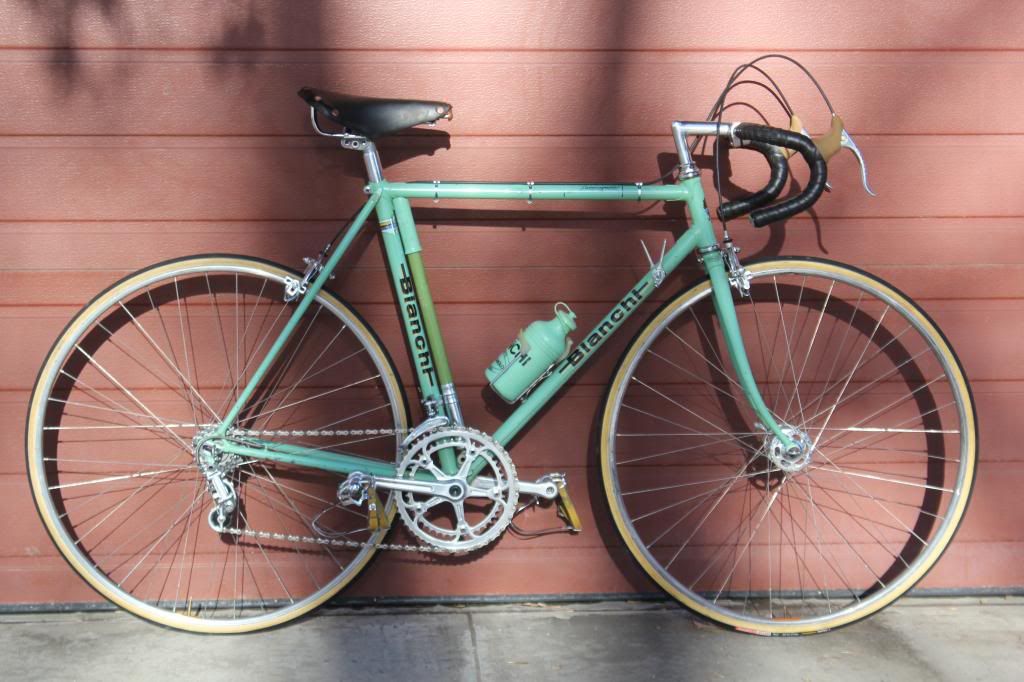 ---
Last edited by Stevensb; 01-16-14 at

02:57 PM

. Reason: add text

01-16-14, 04:06 PM
Senior Member
Join Date: Dec 2009
Location: Houston, TX
Posts: 28,682
Bikes: 1990 Romic Reynolds 531 custom build, Merlin Works CR Ti custom build, super light Workswell 066 custom build
Mentioned: 106 Post(s)
Tagged: 1 Thread(s)
Quoted: 6555 Post(s)
Likes: 0
Ni and Cr are the principal alloying metals that provide corrosion resistance to steel but only at fairly high concentration like 18% Cr and 8 or 10% Ni. The concentrations of such metals and also Mo used to enhance strength of steel are much smaller. This isn't likely stainless.
Thread
Thread Starter
Forum
Replies
Last Post
Classic and Vintage Bicycles: Whats it Worth? Appraisals.

Posting Rules
You may not post new threads
You may not post replies
You may not post attachments
You may not edit your posts
---
HTML code is Off
---