Vitus Carbone 9

03-06-14, 12:32 AM
Junior Member
Join Date: Aug 2007
Posts: 18
Mentioned: 0 Post(s)
Tagged: 0 Thread(s)
Quoted: 0 Post(s)
Likes: 0
Liked 0 Times in 0 Posts

03-06-14, 01:46 AM
Senior Member
Join Date: Jul 2009
Posts: 11,138
Bikes: 1986 Alan Record Carbonio, 1985 Vitus Plus Carbone 7, 1984 Peugeot PSV, 1972 Line Seeker, 1986(est.) Medici Aerodynamic (Project), 1985(est.) Peugeot PY10FC
Mentioned: 21 Post(s)
Tagged: 0 Thread(s)
Quoted: 145 Post(s)
Likes: 0
Wow! a Franco/Italo beauty!



Haven't seen a Vitus Carbone so decked out in such top line Campy jewels!
I agree about changing the chain to something more interesting looking, like maybe a silver or Nickel colored narrow Sedis/Sachs.
Just curious about your wheelset. tubs I presume? With C-record or Chorus hubs? What are the rims? Love the touch with the French tires. I should do that for my Carbone one day.....
I notice the visible carbon material that must have been clear coated over. I think The Carbone 7 might actually be the same under its satin black frame paint. A bit of elbow grease to clean up and polish the lugs, BB shell, DO's and head tube should be icing on the cake...
Thanks for posting these shots! We don't see enough of these bikes in this condition and built up so well!
---
Last edited by Chombi; 03-06-14 at

02:52 AM

.

03-06-14, 02:32 AM
Senior Member
Join Date: Aug 2009
Location: Berkeley, CA
Posts: 6,785
Bikes: '72 Cilo Pacer, '72 Gitane Gran Tourisme, '72 Peugeot PX10, '73 Speedwell Ti, '74 Nishiki Competition, '74 Peugeot UE-8, '75 Peugeot PR-10L, '85 De Rosa Pro, '86 Look Equipe 753, '86 Look KG86, '89 Parkpre Team, '90 Parkpre Team MTB, '90 Merlin
Mentioned: 72 Post(s)
Tagged: 0 Thread(s)
Quoted: 574 Post(s)
Another fantastic bike. Thanks for sharing.

I had a similar reaction to Chombi regarding the Franco/Italian combo. But for me it's not the French/Italian combo that was unexpected, as much as the fact you seldom see a C-record equipped Vitus carbonne. They were almost always Mavic or Dura-Ace, or some other esoteric build. Obviously Vitus had a close connection to Mavic (linked through the Bic and KAS teams of Kelly fame of course). The Vitus carbonne frames, culminating in the carbonne-9, were at the forefront of weight weenie-ism, something never really associated with the C-record group.

I don't recall the weaving patters in the carbon to be so pronounced. Is the camera picking up more than what you see with the naked eye? I like it.

Between the snippets of display cases, odd MTB forks, booze options, the Ciocc, and now this Vitus, I keep getting the feeling that just beyond the frame of the photos is an incredible bike den.

03-06-14, 08:44 AM
Junior Member
Join Date: Aug 2007
Posts: 18
Mentioned: 0 Post(s)
Tagged: 0 Thread(s)
Quoted: 0 Post(s)
Likes: 0
Liked 0 Times in 0 Posts
Thanks for the comments guys!!!

Chombi,
The rims are Mavic GL 330 tubs with C-Record hubs. The bike has less than 200 miles on it. It took a while to build. I don't have deep pockets for parts.


Gaucho777,
The bike seen in person is way better. You can pick up the nice I guess clear coat over the carbon weaving. I have a small shed out back with vintage road stuff. Those are miniature glass whiskey bottles that my father started buying for me when I was 16 or so. They don't really use glass bottles anymore. Some of those alcohol companies are out of business. I'm a big BMX addict as well. For that I have two other sheds.

03-06-14, 12:32 PM
cycles per second
Join Date: Oct 2003
Location: Minnesota
Posts: 1,790
Bikes: Vitus Aluminum, DiamondBack Apex, Softride Powerwing 700, "Generic" Ishiwata 022, Trek OCLV 110
Mentioned: 0 Post(s)
Tagged: 0 Thread(s)
Quoted: 2 Post(s)
Likes: 0
Liked 0 Times in 0 Posts
Nice!

I've got GL330's for my Vitus 979 but I went with Campy Athena hubs.

03-06-14, 12:47 PM
Senior Member
Join Date: Nov 2009
Location: Chicago
Posts: 1,245
Bikes: 2012 Moots VaMoots-74 Peugeot Mixtie U018-73 Peugeot U018
Mentioned: 2 Post(s)
Tagged: 0 Thread(s)
Quoted: 16 Post(s)
Likes: 0
That is one magnificent Vitus Carbone bike, especially the Record C with Delta's. And your cabinet is fill with liquid refreshments to get you through the vortex!
__________________
Moots VaMoots 2012-Peugeot Mixte 1974-Peugeot Mixte 1973

03-06-14, 06:05 PM
Senior Member
Join Date: Jul 2009
Posts: 11,138
Bikes: 1986 Alan Record Carbonio, 1985 Vitus Plus Carbone 7, 1984 Peugeot PSV, 1972 Line Seeker, 1986(est.) Medici Aerodynamic (Project), 1985(est.) Peugeot PY10FC
Mentioned: 21 Post(s)
Tagged: 0 Thread(s)
Quoted: 145 Post(s)
Likes: 0
I just noticed that this Carbone 9 is kind of a polar opposite of how I built up my Alan Carbonio....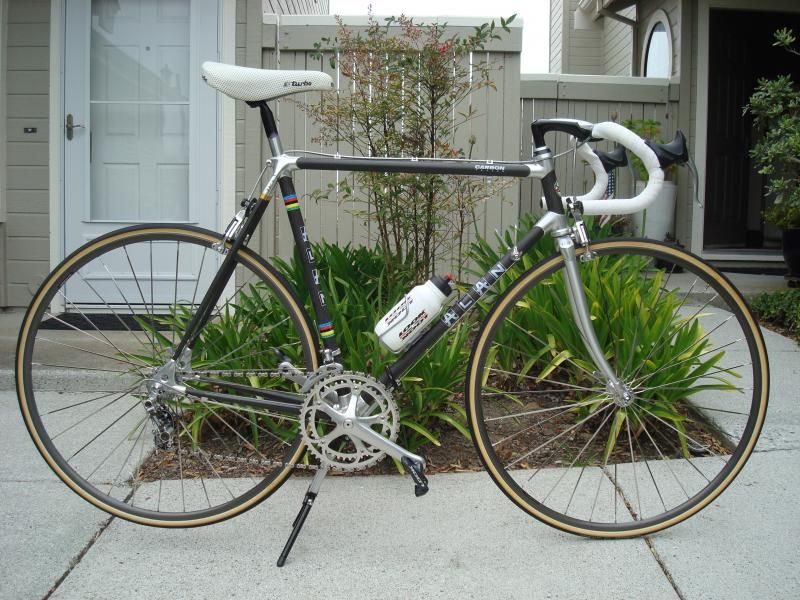 My Alan Carbonio being an Italian frame with French....and Swiss components.
I could have waited to maybe put together the typical high line Campy gruppo that most other Alan bike owners install on their bikes, but The weinmann and Edco stuff I already had in hand seems to match up nicer with the bike....and I just happen to have a Mavic SSC derailleurs and shifters ready to go in my stash too....

03-07-14, 07:56 AM
Senior Member
Join Date: Dec 2007
Location: Holland
Posts: 946
Bikes: 2007 Nagasawa with C-Record, 1992 Duell with Croce D'aune/Chorus, three Gazelles, M5 recumbent
Mentioned: 2 Post(s)
Tagged: 0 Thread(s)
Quoted: 46 Post(s)
Likes: 0
Very nice bike, when I started cycling this was my dream frame.

03-07-14, 08:00 AM
I like the term "campy loaded". So, Cal Worthington or Ralph Williams.

(two well known car dealers who on late night Los Angeles TV hawked their wares in the B&W era)

03-07-14, 12:53 PM
Senior Member
Join Date: Aug 2009
Location: Berkeley, CA
Posts: 6,785
Bikes: '72 Cilo Pacer, '72 Gitane Gran Tourisme, '72 Peugeot PX10, '73 Speedwell Ti, '74 Nishiki Competition, '74 Peugeot UE-8, '75 Peugeot PR-10L, '85 De Rosa Pro, '86 Look Equipe 753, '86 Look KG86, '89 Parkpre Team, '90 Parkpre Team MTB, '90 Merlin
Mentioned: 72 Post(s)
Tagged: 0 Thread(s)
Quoted: 574 Post(s)
Thread
Thread Starter
Forum
Replies
Last Post

Posting Rules
You may not post new threads
You may not post replies
You may not post attachments
You may not edit your posts
---
HTML code is Off
---