Surviving Vitus Carbon Frames

04-28-14, 04:43 PM
Senior Member
Join Date: Sep 2011
Location: Durango, CO
Posts: 276
Bikes: too many old steel bikes
Mentioned: 60 Post(s)
Tagged: 0 Thread(s)
Quoted: 67 Post(s)
Surviving Vitus Carbon Frames
---
Just finished building this Vitus Carbone 7 w/ a spidel group, cinelli bar and stem, mavic tubulars, and mavic seatpost. I'm wondering how many C&Ver's have these old frames? This is my first carbon fiber frame. Everything else in the stable is vintage steel. I haven't ridden it yet. Need to glue the tires and give it a go. Curious to hear other experiences. Thanks, Andy

04-28-14, 09:32 PM
Senior Member
Join Date: Jul 2009
Posts: 11,138
Bikes: 1986 Alan Record Carbonio, 1985 Vitus Plus Carbone 7, 1984 Peugeot PSV, 1972 Line Seeker, 1986(est.) Medici Aerodynamic (Project), 1985(est.) Peugeot PY10FC
Mentioned: 21 Post(s)
Tagged: 0 Thread(s)
Quoted: 145 Post(s)
Likes: 0
Not that many CF Vitus frame owners here, but there are a enough in this forum that appreciate them as much as we do.
Here's my own Vitus Plus Carbone 7: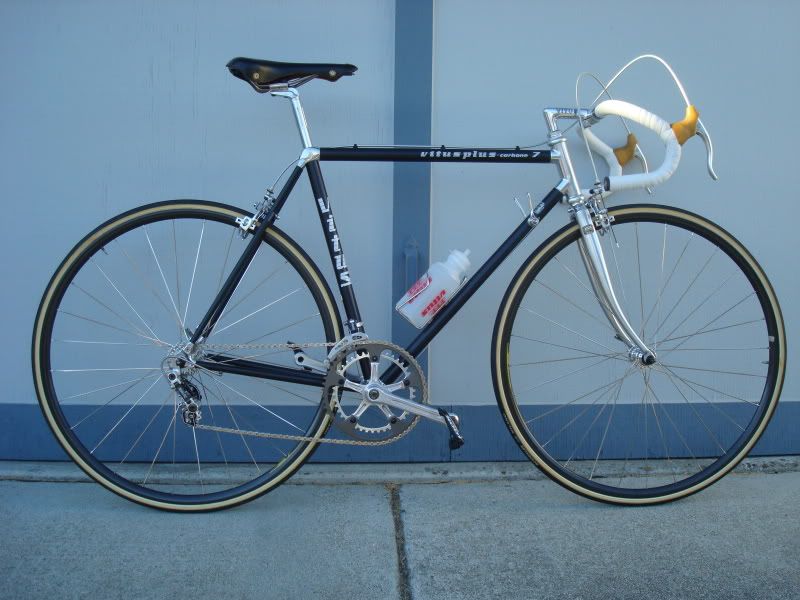 All french except for the stem (Vitus pantographed ITM), DT SS "Aerolite" oval section spokes and Schwalbe Milano tubs.
Otherwise, everything is French and period correct (except Look Keo Classic pedals and Gilles Berthoud Galibier saddle, but it looks the part.) on the bike, with the Mavic SSC drivetrain the focus of the build.

04-28-14, 11:49 PM
Senior Member
Join Date: Oct 2011
Location: Fairplay Co
Posts: 8,175
Bikes: Current 79 Nishiki Custum Sport, Jeunet 620, notable previous bikes P.K. Ripper loop tail, Kawahara Laser Lite, Paramount Track full chrome, Raliegh Internatioanl, Motobecan Super Mirage. 59 Crown royak 3 speed
Mentioned: 21 Post(s)
Tagged: 1 Thread(s)
Quoted: 482 Post(s)
Very nice bike don't worry about the Vitus semi myths put some good rubber on this great bike and ride.

04-29-14, 02:33 AM
Senior Member
Join Date: Dec 2007
Location: Holland
Posts: 946
Bikes: 2007 Nagasawa with C-Record, 1992 Duell with Croce D'aune/Chorus, three Gazelles, M5 recumbent
Mentioned: 2 Post(s)
Tagged: 0 Thread(s)
Quoted: 46 Post(s)
Likes: 0
I don't have a Vitus Carbone frame, but really like them.
Enjoy the bike.

04-29-14, 07:51 AM
Senior Member
Join Date: Jul 2009
Posts: 11,138
Bikes: 1986 Alan Record Carbonio, 1985 Vitus Plus Carbone 7, 1984 Peugeot PSV, 1972 Line Seeker, 1986(est.) Medici Aerodynamic (Project), 1985(est.) Peugeot PY10FC
Mentioned: 21 Post(s)
Tagged: 0 Thread(s)
Quoted: 145 Post(s)
Likes: 0
As for riding impressions, my Carbone 7 rides very stable and very comfortable. No twitchyness/nervousness in the handling. It's mostly at home on long, fast "motoring" rides as the very comfortable rides keep you fresher on the saddle longer. The damped ride from the CF frame and tubular tires really work together for a very plush ride. Although many think that C&V CF bikes are flexy, I don't feel that's the case with the Vitus Carbone as it feels very stiff, especially when compared to my steel Peugeot PSV. Not sure if it's because of the smallish frame (52cm) I chose to find for my first C&V CF bike, but the BB section of the bike is much stiffer than the one on my steel Peugeot. I don't even get any front derailleur rub when standing on the pedals and climbing, unlike with my PSV.

04-29-14, 07:15 PM
Senior Member
Join Date: Sep 2011
Location: Durango, CO
Posts: 276
Bikes: too many old steel bikes
Mentioned: 60 Post(s)
Tagged: 0 Thread(s)
Quoted: 67 Post(s)
Thank you everyone for the responses. I'm looking forward to my first ride.

05-04-14, 09:11 PM
winning magazine junkie
Join Date: Jun 2004
Location: spfld ill
Posts: 518
Bikes: top end gitanes and some funky ones too
Mentioned: 0 Post(s)
Tagged: 0 Thread(s)
Quoted: 0 Post(s)
Likes: 0
I also have a 7 , rides great and weighs next to nothing . I own two vitus bikes , a 979 and the carbon both fun rides, I see you have a team pro ...nice

05-06-20, 12:50 AM
Newbie
Join Date: May 2020
Posts: 1
Mentioned: 0 Post(s)
Tagged: 0 Thread(s)
Quoted: 0 Post(s)
Likes: 0
Liked 0 Times in 0 Posts
Hi, I have a similar bike frame but it is labelled as Vitus Carbone-9.
By the way, do u know what BB we use? I only know it has British (English) threading.

05-06-20, 05:24 AM
spondylitis.org
Join Date: Mar 2013
Location: Fleetwood, PA, USA
Posts: 896
Bikes: '90 Bridgestone MB-1; '85 Trek 600; '01 Cinelli Supercorsa; '89 Bridgestone RADAC 3100; '87 Tommasini Super Prestige; '13 Lynskey R2300; '84 Serotta Nova Special
Mentioned: 10 Post(s)
Tagged: 0 Thread(s)
Quoted: 90 Post(s)
You can use anything bottom bracket set for English threads as long as shell width is 68mm.
Thread
Thread Starter
Forum
Replies
Last Post

Posting Rules
You may not post new threads
You may not post replies
You may not post attachments
You may not edit your posts
---
HTML code is Off
---