100 years of TdF bikes

07-21-14, 04:40 PM

07-21-14, 06:28 PM
Banned.
Join Date: May 2011
Location: on the beach
Posts: 4,859
Bikes: '73 falcon sr, '76 grand record, '84 davidson
Mentioned: 0 Post(s)
Tagged: 0 Thread(s)
Quoted: 59 Post(s)
Likes: 0
serious bike porn.

the bikes don't really look like they changed much for four decades, from the late '40s until the early '90s.

there's a '30 for 30' doc airing on espn tomorrow (tues) on lemond and the '86 race, called 'slaying the badger.' set your dvr.

i also recently caught another doc on cable, called 'the armstrong lie.' pretty fascinating.

07-21-14, 07:07 PM
Bianchi Goddess
Join Date: Apr 2009
Location: Shady Pines Retirement Fort Wayne, In
Posts: 28,410
Bikes: Too many to list here check my signature.
Mentioned: 157 Post(s)
Tagged: 2 Thread(s)
Quoted: 2366 Post(s)
That is an incredible history. This thing is crazy look how relaxed it is.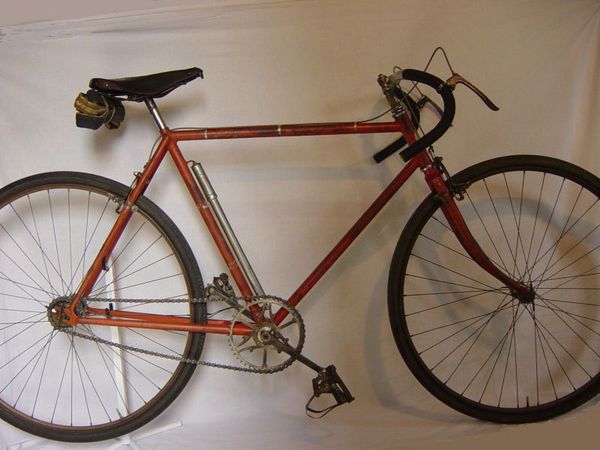 I think they have the wrong bike or at least the wrong paint and decals for Moreno Argentin
__________________

"

One

morning

you wake up, the girl

is

gone

, the bikes are

gone

,

all that's left

behind is a pair of old tire

s and a

tube

of

tubular glue

, all squeezed out"

Sugar "Kane" Kowalczyk

07-21-14, 07:18 PM
自転車整備士
Join Date: Apr 2012
Location: Denver, Colorado USA
Posts: 898
Bikes: '86 Moots Mountaineer, '94 Salsa Ala Carte, '94 S-Works FSR, 1983 Trek 600 & 620
Mentioned: 0 Post(s)
Tagged: 0 Thread(s)
Quoted: 3 Post(s)
Likes: 0
Thanks for the ride through the TdF Time Machine,
fietsbob
!
It's cool to see the evolution of many designs in these photos, such as handlebars, shifting systems, etc.
The early bikes were quite a bit more relaxed than their more modern counterparts!

07-21-14, 07:32 PM
Have bike, will travel
Join Date: Feb 2006
Location: Lake Geneva, WI
Posts: 12,334
Bikes: Ridley Helium SLX, Canyon Endurance SL, De Rosa Professional, Eddy Merckx Corsa Extra, Schwinn Paramount (1 painted, 1 chrome), Peugeot PX10, Serotta Nova X, Simoncini Cyclocross Special, Raleigh Roker, Pedal Force CG2 and CX2
Mentioned: 46 Post(s)
Tagged: 0 Thread(s)
Quoted: 882 Post(s)
Thanks for sharing
__________________
When I ride my bike I feel free and happy and strong. I'm liberated from the usual nonsense of day to day life. Solid, dependable, silent, my bike is my horse, my fighter jet, my island, my friend. Together we will conquer that hill and thereafter the world.

07-21-14, 08:55 PM
Hopelessly addicted...
Join Date: Aug 2009
Location: Central Maryland
Posts: 5,007
Bikes: 1949 Hercules Kestrel, 1950 Norman Rapide, 1970 Schwinn Collegiate, 1972 Peugeot UE-8, 1976 Raleigh Sports, 1977 Raleigh Sports, 1977 Jack Taylor Tandem, 1984 Davidson Tandem, 2010 Bilenky "BQ" 650B Constructeur Tandem, 2011 Linus Mixte
Mentioned: 13 Post(s)
Tagged: 0 Thread(s)
Quoted: 3 Post(s)
Likes: 0
---
Last edited by photogravity; 07-22-14 at

04:52 AM

.
Thread
Thread Starter
Forum
Replies
Last Post

Posting Rules
You may not post new threads
You may not post replies
You may not post attachments
You may not edit your posts
---
HTML code is Off
---