Chute! or One-Armed Touring 101

09-29-14, 04:27 PM
Shifting is fun!
Chute! or One-Armed Touring 101
---
Last week mrs non-fixie and I were in the French Medoc area for a week of touring. On the very first day out the unthinkable happened: a tree root that had grown up through an otherwise fine stretch of blacktop suddenly jumped in front of my bike and before I knew it I was lying horizontally on the road and had a close-up view of the aforementioned blacktop.
It was my own fault entirely. My right hand was holding my sunglasses and wiping my brow, the left hand loosely on the bars. As we were on a dedicated
piste cyclable
with smooth tarmac, I wasn't paying much attention to the road. The nice bottle of
vin rosé
that had accompanied our lunch, and the
coupe général
I had for dessert may have had something to do with it as well.

Exhibit 1: Coupe Général, vanilla ice cream drenched in whisky.
The grazed elbow and knee felt strangely familiar, although it's been at least forty years since my knee last looked like this:
After making sure all important body parts would still move the way they should, I straightened the handlebars and the saddle, and was back on the bike within a couple of minutes. My arm did feel a bit sore, but the remaining 10 kms to the hotel went without much trouble, as the Strava chart shows:
However, the next morning my left arm refused all services. No useful movement whatsoever was to be coaxed from it. Apparently the bruising was a little worse than I'd thought. But the vacation was booked, the hotels paid for, and ourselves and our bikes in St Medard-en-Jalles.
Now, I regularly ride with one hand on the bars, the other doing whatever needs doing, like taking pictures, getting a snack from my pocket or my cap from wherever I put it this time. So no problem, I said to my better half. I just need to watch out a little better.
But there's a difference between one-handed riding while knowing you can put the other back on duty when you need it, and knowing that you can't.
I thought I'd share some of my learnings with you.
Starting
I usually ride away by starting to pedal with my right foot, followed by putting my behind on the saddle and clipping in the remaining foot. This doesn't work with one arm. You have to sit down first, then start pedaling. Which is not as easy as it sounds.
Stopping
Stopping normally means getting out of the saddle, moving the body forward and a little downward, so you can put a foot on the ground. This doesn't work well with one arm either. You come to a halt, then fall over to the side until your foot hits the ground.
Toe clips
I had mrs non-fixie remove my toe clips and straps, which was probably a wise thing to do, if only for piece of mind. I did find that I don't really like riding without them anymore. My feet tend to wander away from the optimal position on the pedals, and it all feels a bit less secure. YM, however, MV.

Once fallen, twice shy
The first couple of days after The Incident I was too aware of all the possible dangers of riding a bike. Every car was aimed straight at me, every dark patch on the road a potential last stop for non-fixie. I even thought of buying a helmet. Imagine that. This was a bit of a disappointment, to be honest, and it certainly did not help.
However, after getting not killed at least forty times, things got better, and now I'm pretty much back to being my usual over-confident self again.
Braking
This was a challenge. At best I could use the rear brake, from the hoods. Or rather: hood. And as good as MAFAC's are, this doesn't slow you down very quickly. I had a few scary moments.
Role reversal
Normally my default riding speed is a little higher than mrs non-fixie's, and I have to hold back a bit when we ride together. This time it was the other way around. On bad road surfaces, especially downhill, I had trouble keeping up with her. "How does it feel to be me?" I asked after two days. "Nice", she said.
It's now a week later. We did all the planned rides - about 320 kms in total - and we got back home yesterday. My arm is feeling a bit better, albeit still without much strength. It's mostly the muscles I apparently used to compensate that are now feeling sore.
Some more pics:
Although most of the roads are pretty nice, there are still a lot of these to be found:
The poshest garage door I could find. That of the Chateau Margaux:
Nice piece of Franco-American C&V machinery, the Ford Comète:
__________________
Where's
Sandra
?

09-29-14, 05:15 PM
Senior Member
Join Date: Oct 2013
Location: The Great Pacific Northwest
Posts: 4,471
Mentioned: 84 Post(s)
Tagged: 0 Thread(s)
Quoted: 380 Post(s)
Liked 0 Times in 0 Posts
Well glad you're on the mend. It interesting how we rely on our bodies more than we realize sometime. I totally get the "shy" part after an accident. Your environs looked lovely.

09-29-14, 07:35 PM
feros ferio
__________________
"Far and away the best prize that life offers is the chance to work hard at work worth doing." --Theodore Roosevelt
Capo: 1959 Modell Campagnolo, S/N 40324
Capo: 1960 Sieger (2), S/N 42624, 42597
Peugeot: 1970 UO-8, S/N 0010468
Bianchi: 1982 Campione d'Italia, S/N 1.M9914
Schwinn: 1988 Project KOM-10, S/N F804069

09-30-14, 05:57 AM
Freewheel Medic
What a stud! To finish the tour despite being winged!

May the rest of your recovery be without complication!
__________________
Bob
Dreaming about riding in NH's summertime!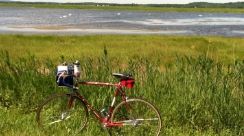 Visit my websites:
FreeWheelSpa.com
or
pastorbobnlnh.com