Any Surly riders? LHT vs Cross vs Straggler?

04-07-21, 01:25 PM
Destroyer of Wheels
Any Surly riders? LHT vs Cross vs Straggler?
---
I saved my 1980s Nishiki Sport from a backyard and built it up through years of thread clicking around here, but the frame just snapped so I'm grieving and looking for a new frame / ride. I've always loved the look and idea of Surlys. I measured my bike, while it was (by any fit chart) too big for me I loved how it felt and rode after a slew of upgrades. Having a lot of trouble finding LBSs with them in stock AND in my size to try out...so I might have to go a little blind. Typically I like to take medium-hard effort rides for a half or full day...30-40 miles is a "normal" ride but do like 60-80 miles when the weather's nice. I used to be a mid-Clyde, but now I'm a belt notch below an ultra and need to get back down to midlevel. Thanks Covid. Mostly I'd classify my approach to biking as "utilitarian" - I don't want something that'll make me a target for theft, but willing to put money into the ride quality if it means I smile every time I get on.
I measured the geometry of my current ride, looks like a 62cm. I'm about 6' 1" or 6' 2" with shoes, and both myself and my Nishiki have a 34.5 standover height. So I'm looking at 62cm or more likely 60cm Surlys. I'm trying to decide between a Cross Check, Long Haul Trucker (or Long Disc Trucker), or Straggler (which I never heard of but seems intriguing). Mostly I'll be on road, however the roads in NYC can be gravel like at times! I may also go on a tour in the distant future, so I'd like the option of being able to either put panniers or tow. I have a good handbuilt wheelset I'd bring over along with a slew of other parts (like touring bars), and I don't mind getting a bike that I can eventually put disc brakes on later on (so start with side pulls or cantis and change in the future when I need to build a new wheel).
Any and all opinions welcomed!

04-07-21, 02:36 PM
Senior Member
Join Date: Feb 2010
Location: Tucson, AZ
Posts: 114
Bikes: 80 Raleigh Competition, 83 Freschi Supreme, 84 Miyata 610, 86 Miyata 1000, 87 Schwinn Voyageur, 89 Marin Pine Mountain, 93 Specialized Stumpjumper, Soma Smoothie, Surly Cross Check
Mentioned: 0 Post(s)
Tagged: 0 Thread(s)
Quoted: 50 Post(s)
Judging by the saddle height of your Nishiki 62cm might be too big and I think would definitely be too big by modern sizing. I recommend measuring the center to center of the top tube. I know everyone's proportions and personal preferences are different, but I'm 6'1" with slightly longer torso vs legs and my 58cm CrossCheck fits me perfectly.

I absolutely love my CrossCheck as a "do it all" type of bike. Clearance for wide tires, tons of rack/fender mounts, etc. I've done 75 mile rides on it with no complaints. I think the main difference between the CrossCheck and the Long Haul Truck is overall wheelbase. The LHT will have a longer wheelbase, which would be more stable and have more foot clearance when you're heavily loaded up for touring.

04-07-21, 03:34 PM
I am also about 6'1" and maybe 6'2" with shoes on. I've never measured my cycling inseam, but I wear pants/jeans with 32" inseams and 16-35 dress shirts. My Cross Check is a 58 and seems to fit fine.
Here's the best picture I have to show seatpost and stem lengths. Since we're talking size, I will say I find the drops on the stock Salsa Bell Lap bars to be too low. I've had some Midge bars sitting on a shelf for months now that I keep meaning to install. I think it will be perfect then with less drop.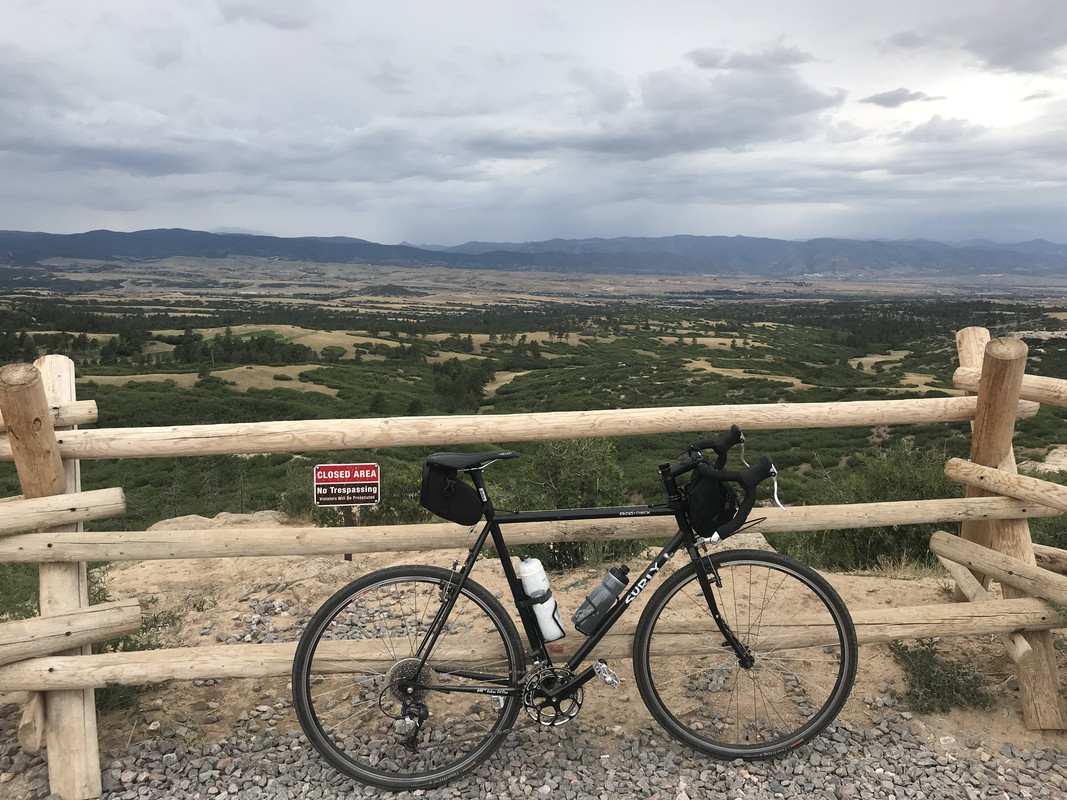 04-11-21, 09:25 AM
Senior Member
I'm about 6'1.5" and also ride a 58cm frame comfortably.
Long Haul Trucker has been discontinued by Surly in favor of the Disc Trucker. Manufactures have been phasing out rim brake bikes for awhile, so not many new offerings are left. 99% of the time you can not convert a rim brake bike to disc brake, so this will require a new frame. To use your old parts, like your wheels, look for a rim brake bike. You may be able to score a good deal on a used one since a lot of people are selling them off in favor of disc brakes. As for new rim brake frames, the Surly Cross Check and Soma Pescadero are some good options.
If you decide to go with disc brakes, you have a lot more offerings. The Straggler is similar to the Cross Check, but disc, but also look at Soma's offerings and a few other steel brands.
My suggestion would be look for a nice used rim brake bike to use your old parts on or use this time to upgrade to a disc brake bike. Better yet, both


04-13-21, 09:02 AM
Junior Member
Join Date: Apr 2012
Posts: 8
Mentioned: 0 Post(s)
Tagged: 0 Thread(s)
Quoted: 2 Post(s)
Likes: 0
Liked 0 Times in 0 Posts
I have nothing but good things to say about my LHT. I have a 56cm frame and usually ride a 58cm road bike. I am 5'10". I actually prefer the 56cm geometry.

04-17-21, 07:32 PM
Senior Member
I have an XL Karate Monkey and a 60cm Disc Trucker. For reference, I'm just shy of 6'2" and wear 34" inseam pants so I'm a little bit longer in my legs than in my torso. Almost every bike has advantages and disadvantages and it sort of comes down to preference. IMO, the Surlys are a great value and you get a lot of bike for what you pay. I just ordered a 60cm Cross Check and I'll be taking possession of it in a few weeks. The one suggestion that I would have when purchasing a Surly is to work with a LBS that really understands Surly. Since Surly is owned and distributed by QBP, any LBS can order and build up a Surly for you but not all them really understand what Surly is all about. If you're buying a complete bike, that may not be such a big deal but if you are buying a fameset and having it built up to your preferences, choose your shop wisely. For example, I've bought all of my Surlys from LBSs that have more of an urban focus. Not that other shops aren't good, but a lot of them are so focused on the high priced/high margin latest generation of carbon performance road bikes and mountain bikes that they have lost some of the focus on more practical and utilitarian bikes like Surlys. Just my opinion, for what little it is worth.
Here are some pics of my Disc Trucker. I purchased the frameset and built it up using a combination of road, mountain and cyclocross components. Again since I'm a little longer in the legs I have a 60cm frame but my stem is relatively short (that sounds sort of weird LOL). I particularly like the Salsa Cowbell handlebars that have just a little bit of flare out to them paired up with the Shimano 105 brifters.
​​​​​​​