Biscuit Boy
Join Date: Apr 2006
Location: Speeenard 'laska
Bikes:
Posts: 1,355
Mentioned: 0 Post(s)
Tagged: 0 Thread(s)
Quoted: 0 Post(s)
End of Season Report for Kona Hoss
---
I picked up a roughly used Kona Hoss last fall off CL and fixed it up into my official ice bike for commuting around Los Anchorage and environs. The bike needed new brake cables and a tuneup. I put on some improved grips, raised the bars a notch and swapped out the factory saddle with a B-17. I also put on BMX pedals. The bike itself carried me and often a load of groceries over rough ice, snow, and more ice from October on, every single day. I don't know total miles but it would be close to 500 with NONE of them being easy on the bike. I weigh 350. Temps ranged from 35 f. to -20 f. It was menaced by reindeer and attacked by at least one hobo.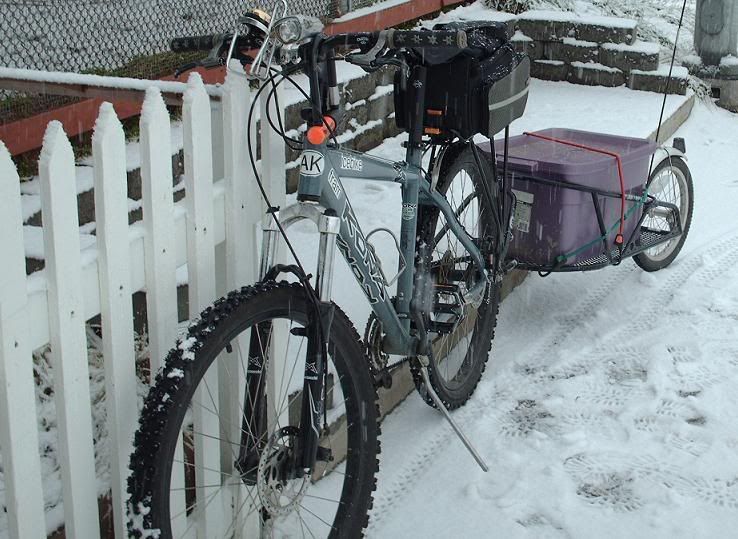 Final report--one broken spoke in the rear and the rear wheels slightly out of true. Disk breaks were excellent and immune to the weather. The moving parts are dirty and have a patina of rust but no pitting. Gears shifted smoothly all season. I sprayed some M-Pro type cleaner on the teeth and the chain from time to time, but otherwise did nothing to it.
If it tolerated me, and Anchorage, it should be up to any challenge. Excellent bike!