I posted this in the Southern California section, but at the urging of Beanz, Iíll post it here too. Iíll go into a bit more detail here, since itís ďThe great GMR ride report.Ē
To sum up before the details, I finally made it up GMR to the shack. I set out from my house on 7/3 right before 6am. I had planned on heading out later, but after reading other riders reports of heat, I figured Iíd head out as soon as I woke. I took two 20oz bottles with me, one with water and the other was water with a NUUN tablet, and a 24oz bottle with more water. By the time I got home, all 3 bottles were bone dry. It wasnít warm when I stepped out of my house, but it wasnít cool either. By the time I got to the base of GMR it was comfortable. But a few miles into the climb it got hot!
The gate at the beginning of GMR is about 5 miles from my front door, so to the shack and back is about a 26 mile round trip. For those of you that don't know, I have attempted GMR once before, back in October on a forum group ride. I didn't make it very far. At the time I had little experience with my new road bike, I think it was about a month old and I hadn't put many miles on her, oh and I weighed about 295 pounds. Since that first failed attempt I have wanted to tackle it again. I have been given advice from Mr Beanz and Mr Clyde, as well as my brother who has been cycling for the past 30 years or so. Since my first attempt I have put many miles on my bike, I am a much stronger rider then I was, and not to mention I've lost over 50 pounds. Since it was closed to motorized vehicles for the 4th of July weekend, I figured it was my perfect opportunity to conquer that mountain. I want to thank the two misters for their advice, Mr Beanz and Mr Clyde, your words kept ringing in my ears, "the first 3 miles are the hardest." They were both correct. I wouldnít say it got easy after the first 3 miles, I wouldnít even say it got easier, I would say it wasnít as hard. At least not as hard until the last climb up to the shack, then it got brutal.

I took quite a few breaks on the last 5 miles or so. I was passed by a lot of riders, got attacked by a lot of bugs and I had a coyote watch me ride by him, but I made it.
I couldnít begin to express how much fun it was coming down that mountain. Since I lack experience I tried to keep my speed low. My max speed was 40, but I made sure to keep it slower around the bends. I saw a lot of riders beginning their climb as I was ending mine. I hope they faired well in the afternoon heat. It must have been well into the 90ís by 10:00am.
One thing became painfully clear, as if I didn't already know, I'm not a strong climber, but still on Sunday, I climbed! I have ridden GMR on a motorcycle many times, and driving my car, with my modified suspension, many more times. It's fun in a car, it's more fun on a motorcycle, but it's most fun on a bicycle.
My "make it up GMR to the shack" goal is checked off of my list. Next goal is to make it without stopping, then to baldy village. I might have to wait until cooler weather. There were a lot of bugs on that road.
Now for the proof
On my way up
At the shack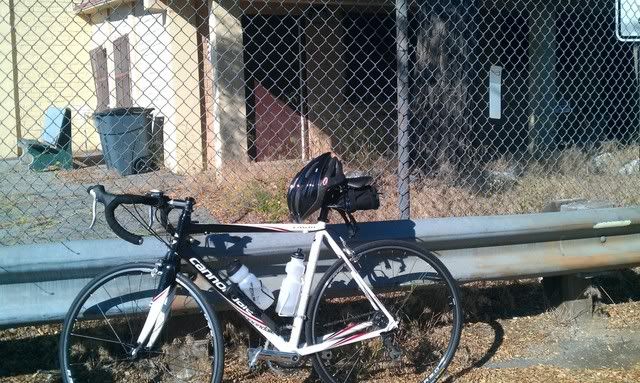 I know GMR is no big deal to a lot of people, but it was a big deal for me. I feel accomplished, I feel like a cyclist, I feel like I conquered that mountain, I feel like I hurdled a milestone. Now, where is my KoM jersey!