Junior Member
Join Date: Nov 2010
Location: Austin, Texas
Bikes: Diamondback Serene Citi
Posts: 12
Mentioned: 0 Post(s)
Tagged: 0 Thread(s)
Quoted: 0 Post(s)
Ready to Get Back to Biking
---
About six months ago I crashed my bike going down a hill at about 25 mph and suffered a complete right humerus fracture. I had a three hour surgery that night, and have spent the last several months in PT and having myofascial release but I've been hesitant to get back to it. I've ridden several times but have yet to get back to normal with riding. It doesn't help that I live in Central Texas where it's 100+ degrees every day.
I am coming back to this forum because I just need some encouragement. My right arm is not the same and in fact, it will never be normal again. I cannot fully extend or flex my right arm normally; I can live with that.
I never felt as good as I did when I was riding my bike on a daily basis. Now I'm hesitant and skittish. I need to get over it and get back on the bike without feeling like I need to wear a Michelin man suit while riding to protect every joint in my body.
I still have pain off and on (sometimes fairly severe) but I hate feeling like I'm locking myself away in my house and looking with envy at people who are out riding their bikes.
I know it's a mental thing right now - anyone else here suffered a severe injury and have you been able to get back to normal? I'd love to hear your experiences.
This is what I did to my elbow: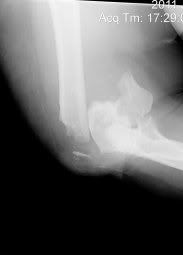 Here is my elbow now: