Senior Member
Join Date: May 2010
Location: Bastrop Texas
Bikes: Univega, PR-10, Ted Williams,UO-8, Puch, PHLE, UO-18 Mixte
Posts: 1,783
Mentioned: 1 Post(s)
Tagged: 0 Thread(s)
Quoted: 14 Post(s)
Knee pain success - First Ride In 57 DAYS 05/28/13
---
06/15/2013 - Update - First ride without pain or guarding - After my first ride I had to back of on my distance limiting my ride to 12 miles max and a two day break in between - After two weeks I had less guarding after the ride so now bumped up to 14 miles every other day - Feels good to be back in the saddle...
Easter went out for a short 14 mile ride - A section of 23 that I ride every other day weather permitting - Next day KNEE PIAN - I could and have not recalled any type injury or contusion other than a severe cramp that night - I had no effusion, swelling, bruising or any indicator other than point tenderness at my medial tibial plain - Being a PA-C that deals with ortho injuries I tried very much to stay calm - The hardest thing being quelling that stubborn urge to ride before the pain subsided - X-Ray negative - MRI only positive for a contusion at the medial femoral meniscal plains - Three weeks latter no improvement so Depomedrol injection - No effect - Most of my pain was at rest but with my 30 years ortho experience I persevered - Ice packs, massage, stretching - and trying to think good thoughts - Finally last week I was able to walk without guarding - And yesterday a short ride of 6 miles - Today no additional pain - I think its getting better.... FINALLY...
After discussing my progression with a few medical professional bike riders we have all come to the provision diagnosis of injury to the Anserine Bursa - Surprisingly this is a common injury for older cyclists....
I am only posting this here because You'se guys would understand my happiness...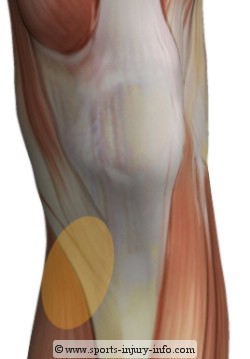 http://www.sports-injury-info.com/pe...-bursitis.html
__________________
No matter where your at... There you are... Δf:=f(1/2)-f(-1/2)
---
Last edited by zandoval; 06-15-13 at

01:33 PM

.