I did not know whether I should post this here or in the commuting section, but I made the decision to start bicycle commuting to work. I started riding a bicycle in May of 2014 and lost over 30 lbs and down to 227 lbs right now. I have actually been this same weight for the last few months with my riding time cut down with winter and all, but been eating right and have not gained any back yet. Living in the snow belt does not make riding easy between December and March. The only riding I get any more is riding one of my beater bikes indoors around the large truck garage I work at for 30 minutes before work and 15-20 minutes during lunch.
Since the decision to start commuting when the weather breaks, I wanted to build a heavy duty, but not too heavy commuter bike. I had a couple road bikes and a couple mountain bikes, but I did not want to use any of my bikes that were worth money and the fear of having it stolen and be out an expensive bike.
I had this older USA built Huffy mountain bike with an oversized steel tubing frame and I thought this would be perfect if I could lighten it up some, make it faster, and put better components on it. I have a thread here somewhere on that bike and posted it in the drop bar conversion thread, but this bike should be the perfect commuter for a guy my size and weight. Here are the specs.............
Steel 1995 Huffy Thunder Ridge MTB Frame and Fork
Araya 700C 36 spoke rear and 32 spoke front Rims
Suntour Accushift Plus 13-26T 7-speed freewheel
Ashtabula one piece Triple ring crankset
Bell Kevlar 700cX35mm Tires
Sakae Allloy Drop Bars and Stem
Diacompe Alloy Side pull brakes
Diacompe Aero brake levers
Suntour Blaze Accushift Chain
Suntour Stem Shifters
Shimano SIS Deraileurs
Aluminum Seatpost
Vetta Saddle
I got all these upgrades from spare parts, new parts and a spare road bike I had. These pictures are before the bike was completely finished and I will get better pics of the finished product all set up for commuting when I can get some sun shine around here for photos, but you get the idea............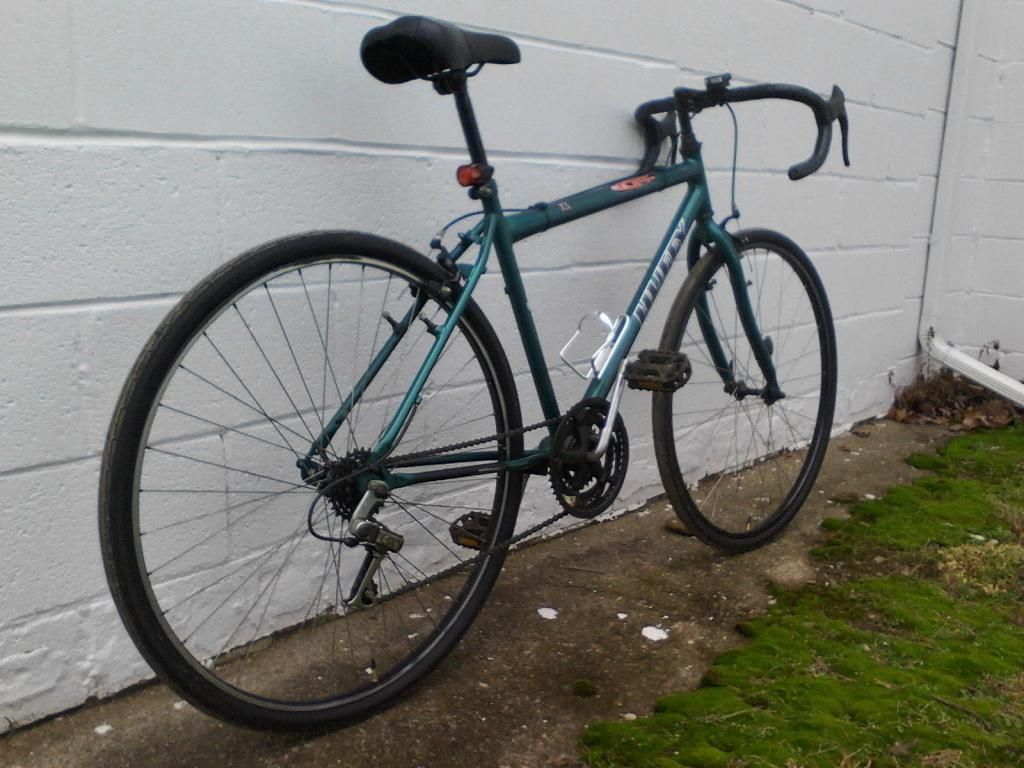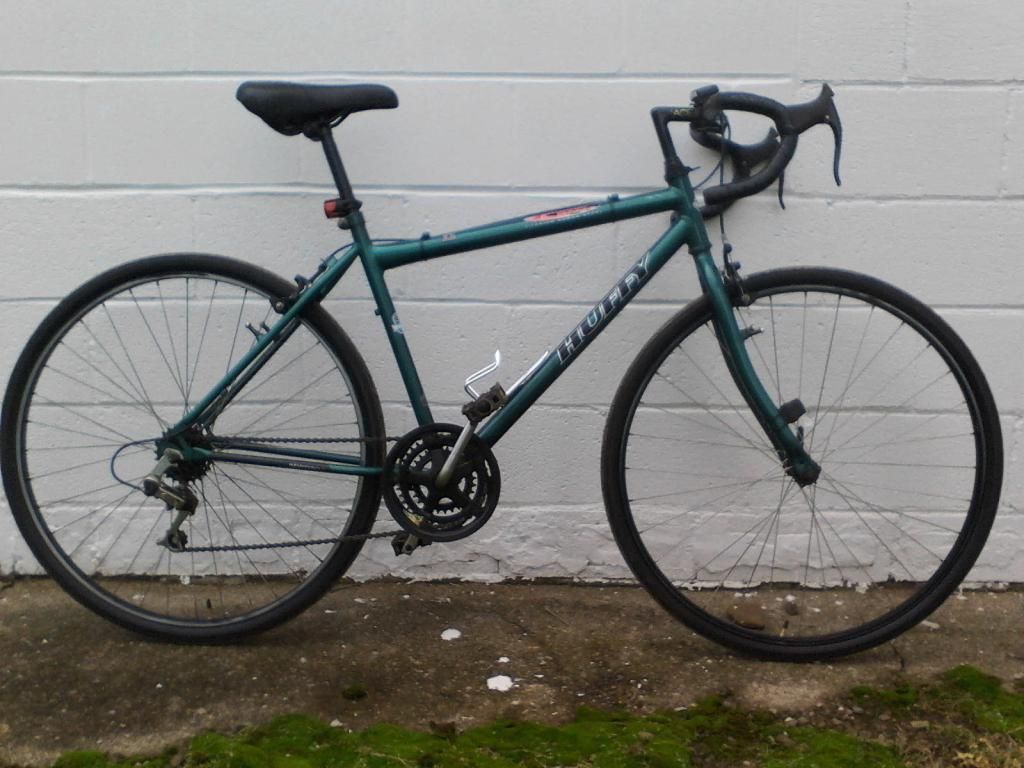 When I started, this MTB in it's stock condition weighed in at just over 40 lbs and since the changes it weighs just over 33 lbs now. It rides very nice and it's very stable. It also feels very comfortable for me. Being a clyde makes it uncomfortable for me to ride a road bike, but this bike with it's frame geometry fits me well and it is just as comfortable as my mountain bikes I am used to riding.
Now since I live 21 miles from my work, I decided to start out this spring by loading the bike on my rack and driving to the store my wife works at and riding from there. This would make my commute 5 miles one way. As I get better conditioned for commuting, I will then extend my commute gradually over time. I have done 50 mile rides before and also rode my bikes the whole 21 miles to work on my day off, so doing the entire ride would not be a huge deal except for the 2 hour ride there and 2 hour ride back, so eventually, I will find that sweet spot on where to park and start my bicycle commute to keep it under an hour.
I am hoping that commuting everyday will really help with my fitness and weight loss through the warmer riding season. I just ain't got the stones to do this during the cold and with snow covered roads. I also still plan on taking one of my better bikes on my long rides I usually do on the weekend like I have been.