Hardrock into a commuter?

10-22-06, 08:45 PM
Senior Member
Join Date: Apr 2006
Location: Fox Point, WI
Posts: 53
Bikes: Traitor Ruben, Trek Cobia, Trek Marlin SS, Salsa Chili con Crosso
Mentioned: 0 Post(s)
Tagged: 0 Thread(s)
Quoted: 0 Post(s)
Originally Posted by legot73
Sweet bike! You'll enjoy, I'm sure.
...

BTW - looks just like a rigid fork version of my '97 Rockhopper. Same paint and everything. If you have the Ritchie rims, they can be really difficult to mount/dismount tires from. You might want to practice flat repair, as I've broken a plastic tire lever on them before. I know jk_74 has the same rims and experience.
Uggghhh. Yup - I should've mentioned that before. The height of the Ritchey rim on my 99 Rockhopper makes it
nearly
impossible to change tires. I just dealt with one this past weekend and it took me over a frustrating hour to remove and replace (I've enjoyed watching the LBS go thru the same torture). I slipped in a Mr. Tuffy liner this time in hopes of preventing any further punctures. I also have been carrying a can of Flate-N-Seal in hopes that I can at least limp a flat home without needing to change a tire on these rims in the cold (worked for the flat I got on Thursday night!).

10-23-06, 11:35 AM
Senior Member
Join Date: Oct 2004
Location: Oregon
Posts: 270
Bikes: 2003 Jamis Nova - commuter setup
Mentioned: 0 Post(s)
Tagged: 0 Thread(s)
Quoted: 0 Post(s)
Those pics have convinced me to fix up my Streetstomper. Right now the drivetrain is a rusty mess, but an overhaul or an SS conversion will put it right where I want it.

11-26-06, 11:53 AM
True Evil
Join Date: Oct 2005
Location: San Antonio TX
Posts: 78
Bikes: 2003 Specialized Hardrock, 1986 GT Talera
Mentioned: 0 Post(s)
Tagged: 0 Thread(s)
Quoted: 0 Post(s)
Originally Posted by mikdes
I have an old 88 or so Streetstomper that I'm thinking of turning into my rain commuter. It has two eyelets each on the front and back for racks, fenders. It just needs a major overhaul or conversion into SS. Neither of the pics are of mine, but the first one is what mine looks like and the second one is what I'd like to do to it.
I am going to get one of those frames for about 8 bux on ebay. can you give me some info on the seat tube diameter adn the headset size so I can get parts coming. The frame size I am going to get is a 23 but I figure the tubing diameter would be about the same.

11-26-06, 01:48 PM
500 Watts
Join Date: Aug 2006
Location: Ann Arbor, MI
Posts: 833
Bikes: Trek 7200 FX ('05), Trek 6000 ('07)
Mentioned: 0 Post(s)
Tagged: 0 Thread(s)
Quoted: 0 Post(s)
Originally Posted by caloso
You mean like this?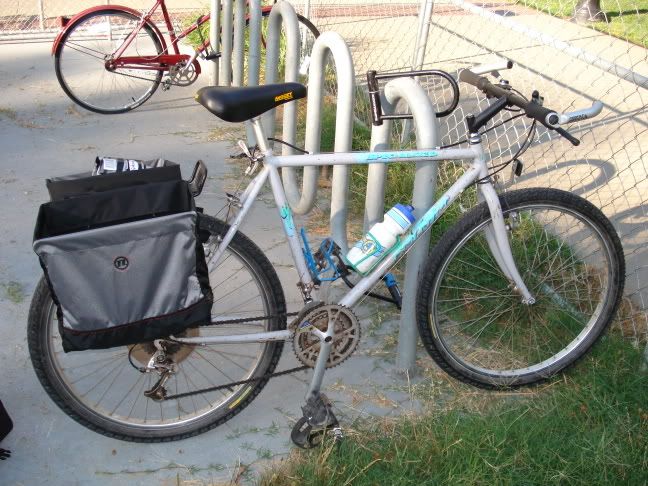 Get some slick tires, some lights, fenders, a rack and panniers if you're into that sort of thing.
I've never got the two things that are sticking from the sides of the flat handlebars. They're on some MTBs but they don't really look like something safe to grip or anything

11-26-06, 03:56 PM
Packfodding 3
Join Date: Jul 2002
Location: Sacramento, California, USA
Posts: 37,612
Bikes: Ridley Excalibur, Gazelle Champion Mondial, On-One Pompino, Specialized Rock Hopper
Mentioned: 51 Post(s)
Tagged: 0 Thread(s)
Quoted: 1646 Post(s)
They're called bar extensions. They clamp down pretty hard so they're safe enough to grip. They're intended to double your hand positions from 1 to 2. That's still about 3 positions short of what I prefer, so I swapped out the flat bars for drops.

11-27-06, 01:23 AM
Senior Member
Join Date: Jul 2006
Location: beantown
Posts: 925
Bikes: '89 Specialized Hardrock Fixed Gear Commuter; 1984? Dawes Atlantis
Mentioned: 1 Post(s)
Tagged: 0 Thread(s)
Quoted: 39 Post(s)
My own hardrock.
Late 80's, I think; converted to singlespeed this summer: 48x17 using rear wheel from a trash bike, surley cog and pvc plumbing pipe spacer. Shimano 600 double cranks, chainring mounted on the outside (thinking about making a chainguard from a larger ring after filing the teeth and moving the 48 inboard. Specialized fatboy tires: 26x1.25. Handlebars cut down to 18", with new brake levers. Planet bike fenders with front mudguard made from vinyl flooring sample. Planet bike 3 beamer for the front light, and 7 led blinkie at the rear, good enough for riding on streetlit roads in Boston.

It's ok for a beater, but the handling isn't too great - can't ride it no hands.
That said, it's great for smashing through potholes in the rain. If winter ever comes, I plan on adding studded tires for snow, slush and ice.

11-27-06, 08:21 AM
Senior Member
Join Date: May 2004
Location: Wilmington, DE
Posts: 11,848
Bikes: 2016 Hong Fu FM-079-F, 1984 Trek 660, 2003 Specialized Hardrock, 2004 LOOK KG386i (RIP), 2005 Iron Horse Warrior Expert, 2009 Pedal Force CX1, 2016 Islabikes Beinn 20 (son's)
Mentioned: 23 Post(s)
Tagged: 0 Thread(s)
Quoted: 1112 Post(s)
Originally Posted by kill.cactus
I've never got the two things that are sticking from the sides of the flat handlebars. They're on some MTBs but they don't really look like something safe to grip or anything
If you get bar extensions long enough, you get two extra hand positions out of them which is quite useful. I use my almost all the time when standing up and climbing at a good pace. They are also nice for extra leverage when starting from a stop with a heavy trailer load and for getting a little more aero on a long downhill.. A set of wide road drop bars would probably be nicer but for my normal commute, I would barely ever use the drops so the effort to switch isn't really worth it. I have a drop bar road bike if I'm planning on doing any serious distance.
My Hardrock conversion was a 2003 model with an aluminum frame and a suspension fork that I swapped for a Surly 1X1 fork. I also changed the MTB (44/32/22) crank to a touring crank (48/38/28) and swapped the original cassette (after wearing it out) to an 11/28 for tighter spacing. Lots of other commuter additions as well but those changes really improved it's character. I wish it was an older model with the less chunky looking steel frame but I had the bike so I'm using it (at least for another year until I decide I want some nicer).

11-27-06, 09:23 AM
Trans-Urban Velocommando
Join Date: Nov 2006
Location: Lenexa, KS
Posts: 2,400
Bikes: 06 Trek 1200 - 98 DB Outlook - 99 DB Sorrento
Mentioned: 0 Post(s)
Tagged: 0 Thread(s)
Quoted: 0 Post(s)
I don't know... I've found that any bike you are comfortable on is suitable for commuting. If you like it, and it gets the job done, then go for it! As you find things to optimize along the way, do some tweaks and changes to your setup. Eventually, you'll have the perfect commuter and recreational bike for your tastes and needs!

I bought a bike a few months ago out of pseudo-necessity. My car was not reliable, and I had to get to the bus to get to work. It was cheap (x-mart), fun, and it broke in less than 2 months. I had nothing but a headlight, blinky, and seat-post rack on it, and it worked fine.

When it broke, I got my Sorrento (used), and IMHO it's the perfect commuter for me. Hardtail, short-travel front shock that's just right for me, and already had slicks on it with low miles on them. It had been ridden, and ridden hard, but the fork, wheels, freehub body, headset and frame were in top shape. Paint kind of scratched in a few places, and some of the stickers were torn up a bit, but who cares? My LBS refurbed it (new cables, BB, brake pads, inner tubes, chain, lubed it, tuned the derailleurs, etc) and it's basically a new freaking bike that looks used. I tossed the rack and lights on it from my old bike, added a toolbox trunk, some reflective tape, and a more comfy saddle, and voila! Instant commuter! I also took it on a 10-mile trail ride with my dad Saturday, on top of riding it almost 17 miles on thanksgiving to get to my parents' place!

Some people prefer road bikes, some people need knobby tires to get through sections of gravel road or construction. In the end, though, it's all about you and what makes you feel good. I was looking at some rockhoppers and hardrocks before settling on this bike as my commuter. The Outlook is just as good, it's a rigid hybrid with cheaper components and a daintier (yet considerably lighter) frame. It was a stumble-upon deal from a few weeks ago, where someone was selling it on craigslist for next to nothing after leaving it hanging upside down in a garage pretty much ever since he got it. It didn't even have one mile on it.

Sorry for the verbosity and story telling. But I wanted to drive the point home that any bike you've got (or will get) and you're comfy on, will be a worthy commuter. You just have to be diligent about care and feeding. Most bikes are reliable when maintained. A neglected bike can suddenly turn into a 20-50 pound burden on your commute really fast.

Posting Rules
You may not post new threads
You may not post replies
You may not post attachments
You may not edit your posts
---
HTML code is Off
---