Kryptonite Forgettaboutit

07-18-09, 05:11 PM
Newbie
Join Date: Jul 2009
Posts: 4
Mentioned: 0 Post(s)
Tagged: 0 Thread(s)
Quoted: 0 Post(s)
Likes: 0
Liked 0 Times in 0 Posts
Kryptonite Forgettaboutit
---
I like the lock per se but I have a nice light road bike and don't know how to best carry this lock.
I now have a pair of handcuff locks which I like, but am not confident they won't get clipped, and the Forgettaboutit, AND a simple 3 foot cable. When I am at work, I feed the cable through my seat, and front wheel and then feed that onto the Krypto and then delicately, feed the Krypto through one of the spokes of the back wheel and around the rear triangle and then to a lamppost, (I feed so few spokes through because the Krypto is too short to just place through the wheel and the rear triangle AND a lampost.) I THEN attach the handcuffs to the front of the frame and the front wheel. Only then am I satisfied that I have a chance of keeping this bike.
However, the whole process is stressful and slow, and I even bought a rack solely for the purpose of carrying the Krypto since it didn't come with a bracket. I have not YET found an efficent way to tie it onto the rack, since it is so heavy that the bungee cord I tied it with just didn't hold it when I am in and around traffic. Yes, I could use a rear pannier, but I only want to carry minimum weight per commute and I use a backpack to carry my work clothes and my pannier isn't convenient to carry around town. I have already carried the locks in my backpack but it's too heavy, and hurts my back after a while.
I want to know what people suggest to carry this seemingly invincible lock. I have already considered leaving the lock on a bike rack at work, but I need it when I am making stops around town. That and I want to bike in the Winter and I think the locks will corrode quickly in the Winter nights.
Idealy I would love the minimum hassle to stop my bike, lock it up, whilst carrying as little weight as possible, and having to go through as few processes as possible.
Bearing in mind that in NYC I need to strip my bike of/ or lock up anything with removeable parts every time I lock it up, I wonder if anyone has the same issues. Yes, I know some might say, tough luck, you have to do what you have to do - I am not saying I won't continue to use an abundance of caution, I just want to know if anyone has any suggestions on how to make your bike the most secure and also combine the convenience of commuting.
PS. I just got some Ortlieb panniers which I haven't used yet, which do have a shoulder strap which MAY answer my prayers of being able to carry all my stuff AND carry it around town, but I hear the shoulder strap is uncomfortable and I haven't tried it yet, so my question still goes out there.
PPS Ideally I would like to get rid of the rack altogether so that I can use my mudguard, which I know I will need in the Winter, plus I want as few parts on my bike as possible. If someon suggests that I just get a better messenger bag, e.g. a Timbuk2 to carry my locks and they can testify that they support the weight by spreading the weight around evenly then I would consider that. The optimal goal is to get on my bike, commute, lock it, get off the bike, go to work.
First time on this forum.

Leon

07-18-09, 08:36 PM
cyclist/gearhead/cycli...
Join Date: Oct 2004
Location: DC / Maryland suburbs
Posts: 4,166
Bikes: Homebuilt tourer/commuter, modified-beyond-recognition 1990 Trek 1100, reasonably stock 2002-ish Gary Fisher Hoo Koo E Koo
Mentioned: 0 Post(s)
Tagged: 0 Thread(s)
Quoted: 0 Post(s)
Likes: 0
Liked 0 Times in 0 Posts
Unfortunate, but I'm guessing not too rare in NYC

Is it possible for you to leave the heavy lock in-place at the rack where you lock it up every day? And get a smaller, lighter lock for errands and such to use elsewhere?

07-18-09, 08:40 PM
Newbie
Join Date: Jul 2009
Posts: 4
Mentioned: 0 Post(s)
Tagged: 0 Thread(s)
Quoted: 0 Post(s)
Likes: 0
Liked 0 Times in 0 Posts
Re: leaving the lock at my workplace bike rack, I think that is feasible, only I do plan to bike to work this Winter, and I think that the lock will freeze/corrode pretty quickly over the colder months.

07-18-09, 08:44 PM
Call me The Breeze
Join Date: Aug 2006
Location: Cooper Ontario
Posts: 3,701
Bikes: 2004 Litespeed Siena, 1996 Litespeed Obed, 1992 Miele (unknown model), 1982 Meile Uno LS.
Mentioned: 0 Post(s)
Tagged: 0 Thread(s)
Quoted: 2 Post(s)
Liked 0 Times in 0 Posts
rethink the bungees. No rattle, not going anywhere other than where I am. easy on. easy off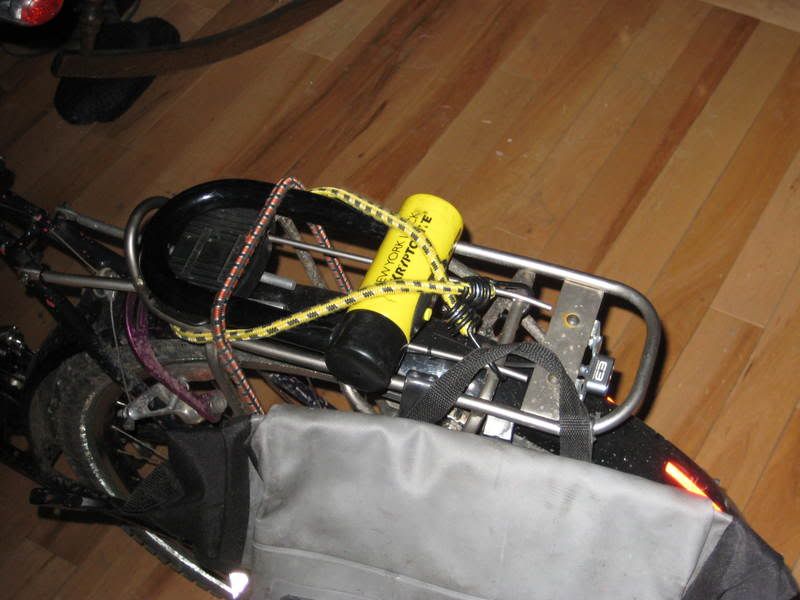 07-19-09, 12:18 AM
Senior Member
Join Date: Nov 2008
Posts: 502
Mentioned: 0 Post(s)
Tagged: 0 Thread(s)
Quoted: 1 Post(s)
Likes: 0
Liked 0 Times in 0 Posts
To the OP:
I also live in a city and feel better about taking all removable items off the bike when I have to leave it.
I got one of these for carrying my lock and lights, keys, phone, repair kit, etc....
It works well, is light, and is quickly removed with velcro straps.
https://www.performancebike.com/bikes..._400007_400103