6-way bag

09-08-09, 03:05 PM
Senior Member
Join Date: Mar 2009
Posts: 82
Mentioned: 0 Post(s)
Tagged: 0 Thread(s)
Quoted: 0 Post(s)
6-way bag
---
I didn't know where to place this review, but it struck me it might interest my fellow-commuters. I bought what is billed as a 6-way bag by a fellow who acquires military-surplus shoulder bags and then modifies them for use on a bike. The different "ways" include handlebar mounting, saddle mounting, use as panniers and simple use as a good, small/medium shoulder bag. I wanted a bag to mount on my Brooks saddle, easy to remove and sling over the shoulder, for a reasonable price. The Brooks leather Millbrook bag appealed to me for this purpose, but $250 was too much. The vinyl Millbrook is less but appears to have no shoulder strap provision, and this is unfortunately the case with most of the otherwise appealing seat packs on the market. I didn't want to add more hardware to my bike in the form of a rear rack.
You can view the excellent pictures of the bag mounted in various ways at outyourbackdoor.com, and you'll see how cool it is.
When I opened the package I was assailed by a very nostalgic smell from my Michigan childhood: the damp canvas of my dad's forgotten WWII canvas stuff in a store room. Adding the smell of rotting bike tires would complete the trip down memory lane. The smell dissipated by hanging the bag from a ceiling hook in the dry California air. Bag was in good condition. Every bag will be different. Mine had very superficial corrosion on the metal and a few small discolorations on the canvas, but was otherwise beautiful. The thick cowhide and the metal are great details. The leather-slot closures are very cool once you soften them up with something. They're a bit hard to work before that. I used a good hand lotion on all the leather and it came out great. The leather bag-bottom is an attractive irregular shape.
I was unable to mount my bag on the saddle as I don't have enough space there to accommodate it, even with the "stick" option. I don't want a handlebar mounting. So I tried using it like a messenger bag and I love it that way. The waist strap is pretty effective and gives the appearance of a Sam Brown belt, very smart-looking if I do say so myself. This is a very nice object to own if you like natural materials in a very functional configuration. It will hold a lot for day trips or even longer, if using hotels, but I use if for a city bag because it holds books, clothing, camera, most everything I need. Laptops, no. Because it's deep rather than wide it seems more compact for the capacity, and is the most comfortable and unobtrusive shoulder bag I've ever had. No plastic, no racing stripes, no advertising or graphics, if you get it without the sewn-on badge. Classic utilitarian beauty with unbelievable workmanship. Not light but not a burden, either.
And it's reuse/recycling. Very green, I'd say.
Don't know how many he has; don't know the source. Not US military, I don't think. Mine has a date stamp inside which looks like June of 1946!
I think leather toe-clip straps with the claw fastener would work better than the beautiful leather buckle straps included. I think a plain hardwood dowel would be better than the cool osage-wood stick that the man carves by hand, a really nice personal touch and a nice thing to have, but mine is slightly split.
Not a paid testimonial. Just thought you might like to know about it.

09-08-09, 03:14 PM
Senior Member
Join Date: Apr 2003
Location: Houston we have a problem
Posts: 2,914
Mentioned: 0 Post(s)
Tagged: 0 Thread(s)
Quoted: 0 Post(s)

09-08-09, 04:12 PM
Senior Member
Join Date: Mar 2009
Posts: 82
Mentioned: 0 Post(s)
Tagged: 0 Thread(s)
Quoted: 0 Post(s)
Well, then, hope I didn't waste everyone's time over something they all knew about. I hadn't seen it discussed elsewhere.
Yes, the execution may require some ingenuity, but I'm a believer as to the bag itself and it's use as a shoulder bag for riding.

09-08-09, 07:16 PM
Senior Member
Join Date: Apr 2003
Location: Houston we have a problem
Posts: 2,914
Mentioned: 0 Post(s)
Tagged: 0 Thread(s)
Quoted: 0 Post(s)
Detailed, well thought out reviews are never a waste of time.
If I was researching that bag I'd be glad to come across your review.

09-08-09, 07:35 PM
Real Men Ride Ordinaries
Join Date: Sep 2008
Posts: 3,723
Mentioned: 0 Post(s)
Tagged: 0 Thread(s)
Quoted: 16 Post(s)
I have something similar, a homemade version based off an
army surplus map bag
I bought for $10.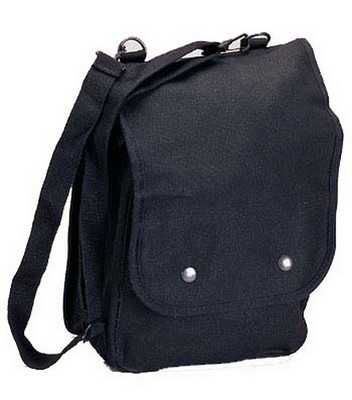 I sewed some extra D-rings on the back. It already has two at the top, I added two on each side, and two on the bottom. With a pair of toe-straps I can mount it as a saddle-bag (top D-rings to saddle rails, bottom D-rings to seatpost), handlebar bag (top D-rings to handlebars, bottom D-rings to front rack), and it makes a passable pannier (use your imagination). With about 10 feet of nylon webbing and a few hooks, It can also be worn as a backpack, messenger bag (with 3rd leg) or shoulder bag (man purse).

09-08-09, 08:21 PM
Senior Member
Join Date: Mar 2009
Posts: 82
Mentioned: 0 Post(s)
Tagged: 0 Thread(s)
Quoted: 0 Post(s)
That bag you made from surplus is great. If I had any skill with sewing I'd make just the bag I need, like you did. Seems like you could make a fortune if you made a practical bag like that. It's funny that there is such a proliferation of such products and that they are consistently just not quite right. (A pain to mount/dismount; pain to carry off the bike, etc.)

Posting Rules
You may not post new threads
You may not post replies
You may not post attachments
You may not edit your posts
---
HTML code is Off
---