Focus Mares CX Rival Disc

09-18-15, 07:00 PM
Member
Join Date: Sep 2015
Posts: 40
Mentioned: 0 Post(s)
Tagged: 0 Thread(s)
Quoted: 0 Post(s)
Likes: 0
Liked 0 Times in 0 Posts
Focus Mares CX Rival Disc
---
First Post. Nearly 50 year old road rider. Bought this cross bike to do some gravel riding in the South East this fall/winter. So:
The color's obviously not for everyone - but I bought it for the build/price point.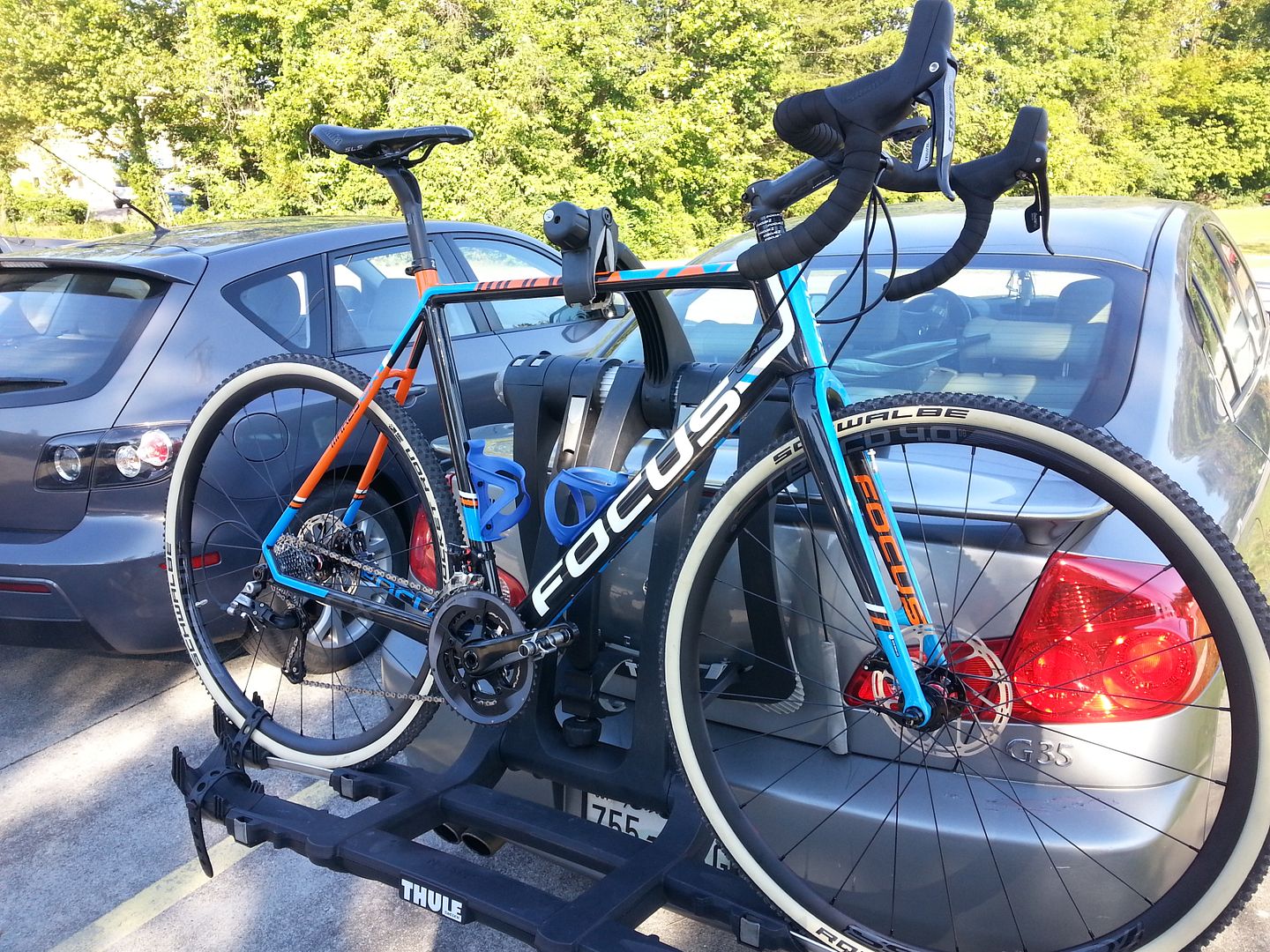 I swapped out the Rival cross front ring set up for a Force 22 Compact set - and went with the CB Eggbeater 2 pedals: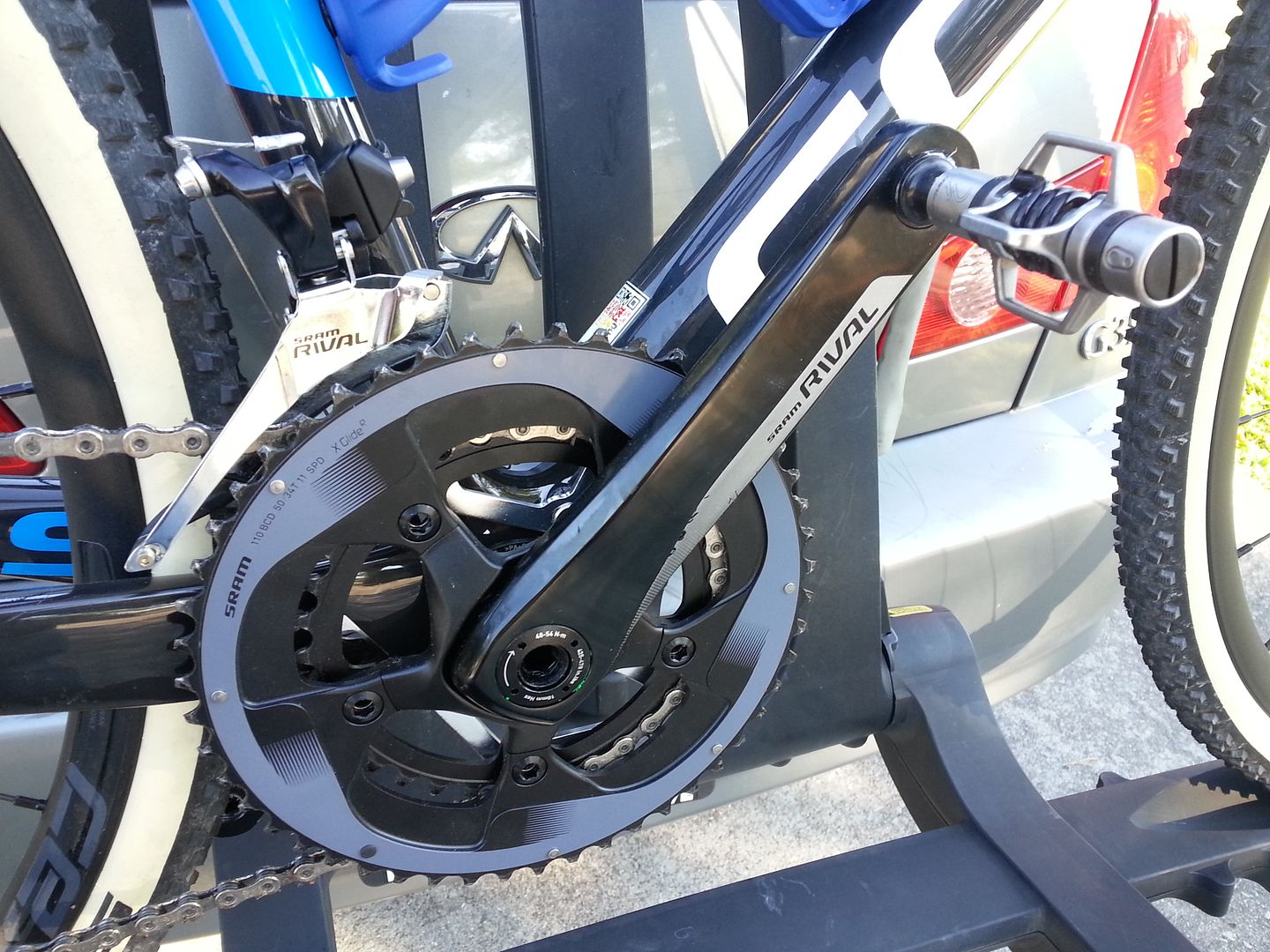 The cages are not long for the bike - as much as it seems like it does not matter, they
do
clash. I'll probably just get some plain black ones.
Here's the bike with the original seat (crappy iPhone pix from the shop owner):
The Fizik Aliante saddle has to go. Shown here with the Selle Italia Kit Carbonio Flow SLS from my road bike. Let me know if you know anyone looking for an Aliante with an electric blue stripe. Going to try an Antares VS. If that doesn't work - I'll get another SLS.
I've got old Red shifters, new Red cranks and some new Force bits on my road bike. While the Red cranks are a noticably superior product - the rest of the Rival 22 is pretty awesome - regardless of the price point. With the yaw FD - every single gear is usable with no rub. I like the hydraulic disc brakes so far.

09-23-15, 12:15 PM
got the climbing bug
good looking bike, I'm digging the tanned tires and frame colors
__________________
Rule #10 // It never gets easier, you just go faster.

09-24-15, 12:50 AM
Senior Member
Join Date: Oct 2012
Location: West Gippy, Australia
Posts: 607
Bikes: 2017 Ridley Noah SL - Candy Apple DA9000, 2011 CAAD10 Berzerker Ult6800, 2013 FOCUS Mares CX Ult6800
Mentioned: 0 Post(s)
Tagged: 0 Thread(s)
Quoted: 26 Post(s)
Likes: 0
Liked 0 Times in 0 Posts
Nice rig this - not quite as good as the 2013 Orange/Red frameset - but nice, nonetheless. you will LOVE the Mares CX - I ride mine whenever I can and often 'create' rides that require me to ride the CX bike!

cheers

09-28-15, 01:59 PM
Deadrise & Derailleurs
Join Date: Sep 2015
Location: O'fallon, MO
Posts: 61
Bikes: Schwinn Moab, Focus Mares AX, Kona Kahuna DL
Mentioned: 0 Post(s)
Tagged: 0 Thread(s)
Quoted: 1 Post(s)
Likes: 0
Liked 0 Times in 0 Posts
I just purchased a Mares AX 105. Looking forward to breaking it in as I am new to the cross/road style bike. I could already tell it was a rocket on the test ride I did. Pics to come.

Sundog3478, Do you have any opinions on your bike so far?

09-28-15, 04:29 PM
Member
Join Date: Sep 2015
Posts: 40
Mentioned: 0 Post(s)
Tagged: 0 Thread(s)
Quoted: 0 Post(s)
Likes: 0
Liked 0 Times in 0 Posts
I agree with what I think is at the core of your rocket comment - as the bike seems very responsive.
As I said above - the saddle is gone. I found an Antares VS with orange accents that I'm currently trying out. The bars are not my exact preference - but I'm not throwing them out yet. The drop portion - just seems a little incomplete to me.
The Rival 22 continues to impress. It's just really, really good shifting - and every single gear is usable.
Congrats on the AX 105. That colorway is a shop favorite - when they come in - and they are apparently hard to get from Focus.

10-08-15, 11:05 AM
Deadrise & Derailleurs
Join Date: Sep 2015
Location: O'fallon, MO
Posts: 61
Bikes: Schwinn Moab, Focus Mares AX, Kona Kahuna DL
Mentioned: 0 Post(s)
Tagged: 0 Thread(s)
Quoted: 1 Post(s)
Likes: 0
Liked 0 Times in 0 Posts
Just a morning ride through Forest Park. (I need some road tires for this)
Thread
Thread Starter
Forum
Replies
Last Post

Posting Rules
You may not post new threads
You may not post replies
You may not post attachments
You may not edit your posts
---
HTML code is Off
---