Carbon on gravel (Trek Boone)

04-10-16, 08:46 PM
Senior Member
Join Date: Mar 2011
Posts: 126
Mentioned: 0 Post(s)
Tagged: 0 Thread(s)
Quoted: 13 Post(s)
Likes: 0
Liked 0 Times in 0 Posts
Carbon on gravel (Trek Boone)
---
So i purchased a 2015 Trek boone. I got a good deal as its an older model. Its the first cyclocross type bike i have owned made of carbon. My mountain bike has a carbon armor on it and i have never really worried about the frame. However, with the boone, i saw somewhere there is carbon armor built into it, however, that sounds like bull and i don't see any difference in the carbon then a domane etc. I am worried riding on all the gravel trails, the rocks are flying and nailing the carbon downtube. How are your carbon bikes holding up. The only stuff i see online are sticker kind of protectors. Worried riding the all gravel trails i got it for are going to ruin the bike.

04-13-16, 09:32 PM
Senior Member
Join Date: Mar 2011
Posts: 126
Mentioned: 0 Post(s)
Tagged: 0 Thread(s)
Quoted: 13 Post(s)
Likes: 0
Liked 0 Times in 0 Posts
Well, no responses, thats okay, for anyone that comes across this thread. I emailed trek and also Facebook IM them and got two responses, one guy on trek Facebook just suggested some 3m tape. The email was from a guy who gave me a part number for the actual carbon armor from the trek superfly, it said it works great and that is what he uses on his cyclocross bike. He says it has adhesive and will protect it. He did state that there was supposedly carbon armor built into the downtube. The part number he gave was
sku 432525 and it retailed for 14.95. It should be here this week.

04-14-16, 05:52 AM
Have bike, will travel
Join Date: Feb 2006
Location: Lake Geneva, WI
Posts: 12,388
Bikes: Ridley Helium SLX, Canyon Endurance SL, De Rosa Professional, Eddy Merckx Corsa Extra, Schwinn Paramount (1 painted, 1 chrome), Peugeot PX10, Serotta Nova X, Simoncini Cyclocross Special, Raleigh Roker, Pedal Force CG2 and CX2
Mentioned: 46 Post(s)
Tagged: 0 Thread(s)
Quoted: 909 Post(s)
I've been using a carbon frame on gravel for 4 years without a problem or a worry. Yes, the failure mode of carbon is potentially catastrophic, however any carbon bike with cantilever or disc brakes is going to be strong where it needs to be, in the fork and the rear triangle and dropouts.
I also own and enjoy steel bike frames used on gravel, one is not automatically better than the other.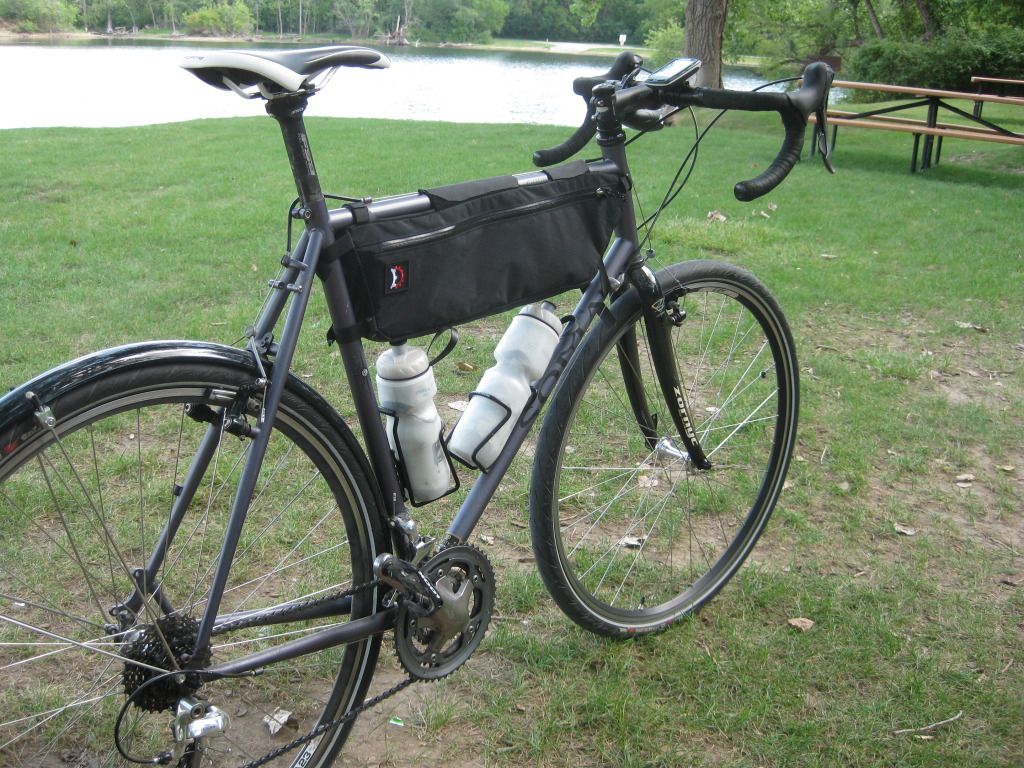 __________________
When I ride my bike I feel free and happy and strong. I'm liberated from the usual nonsense of day to day life. Solid, dependable, silent, my bike is my horse, my fighter jet, my island, my friend. Together we will conquer that hill and thereafter the world.
---
Last edited by Barrettscv; 04-14-16 at

10:15 AM

.

04-14-16, 09:46 AM
Senior Member
A carbon fiber cyclocross bike is intended for cyclocross racing. It will be FINE. A normal road bike frame would be FINE. They're intended to be used. Not sure why people think carbon fiber is as delicate as marzipan, but it's not.
Thread
Thread Starter
Forum
Replies
Last Post
Cyclocross and Gravelbiking (Recreational)
Cyclocross and Gravelbiking (Recreational)
Cyclocross and Gravelbiking (Recreational)

Posting Rules
You may not post new threads
You may not post replies
You may not post attachments
You may not edit your posts
---
HTML code is Off
---