Cervelo Aspero or 3T Exploro

02-18-20, 09:07 PM
Newbie
Join Date: Feb 2020
Posts: 1
Mentioned: 0 Post(s)
Tagged: 0 Thread(s)
Quoted: 0 Post(s)
Likes: 0
Liked 0 Times in 0 Posts
Cervelo Aspero or 3T Exploro
---
I am trying to decide on a gravel bike but having a tough time. What do you guys think between these two?

02-19-20, 05:48 AM
I've seen the Cervelo in person but haven't ridden it. I'm sure they are both great bikes but i'm not a fan of the way the cables enter the top tube on the 3T. The Cervelo is an awesome looking bike and I like that you can get it with the GRX groupset with a 2x front at a reasonable price where as the 3T you have to spend over 8000 for a 2x (one x front is a non-starter for me). I'm not a fan of the tire clearance on the seat tube on the Cervelo though - that could be a problem when the tire picks up and holds stuff.

Personally, I wouldn't choose either of those bikes but those are the pros and cons I can see in them if stuck choosing between those two

02-19-20, 12:55 PM
Newbie
Join Date: Mar 2019
Posts: 64
Mentioned: 0 Post(s)
Tagged: 0 Thread(s)
Quoted: 32 Post(s)
Likes: 0
I've had the Aspero for a few months now and really love it as it is my Road bike and Gravel bike. It really can do it all, I just swap wheels for the terrain. The ride reminds me of my Giant TCR, which is the first road bike I used to venture off road. Because of how I use it, 2x Shimano works best for me 11x34 with GRX 48/31. I have a buddy that has the 3T Exploro setup 1x as his dedicated Gravel bike and while both are similar, they do have some key differences:
They both have aggressive road geometry, the 3T has a lower stack
3T has very tight 415mm chainstays, Aspero 420mm
3T has way more tire clearance and can fit a 2" tire
3T is known to be stiffer, offering a harsher ride compared to the Aspero
3T has proprietary seatpost, you're stuck having to use their seatpost
Aspero has proprietary BBRight BB interface, but the Wheels MFG BB seems to be running creak free (so far for me)
Some may not like the cable routing on the 3T, but the Cervelo isn't really much better.
Hope this helps, but it really comes down to what type of riding you do and how you plan to build it and if the geometry works for you.
Here is a geo comparison courtesy of geometry geeks: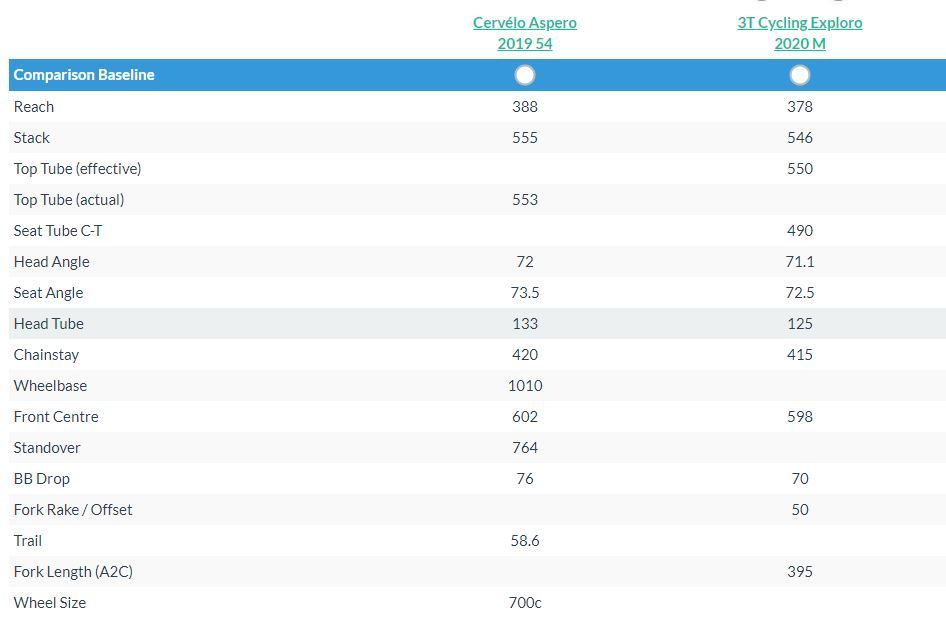 ---
Last edited by gravelED; 02-19-20 at

07:10 PM

.

02-19-20, 02:18 PM
Full Member
Join Date: Sep 2017
Location: Southeastern PA
Posts: 294
Bikes: Niner RLT RDO, Trek Remedy 9.8
Mentioned: 0 Post(s)
Tagged: 0 Thread(s)
Quoted: 108 Post(s)
Both cool bikes. For me it would come down to which feels/fits better while test riding them.
---
Last edited by tdilf; 02-19-20 at

03:38 PM

.

02-19-20, 06:03 PM
Member
Join Date: Jan 2020
Posts: 40
Mentioned: 5 Post(s)
Tagged: 0 Thread(s)
Quoted: 37 Post(s)
A LBS in my area has a 3T Exploro discounted from 5000 to 3500 (Canadian). It has 105 components. The bike was intended for the Japanese market but there wasn't demand or something so 3T asked the shop if they want to buy it. I went today to have a look - it was really nice. Very light. I later had a look at the Domane SL5 (different bike, I know, but with its generous tire clearance I figure it can handle some gravel). The Domane was heavier than the Exploro by a LOT! I was puzzled - a road endurance bike heavier than a gravel bike....

I know Trek offer lifetime warranty on the frame vs. 3Ts 5 year warranty, but I liked the 3T much better and I may pull the trigger soon. If anyone has any input, let me know as I'm sure it will also help OP.

02-19-20, 07:03 PM
Senior Member
Join Date: Mar 2019
Posts: 94
Mentioned: 0 Post(s)
Tagged: 0 Thread(s)
Quoted: 45 Post(s)
Likes: 0
Both bikes are serious racing gravel bikes so assuming that is what you want. Neither are all that comfy though if you lean toward distance riding. In that case you can still ride a racing gravel bike, but be more comfy on an Open (what I ride now) or a Wabird (used to ride). The Open is absolutely magic in comfort, speed and versatility and the Warbird is close behind. I have spent time on the 3T also but found the very low stack uncomfortable on longer distances. The Aspero is a first gen new frame design for them and compared to the Open (3rd gen) and Warbird (5th gen) and 3T (2nd gen?) you might find that the companies that have been at this longer are much further advanced in refined design and comfort than the newby Aspero. Also keep in mind that Cervelo now is without their legendary frame designer Vroomen who started Open along with former BMC CEO Kessler. I am not convinced yet Cervelo has their gravel bike as well thought out as their road bikes. I do think you should ride them all yourself and seek advice mainly from people that have the same riding objectives as you and have ridden multiple brands of gravel bikes.

If you are not trying to win Dirty Kansa maybe even consider Bombtrack Hook EXT-C for something different, Giant Revolt for an excellent value and the Jamis Renegade C1 or C2 for a great and well proven gravel bike (3rd gen) that you could ride as a carbon touring bike as well.

Good luck!