Have bike, will travel
Join Date: Feb 2006
Location: Edwardsville, Illinois
Bikes: De Rosa Professional, Eddy Merckx Corsa Extra, Pinarello Gavia, Schwinn Paramount, Motobecane Grand Record, Peugeot PX10, Serotta Nova X, Simoncini Cyclocross Special, Raleigh Roker, Origin8 monstercross, Pedal Force CG2 and CX2
Posts: 11,342
Mentioned: 25 Post(s)
Tagged: 0 Thread(s)
Quoted: 403 Post(s)
New Soma Double Cross: Midnight Silver w/ Disc tabs
---
I received my new Soma today. I've started a post in Commuting on the build:
http://www.bikeforums.net/showthread.php?t=465594
The fork is a new Ridley 4ZA Zornyc that was uncut, t's a recent take-off from a new bike. Ridley builds some outstanding carbon bikes, so I expect the fork is well made. It is approved for off-road work, including CX racing, and it saves a full pound over most steel forks.
The wheelset includes Mavic CXP-22 Double-Wall Rims and DT Doubled Butted Champion Spokes, & Felt Sealed-Bearing Hubs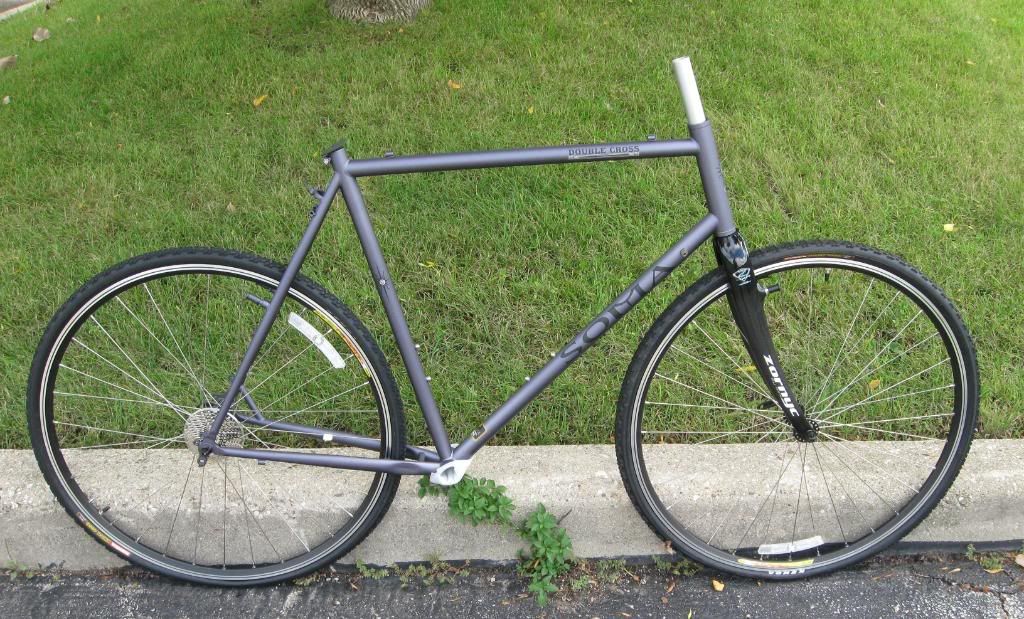 __________________
When I ride my bike I feel free and happy and strong. I'm liberated from the usual nonsense of day to day life. Solid, dependable, silent, my bike is my horse, my fighter jet, my island, my friend. Together we will conquer that hill and thereafter the world.
---
Last edited by Barrettscv; 09-15-08 at

12:13 PM

.