Picture thread

02-06-22, 05:09 PM
3rd Grade Dropout
Join Date: Oct 2005
Location: Santa Barbara Calif.
Posts: 1,673
Mentioned: 3 Post(s)
Tagged: 0 Thread(s)
Quoted: 295 Post(s)
56cm Colnago Master with Super Record 11

02-28-22, 09:42 PM
Eurotrash bikes
Join Date: Aug 2012
Location: Fremont, CA
Posts: 39
Bikes: 1993 Bianchi EL OS; random build PureFix fixed gear; 1968 Schwinn Racer 3-speed; 2019 Vitus Energie CRX; mid-90s Boss Hogg 24" BMX; 1999 Free Agent Team Limo; mid-1990s Virginia (model unknown); early 2000s? Fondriest Top Lite
Mentioned: 0 Post(s)
Tagged: 0 Thread(s)
Quoted: 10 Post(s)
Late to comment but, So. Choice.
---
Another Columbus Steel Italian, this one is CROMOR. The Simoncini Cyclocross Special has an ovalized top tube with rear derailleur and brake cables along the top of the top tube for easy portage. The down tube lacks any shifter bosses but has a cable housing stop for the front derailleur cable. Currently with 2x10 Campagnolo carbon Chorus derailleurs & Ergo levers and a Campagnolo carbon compact crankset. The 700x32 Stampede Pass tires are silky smooth performers and the ride is fast and very comfortable.
this is sucha beautiful, classic-looking cross bike. Really, a perfect example of a great, rideable steelie & classicly unbeatable parts!

03-02-22, 05:37 PM
Banned.
Join Date: Jan 2022
Posts: 1,070
Mentioned: 2 Post(s)
Tagged: 0 Thread(s)
Quoted: 359 Post(s)
This sub needs one.
1997 Raleigh R700. Even with the massive rims it's superlight. The wheelset is surprisingly light when you pick them up. The tubing is Easton Elan. I've seen only one other bike with it, also a '97. I think that was a one year deal where they made bike tubes with it, it's popular for golf clubs. I'm planning on sending the hubs to PWB and have them re-laced with black Kinlin TB 20 tubular rims/DT Comp's. I already have some 23mm tanwall Challenge Elite pro tires for it, I think that will look sharp.
Post yours up.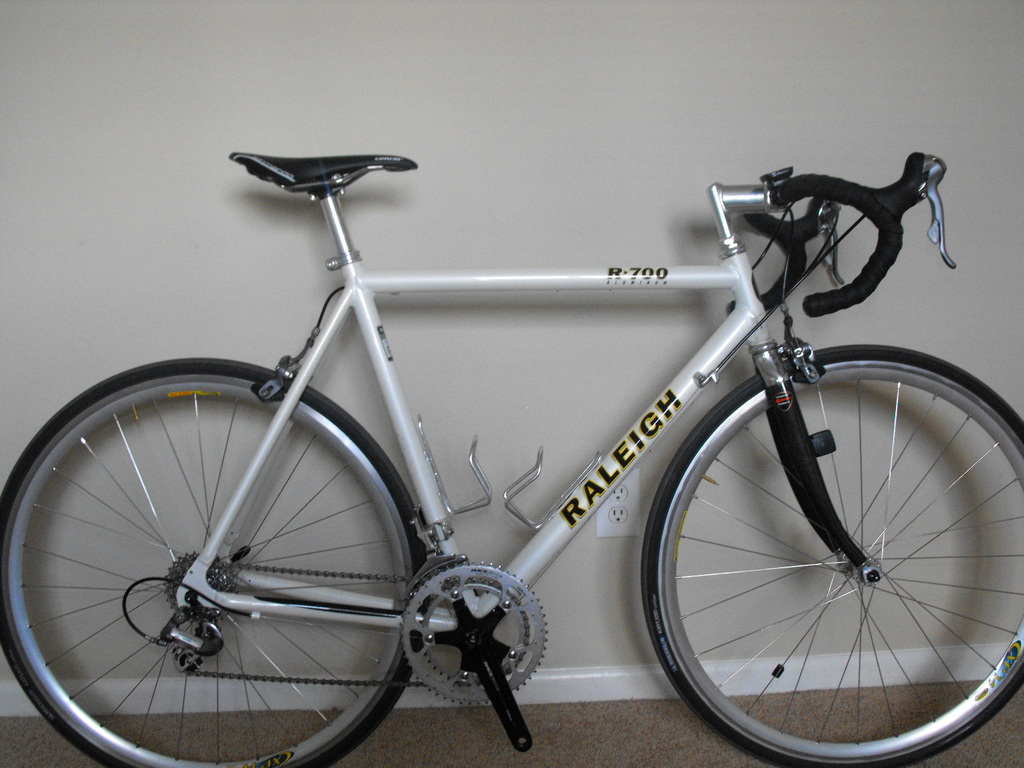 I built one of those, in red/yellow/black/white. Some guy read a review and said it wasn't a great bike. With light wheels and a 9-sp 105 group, and a carbon FSA crankset, it was great(ly) underrated.