Up in flames!

10-04-16, 10:26 PM
Up in flames!
---
One of the guys in the Sondors group did an upgraded battery and controller. Before you go bonkers, this upgrade has been done successfully by many others and without drama, so the upgrade parts havent been a source of trouble. He goes out for a ride and everything seems to be OK and then it goes pop, pieces of battery go flying, rider makes a hasty exit off the bike and there it sits on the ground....in flames...!!
Lots of discussion over whether it was an install issue or a battery pack issue. We may never know due to the damage done.
Just a reminder to NOT skimp on components and connectors when making your own e-bike better. Do an excellent job and enjoy your ride.
-SP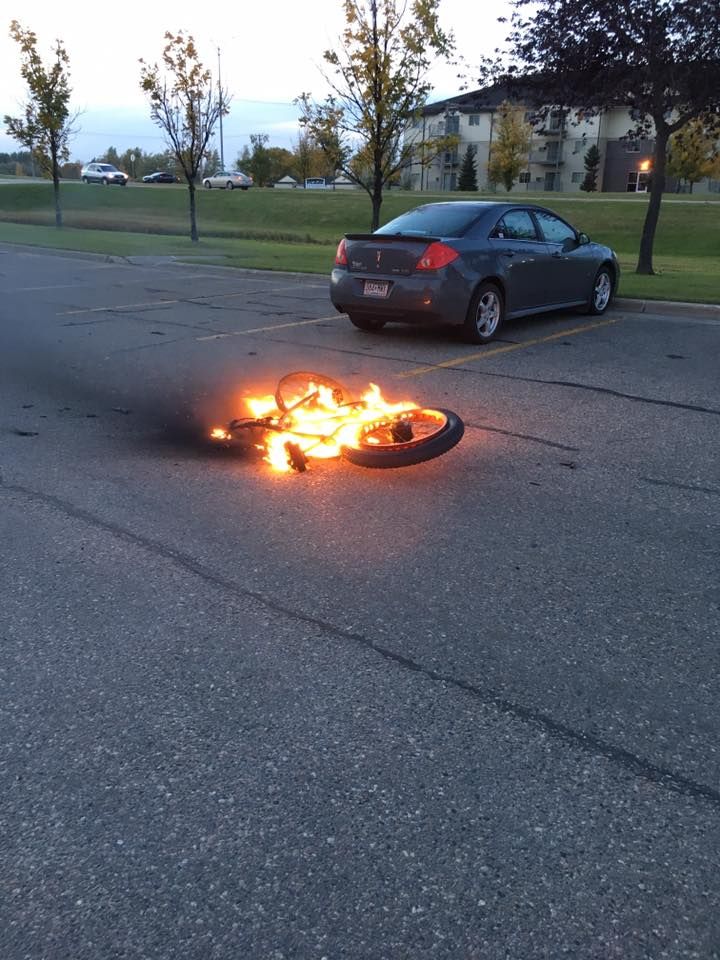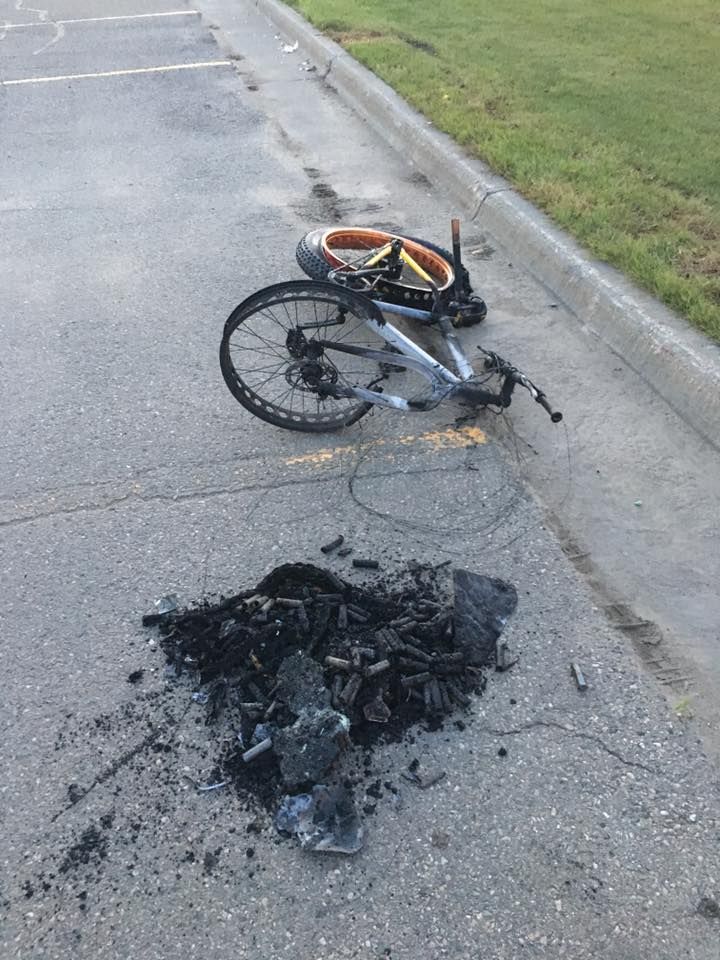 10-04-16, 10:44 PM
Senior Member
Join Date: Jul 2014
Location: socal
Posts: 2,879
Mentioned: 8 Post(s)
Tagged: 0 Thread(s)
Quoted: 530 Post(s)
I've heard a couple of stories lately about "quality" batteries igniting suddenly. Mine are headed for ammo cans as soon as I can get to Harbor Freight.

10-04-16, 11:17 PM
Senior Member
Join Date: Nov 2014
Location: Eugene, Oregon, USA
Posts: 25,725
Mentioned: 205 Post(s)
Tagged: 0 Thread(s)
Quoted: 13912 Post(s)
It is hard to tell what happened from a pile of ashes.
This came from one of those little 4 pack lithium-ion headlight battery packs.
BurntBatteryPack.jpg
I don't remember exactly what happened. I think the pack stopped charging properly. Loose connection?
Anyway, as I was looking at it, a short occurred, I think where the uninsulated bands went around the corner of the battery. The insulation on the battery pack immediately burst into flames, and was only extinguished after physically breaking the circuit.
Looking at it closer, one of those two bands was apparently positive, and the other was negative, neither insulated, so brush them together, and poof.
Moral of the story? Don't get shorts in the battery pack as the insulation will burn and they will cause a fire.

10-06-16, 07:19 AM
- Soli Deo Gloria -
Join Date: Aug 2015
Location: Northwest Georgia
Posts: 14,783
Bikes: 2018 Rodriguez Custom Fixed Gear, 2017 Niner RLT 9 RDO, 2015 Bianchi Pista, 2002 Fuji Robaix
Mentioned: 235 Post(s)
Tagged: 0 Thread(s)
Quoted: 6837 Post(s)

10-20-16, 12:57 PM
Thread
Thread Starter
Forum
Replies
Last Post
Electronics, Lighting, & Gadgets

Posting Rules
You may not post new threads
You may not post replies
You may not post attachments
You may not edit your posts
---
HTML code is Off
---