Illegal electric scooter to legal bike pusher.
---
I was given an electric scooter by a neighbor, as he knew I would do something fun with it. They're Illegal to drive on the street. Here is the type scooter it was.
The scooter given to me was already partially stripped.
I subsequently welded mounts to the striped frame so it would bolt to the dropouts of a TRI Hitchhiker. A tri Hitchhiker is a single wheel trailer with pedals and seat so a child may ride it while being pulled by an adult on the bicycle and allows the child to be a stoker and help pedal.
The above picture is the Tri Hitchhiker I used. I had been using it as a trailer and had striped the pedals and seat from it and added a rack.
Here is a photo of my son test riding the electric stoker.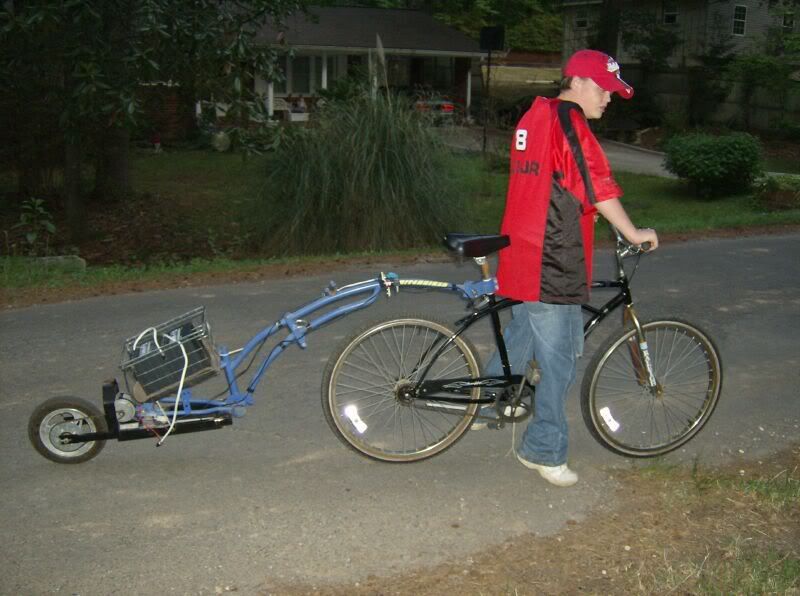 Here is a photo showing how the electric scooter frame is attached to the Tri Hitchhikers dropouts and chain stays.
Note how I just drilled a hole for a 3/8 bolt, nut, and kickstand top chain stay clamp. Also note the steel brackets welded to the scooter frame and bolted to the Tri Hitchhiker wheel dropouts. This allows the scooter frame to be removed from the Tri Hitchhiker allowing it's original wheel to be reinstalled and be used as a trailer once again.
This entire rig becomes a street legal electric bicycle under the current US electric bicycle rule.
This scooter has a 250-watt electric motor so it will not push the bicycle up steep hills but it will give you help up those hills and cruse along easily on level pavement.