Minoura Spacer Light/Gadget Mount and Di Light Fender-Hole-Mount

11-01-17, 08:04 PM
Full Member
Join Date: Jul 2017
Location: SoCal
Posts: 316
Bikes: Cannondale Carbon Synapse Road, Cannondale T2000 Touring, Vintage Mongoose IBOC Pro MTB, Vintage Peugeot 12spd racer, Old rusty Schwinn Manta Ray I neglected as a child, Diamondback Haanjo EXP Carbon & Metro, Specialized Roubaix Pro, RaleighSC Tandem
Mentioned: 2 Post(s)
Tagged: 0 Thread(s)
Quoted: 148 Post(s)
Minoura Spacer Light/Gadget Mount and Di Light Fender-Hole-Mount
---
These appear to be nifty little mounts, unfortunately I'm only able to mount one of my Niterider Lumina 750s.
I once used a single light -- then decided to use a pair side by side on my bars. I have made objective observations that this side-by-side headlamp setup gets me noticed like a car get's noticed. It also gives me a custom lighting path.

I use 54mm, 2" riser bars and after the pair of lights, Ergon GP5 grips, brake levers and shifters, I have no more room on the bars for anything else.

If I could mount my pair of lights side by side down below, this would be great!
So, does anyone know of a similar below-the-stem type of mount, with a longer mounting bar to allow accommodate two headlamps?

Please note that I do not wish to mount anywhere on my forks. Thanks in advance!

11-02-17, 04:29 AM
Senior Member
Sorry cannot help with any suggestions but find your idea quite interesting. I know
Busch & Muller
also do a stem mount but it would suffer the same problem as you have now: a single light, unless it could be hacked in some way.
EDIT: It just occured to me to have a poke around SJS Cycles in the UK for ideas including the following ...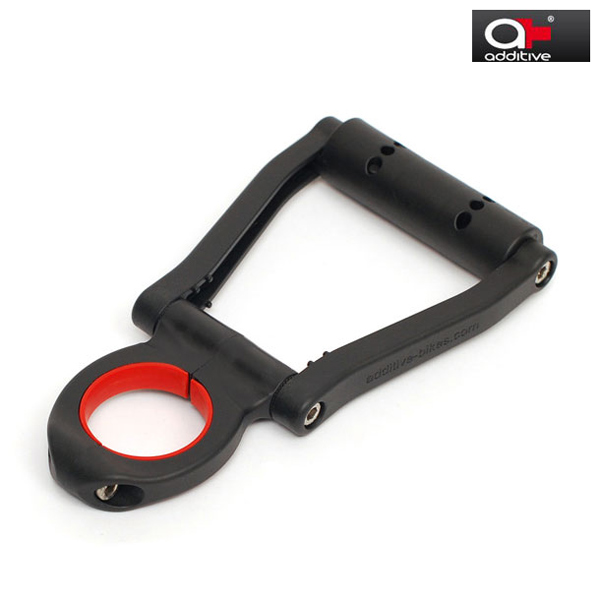 Additive Spacer Two Device Holder
Dia-Compe Gran Compe MH-1 Handlebar Accessory Mount
Thorn Accessory Bar T Shaped 172.5 mm Extension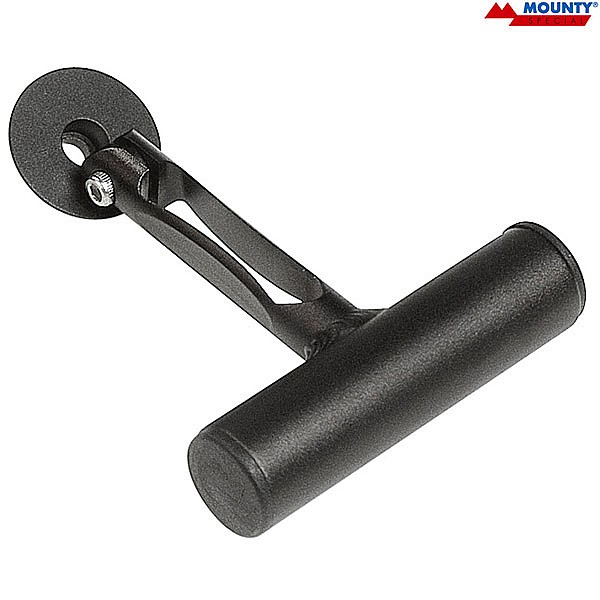 Mounty Space Bar II Stem Cap Fitting

There are by the looks some other options as well but this should get you started

---
Last edited by Aushiker; 11-02-17 at

04:37 AM

.

11-02-17, 08:31 AM
What an comprehensive, well pictured and impressive answer

I'd put two B&M Ixon IQ light on one
Minoura SwingGrip SWG-400
:

11-02-17, 08:36 AM
Senior Member
Join Date: Feb 2006
Location: Sin City, Nevada
Posts: 2,742
Bikes: Catrike 700, Greenspeed GTO trike, , Linear LWB recumbent, Haluzak Horizon SWB recumbent, Balance 450 MTB, Cannondale SM800 Beast of the East
Mentioned: 18 Post(s)
Tagged: 0 Thread(s)
Quoted: 492 Post(s)
Likes: 0
Look up "handlebar extender" on eBay and then sort by "price + shipping lowest first" and you will find at least a dozen different designs for under $10. I paid $17 for one like this a couple of years ago and now it is available for under $5
The stuff from Minoura is nice but really expensive for something so simple to fabricate.

11-02-17, 09:30 AM
Senior Member
Join Date: Aug 2014
Location: WA
Posts: 341
Mentioned: 1 Post(s)
Tagged: 0 Thread(s)
Quoted: 52 Post(s)
Likes: 0
Liked 0 Times in 0 Posts

11-03-17, 03:17 PM
Full Member
Join Date: Jul 2017
Location: SoCal
Posts: 316
Bikes: Cannondale Carbon Synapse Road, Cannondale T2000 Touring, Vintage Mongoose IBOC Pro MTB, Vintage Peugeot 12spd racer, Old rusty Schwinn Manta Ray I neglected as a child, Diamondback Haanjo EXP Carbon & Metro, Specialized Roubaix Pro, RaleighSC Tandem
Mentioned: 2 Post(s)
Tagged: 0 Thread(s)
Quoted: 148 Post(s)
Thanks for the help! All great options, but with my 54mm wide riser bars, I really need to go below the stem.
I'm unable to use the rising part for mounting anything, and the grips with bar ends, levers and shifters take up the ends.

So there's only 1" each side of the stem available. What's more, I also occasionally throw on a bar bag...

11-03-17, 03:55 PM
There have been options shown without using the bar (like the Dajia Stem extender).
If you'd show an picture of your bar, it woul be easier to say more.
There are also this solutions:
k-edge.com/shop/
hidemybell.cc/en/theproduct/
morsadesigns.com/how-it-works/
Anyway, this solution from K-Edge for Niterider lights needs less than one inch:
k-edge.com/product-category/light-and-action-camera-mounts/
---
Last edited by angerdan; 11-03-17 at

07:06 PM

.

01-01-18, 01:34 PM
---
Last edited by angerdan; 01-06-18 at

11:34 AM

.

04-11-20, 12:47 PM
Thread
Thread Starter
Forum
Replies
Last Post
Electronics, Lighting, & Gadgets
Electronics, Lighting, & Gadgets
Electronics, Lighting, & Gadgets
Electronics, Lighting, & Gadgets
Electronics, Lighting, & Gadgets

Posting Rules
You may not post new threads
You may not post replies
You may not post attachments
You may not edit your posts
---
HTML code is Off
---