Based on a thread I caught over in the Commuting forum (
http://www.bikeforums.net/showthread...highlight=tacx
), I picked up a pair of the Tacx Lumos bar end lights to fit to my 'round town scoot, the Mercier Nano minivelo.
I was looking for an unobtrusive, "lightweight", be-seen light setup for this bike, which is mostly for those short jaunts downtown or to the park in the summer, when I really don't want to pack out too much gear. I'd been using Knog Boomer front and rear lights because of their simple n' easy on/off mounting, but did worry about theft a bit if I left them on the bike unattended.
The Lumos, while not bolted to the bike, addresses these needs nicely. They screw into the bar ends, so while they're easy to remove, just how is not obvious to the casual observer, and their positioning makes them a bit more discreet than a typical headlight perched on the flats.
Each Lumos unit has a AA battery tucked inside the bar; a Tacx brand pair of which is included with the lights.
They're operated independently, so each has to be switched on and off, which is a bit of a pain, but easy enough to do as the lights only have one button perched atop the unit. Press on, press and hold to turn off. A second press once on will activate the turn indicator.
The turn indicator feature is in addition to the head and tail lights built into the unit, and one located behind the red tail lens, another next to the headlight bulb, and both flashe orange. In practice, it's barely noticeable, I think, especially the front which is overwhelmed by the brightness of the headlamp. The rear is more visible, but really the feature is inconvenient to use in any case. I'd much rather have seen increased red light output from the Lumos rear rather than have this turn feature. The indicator is auto-cancelling, which is cool, I guess.
The tail light is rather dim and unremarkable, but the headlamps seem to shine pretty brightly. Their angle is fixed in the unit, so aim is inconveniently done by rotating the handlebars. Frankly, the lights aren't bright enough to light the road, and they have too much blue to be nice for that, so if your bars are angled so that the Lumos shine towards drivers' eyes, be satisfied with that. With my bars, the drops are pretty much parallel to the ground, which angles the Lumos right into a typical sedan cabin at a distance of about 4'-6' feet.
They seem to be noticeable; I did a few passes by the bike in my car, and thought the Lumos popped out pretty well, but of course I was looking for them. Road response has been consistent with that, though, as no cars have pulled out in front of me or otherwise indicated I wasn't seen. The lower housing is clear, allowing the headlamp to shine out all around, providing nice sidemarking light.
Overall, then, I'm pretty happy with these for their intended purpose. They're not headlight or tail light substitutes, but are nice auxiliary lights that perhaps serve to mark the vehicle clearly as a bike. They can be left
in situ
without much worry, and are barely noticeable when off. Ultimately, I was pretty comfy casually rolling through town with just these, and feel like they provide a touch of additional insurance when out unexpectedly after dark without your regular lights.
I would recommend these to drop bar riders looking for supplemental lighting, or those who want a little added safety but don't want to clutter their handlebar or tend to a proper headlight. Cost is about $25 complete with AA batteries.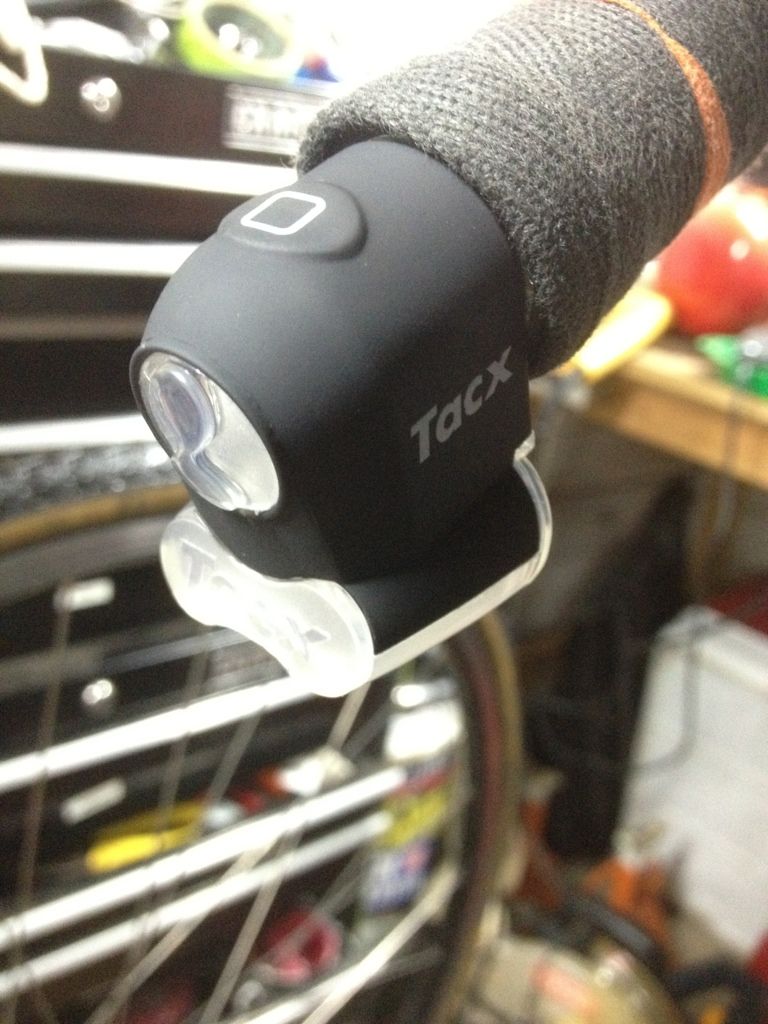 Above pic borrowed from user jyl, who gave me heads-up on the Lumos