End of the driveway with a "FREE" sign!

05-23-22, 07:44 AM
Junior Member
Join Date: Dec 2020
Location: Minnesota
Posts: 186
Bikes: a few
Mentioned: 1 Post(s)
Tagged: 0 Thread(s)
Quoted: 64 Post(s)
End of the driveway with a "FREE" sign!
---
Yesterday just a block from our home I came upon this at the end of our neighbor's house with a "FREE" sign next to it!
So I tossed it into the pickup and brought her home!
Needs a seat post and seat, and that is about it!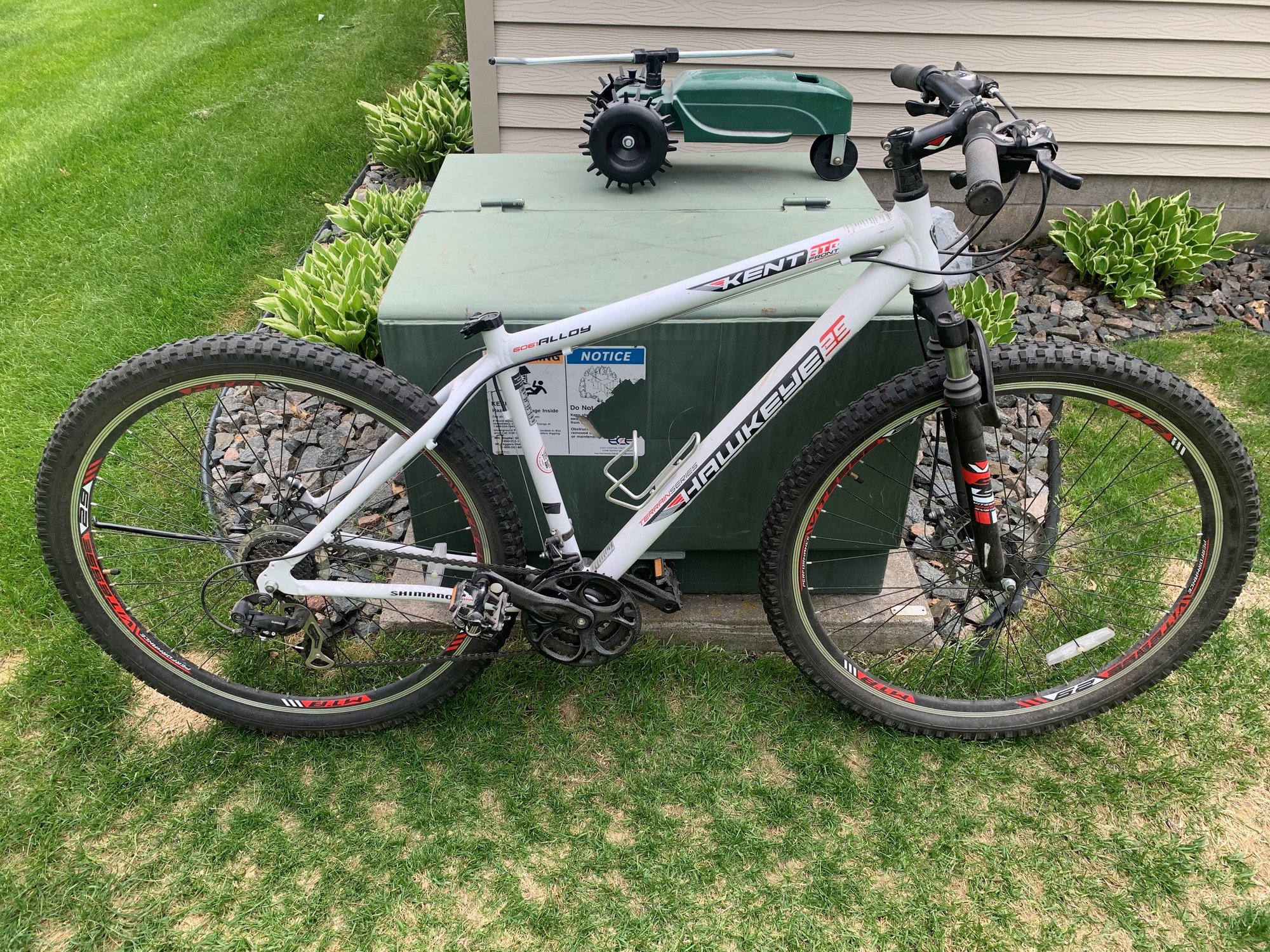 05-23-22, 08:21 AM
Senior Member
Join Date: Feb 2006
Location: Sin City, Nevada
Posts: 2,669
Bikes: Catrike 700, Greenspeed GTO trike, , Linear LWB recumbent, Haluzak Horizon SWB recumbent, Balance 450 MTB, Cannondale SM800 Beast of the East
Mentioned: 18 Post(s)
Tagged: 0 Thread(s)
Quoted: 473 Post(s)
Likes: 0
What does it weigh?
---
Obviously from the tires and frame I hasn't been left outside for any amount of time or ridden very far. What does it weigh? That's the guiding principal on whether or not I would bother with it. If it is lightweight and not in deplorable condition I would pick it up and go through it before passing it on to someone who doesn't have a decent bike. It is no favor to anyone to give them a heavy piece of junk more suitable for use as a barbell than a bike. My last find was an older Trek 800, well used and needing only a little TLC. It sat at the curb a few doors away when the owner moved to Tennessee. All it took was to see the brand and pick it up to see it was worth salvaging. It sat there for a couple of days and nobody took it until I came along. It is now in the hands of a friend who's old bike was a real disaster.

The reason I ask about the weight is the front forks. It's typical of an entry level bike with nearly useless suspension. That only adds to the weight you have to pedal while not really very good at smoothing the ride. The Trek 800 had rigid forks but a fairly expensive and heavy suspension stem that I would never have put on the bike as it wasn't standard on the bike to begin with.

05-23-22, 08:36 AM
Junior Member
Join Date: Dec 2020
Location: Minnesota
Posts: 186
Bikes: a few
Mentioned: 1 Post(s)
Tagged: 0 Thread(s)
Quoted: 64 Post(s)
Yeah this is an entry level bike - and still available from what I can tell. Retail is about $286-$299. The condition of this unit is actually very good! But it does have a bit of a weight problem also as you indicated Specs show 37lbs! Yikes! The rear shifter works but the front may need to be replaced and of course the obvious seat stem and seat. I will most likely fix it and pass it on. Had this been a Huffy or a Magna I would not have bothered to stop. LOL
---
Last edited by tjfastback66; 05-23-22 at

08:42 AM

.

05-23-22, 09:15 AM
MotuekaCascadeChinook
Join Date: Jul 2017
Location: Mississippi
Posts: 11,026
Bikes: Tarmac Disc Comp Di2 - 2020
Mentioned: 42 Post(s)
Tagged: 0 Thread(s)
Quoted: 4457 Post(s)
I probably will have let it go to the scrap yard were it could be recycled into something. Not certain every entry level bike or any level bike needs to be saved.

Though I guess it wouldn't have made it to the scrap yard since it was put out for trash pickup and would have only wound up in a land fill. So maybe you can send in the proper direction!

But if you like it, that's all that matters. You don't have to please me.

05-24-22, 06:29 AM
I work on a hundred of those every year at a non-profit shop that's dedicated to keeping bikes out of landfills, and getting them to people who need them.

The typical case is a gummed up trigger shifter and at least one non-working brake. A volunteer will spend an hour on it and get it back on the road. There are several trailer parks and low income apartment complexes in the area. We keep recycling bikes through those areas. Folks need them to get to work, for the kids to ride to school.

I usually replace the quick release set post clamp with a bolt, to make it slightly harder to steal.

05-26-22, 09:03 AM
I have worked on lots of these as well and donate to kids for riding to school, or adults to get to work. The local immigrant communities are starving for bike like this, especially since we do not have a decent public transportation system.

The local co op is a good source for parts, or can simply donate to them and they'll take care of it. One of the state-funded co ops even gives free helmets to kids as long as they come in for fitting and adjustments.

05-26-22, 04:07 PM
Senior Member
Join Date: Jan 2015
Location: Los Angeles
Posts: 3,410
Bikes: 82 Medici, 2011 Richard Sachs, 2011 Milwaukee Road
Mentioned: 38 Post(s)
Tagged: 0 Thread(s)
Quoted: 1324 Post(s)
I'd like one of those Tractor Sprinklers.
__________________
I don't do: disks, tubeless, e-shifting, or bead head nymphs.

05-26-22, 05:16 PM
When I put my old cheap mountain bike against the tree in my front yard with a "free" sign, it was there for days. It's pretty bad when I see bikes out for trash that are in better shape then the one I was riding.

A friend picked up an old rusty ladies single speed bike for getting around the marina. It was much more comfortable and easier to get on and off with my short legs then that old mountain bike.
---
Last edited by xroadcharlie; 05-26-22 at

05:23 PM

.

06-01-22, 01:18 PM
Junior Member
Join Date: Dec 2020
Location: Minnesota
Posts: 186
Bikes: a few
Mentioned: 1 Post(s)
Tagged: 0 Thread(s)
Quoted: 64 Post(s)


Found a seat post that fit and a seat that I had on hand. We went to vend at a large flee market on Saturday, - sold the bike for $85.00
Not too bad for a free bike and the buyer was so excited too.

06-01-22, 08:40 PM
Sniveling Weasel
Join Date: Sep 2020
Location: Seattle-ish
Posts: 2,634
Mentioned: 0 Post(s)
Tagged: 0 Thread(s)
Quoted: 949 Post(s)
I regularly pass a sign that says FREE which is posted in front of junk one household want to get rid of. I have been tempted on more than one occasion to take that sign.
__________________
Immoderate Cyclist "No regerts"





06-03-22, 09:20 PM
Give it to a kid that does not have a bike, they want care that it is heavy they will probably tear it up anyway but they will have a blast tearing it up.

06-13-22, 03:53 PM

06-13-22, 05:37 PM
Senior Member
Join Date: May 2010
Location: Bastrop Texas
Posts: 3,226
Bikes: Univega, Peu P6, Peu PR-10, Ted Williams, Peu UO-8, Peu UO-18 Mixte, Peu Dolomites
Mentioned: 5 Post(s)
Tagged: 0 Thread(s)
Quoted: 492 Post(s)
So what happens when your neighbor's kid comes crying to your front door asking for his bike back?

In any case its a nice find yes...
__________________
No matter where your at... There you are... Δf:=f(1/2)-f(-1/2)