25 deg F and a great ride

01-22-06, 05:07 PM
Senior Member
Join Date: Oct 2005
Location: White Bear Lake Mn
Posts: 764
Bikes: 88 Schwin Voyageur, 84 Schwinn World Sport, 85 Univega Alpina Uno, 85 Fuji Espree, 09 Novara Strada, 06 Jamis Durango, 03 Specialized Expediton Sport, 09 Surly LHT, 12 Novara Gotham
Mentioned: 1 Post(s)
Tagged: 0 Thread(s)
Quoted: 4 Post(s)
Likes: 0
Liked 0 Times in 0 Posts
25 deg F and a great ride
---
Great ride today in Minnesota but my water bottle froze. Anyone used insulated bottles for hot drinks?


01-22-06, 07:02 PM
Let's do a Century
Join Date: Oct 2004
Location: North Carolina
Posts: 7,328
Bikes: Cervelo R3 Disc, Pinarello Prince/Campy SR; Cervelo R3/Sram Red; Trek 5900/Duraace, Cervelo P2C/Duraace, Cannondle Tandem/Ultegra, Lynskey GR260 Ultegra
Mentioned: 34 Post(s)
Tagged: 0 Thread(s)
Quoted: 318 Post(s)
The Polar bottles I have advertise they're for hot or cold but I've only used them for cold fluids.

01-22-06, 08:43 PM
Freewheel Medic
Camelback sells an insulated hydration pack. Blow the water out of the tube after drinking. I've never had mine freeze.
__________________
Bob
Dreaming about riding in NH's summertime!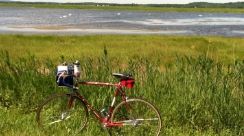 Visit my websites:
FreeWheelSpa.com
or
pastorbobnlnh.com

01-23-06, 12:09 PM
Time for a change.
Join Date: Jan 2004
Location: 6 miles inland from the coast of Sussex, in the South East of England
Posts: 19,914
Bikes: Dale MT2000. Bianchi FS920 Kona Explosif. Giant TCR C. Boreas Ignis. Pinarello Fp Uno.
Mentioned: 2 Post(s)
Tagged: 0 Thread(s)
Quoted: 2 Post(s)
Likes: 0
Liked 0 Times in 0 Posts
Went out yesterday in just on freezing and didn't even feel the cold. Today was warmer at 40F, no wind but that has been cold all day. Had to work so no bike ride so quite pleased about that.

Thermos flask. Thers is a small one done that fits a bottle cage- You may have to search hard for one, but the insulated bottles have never worked for me.
__________________
How long was I in the army? Five foot seven.


Spike Milligan

01-24-06, 03:47 AM
Gemutlichkeit
Join Date: Dec 2005
Posts: 2,424
Mentioned: 0 Post(s)
Tagged: 0 Thread(s)
Quoted: 0 Post(s)
Likes: 0
Liked 0 Times in 0 Posts
On weekends I will usually ride between 40 and 60 miles on Saturday. I'm setting up for touring so I bring all kinds of weight along - including a steel 1 qt Stanley vacuum bottle full of coffee. Stays hot for about three hours at 40 degrees. Warm for another two. Sometimes I have stopped to re-fill at a 7-11.