Biking in Italy: Part 1

06-20-07, 03:15 PM
Bike Curious....
Join Date: Sep 2005
Location: Washington, DC
Posts: 890
Mentioned: 0 Post(s)
Tagged: 0 Thread(s)
Quoted: 2 Post(s)
Biking in Italy: Part 1
---
Part 1: Biking in Italy and Fiorano Modenese
My wife and I got back over the weekend from 2 weeks in Italy, fantastic trip. We had a lot on our plate, including touristy things (Rome, Florence, Lake Como & Venice), a friendís wedding (Modena) and some biking. More than anything though, our exercise came from walking Ė did a ton of that. Good thing too Ė we ate and drank a tremendous amount, but we actually lost a bit of weight from all the walking.
Biking was done in 2 days. The day after our friendís marriage (early Sunday morning), the brideís father took us through a ride through Modena, actually Fiorano Modenese and several surrounding communities. Lots of nice sights, several Ferrari plants & tracks, old castles, villas, cool streets, very nice. My wife and I did 25 miles, nothing too difficult, the host was kind to us. At 70 years old he could have hurt us, heís one of those barrel-chested Italian riders that could probably bury us if he wanted. An old racer, he has a trophy case full of races heís won or placed in and heís got pictures of him with various cycling legends, Coppi, Bartali, Pantani, Cipollini and a ton of guys Iíve never heard of. He has a stable of about 15 bikes, including a cool 1985 Bianchi Centennial. Itís a collectorís bike Ė stamped everywhere with Bianchi Centenario, seat post, cranks, derailleur, shifters (downtube, of course), brakes, rims, hubs, levers, anywhere Campy could stamp it. But for him it was a bike he used as the picture shows:
Here are our host and my wife heading down a street:
Another street: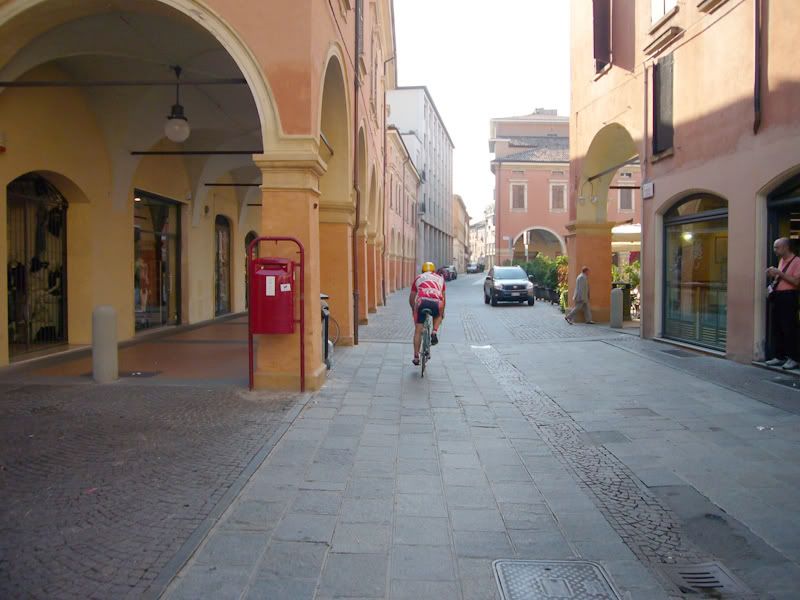 A local mill: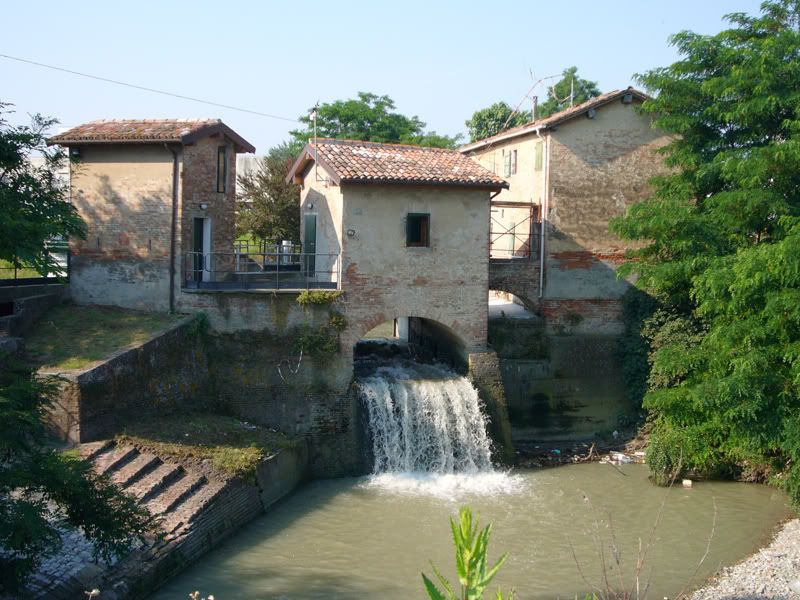 Entering Corlo:
Castle - moat drained: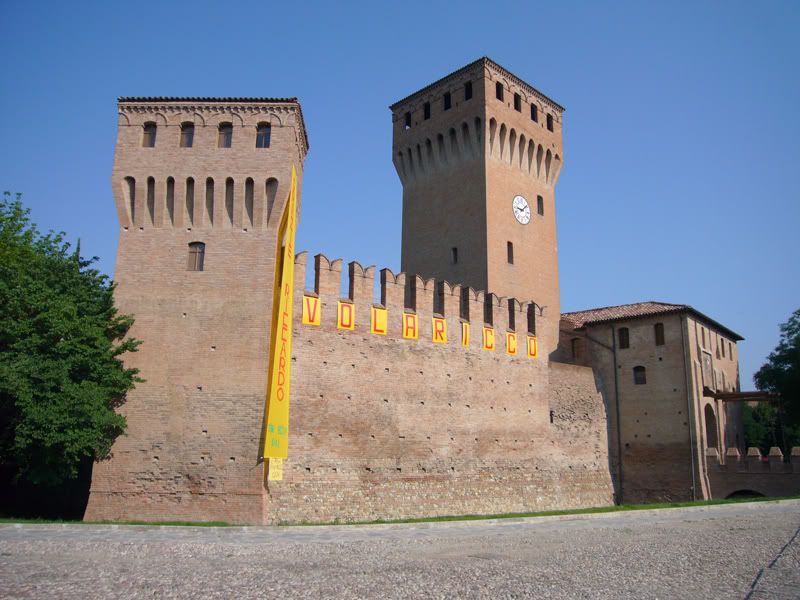 Our host (last name is Ferrari, though a different branch):
Anyhow biking in Italy is so much nicer than in the US - cars actually treat you (mostly) as equal (same as with pedestrians). If you're going down a 2 lane road and a car approaches you from behind, they'll toot their horn to let you know they are passing and then pass you on the left. If a car is on-coming from the other direction, they automatically go the the shoulder, no big deal. If the road is too narrow, they just wait behind you until traffic clears & then they pass, no big deal.
Coming up in thread 2, biking up Madonna del Ghisallo.
Ciao,
Roberto

06-20-07, 04:31 PM
The Grampster
Join Date: Sep 2005
Location: Washington, DC
Posts: 657
Bikes: Eddy Merckx SXM, LeMond Buenos Aires, Cannondale Road Warrior 1000 plus a couple of comforts (Specialized Crossroads and Giant Cyprus) and a beater mtb for around town.
Mentioned: 0 Post(s)
Tagged: 0 Thread(s)
Quoted: 0 Post(s)
Fabulous, Bob. I am so absolutely jealous of your trip. The Bianchi is beautiful. What did you and Ms C get to ride???? Did you have any trouble contending with any cobbles you came across? Were there lots of bike riders? What sort of bike did most people ride? Inquiring minds want to know.......
__________________
The definition of insanity is doing the same thing over and over and expecting different results.
--Ben Franklin

06-20-07, 05:55 PM
Bike Curious....
Join Date: Sep 2005
Location: Washington, DC
Posts: 890
Mentioned: 0 Post(s)
Tagged: 0 Thread(s)
Quoted: 2 Post(s)
I showed up to our host's house wearing my Acqua & Sapone bicycling cap - he had a Bianchi set up for me but when he saw the cap, he pulled out a Francesco Moser bike. I guess Moser used to supply Team Acqua & Sapone so he saw that as a perfect fit (of course he speaks no English and our Italian is somewhat limited, but that's what I think he meant). The bike was an aluminum bike that rode well:
As for my wife, he outfitted her with one of his Fimas bikes. Not familiar with the brand, one of a bunch of Italian bikes that I didn't recognize the name of:
We didn't ride cobbles all that much, probably a mile or so. So I'm not quite ready for Paris-Roubaix. As for the number of bike riders, there were lots out there. This was a Sunday morning and we saw a dozen or more riders in several different groups to solo riders. But certainly a lot more riders than you'd see in most parts of the US. This area is a training ground for a lot of pro teams, while the course we took was relatively flat, it is quite mountainous nearby. Lots of teams and full kits - top to bottom.
Biking is such a large part of Italian life, you can see it with commuters to city cruisers to people in full kits to the way car drivers treat cyclists. One example of the appreciation to bicycling in Italy is how biking legends are venerated. On the way to a party later in the day, our host stopped in (in the mountains) to a little wayside where there were a few bikers congregated, filling their bottles at a fountain:
Our host pointed to a little marker above the fountain:
which reads (just guessing) that 'at this spot in 1940 Fausto Coppi stopped by for a drink of water on his way to glory' or something to this effect. I see something in here about eternal rest or something, maybe someone can translate. Regardless, this is kinda like what you'd see in the US - George Washington slept here or Abe Lincoln gave a speech here.

06-20-07, 06:03 PM
Senior Member
Join Date: Jun 2006
Location: California
Posts: 2,991
Mentioned: 0 Post(s)
Tagged: 0 Thread(s)
Quoted: 1 Post(s)
wow, talk about jealous
__________________

06-20-07, 06:04 PM
Senior Member ??
Join Date: Sep 2004
Location: Englewood,Ohio
Posts: 5,094
Bikes: 2007 Trek Madone 5.0 WSD - 2007 Trek 4300 WSD - 2008 Trek 520 - 2014 Catrike Trail
Mentioned: 1 Post(s)
Tagged: 0 Thread(s)
Quoted: 0 Post(s)
What a wonderful trip. I'm looking forward to the next report.
__________________
=============================================================

Enjoy the little things in life, for one day you may look back and realize they were the big things.
-- Antonio Smith

06-20-07, 06:54 PM
Let's do a Century
Join Date: Oct 2004
Location: North Carolina
Posts: 7,244
Bikes: Pinarello Prince/Campy SR; Cervelo R3/Sram Red; Trek 5900/Duraace, Cervelo P2C/Duraace, Cannondle Tandem/Ultegra, Lynskey GR260 Ultegra
Mentioned: 23 Post(s)
Tagged: 0 Thread(s)
Quoted: 281 Post(s)

06-20-07, 08:25 PM
Senior Member
Join Date: May 2005
Posts: 6,900
Mentioned: 0 Post(s)
Tagged: 0 Thread(s)
Quoted: 2 Post(s)
Love Italy. Spent 18 days there in 2001, can not wait to return. We were on a tour and got off the tourist track quite a bit. I was really surprised to see so few bikes on the roads.

06-20-07, 08:35 PM
Senior Member
Join Date: Jul 2006
Location: Katy Texas
Posts: 5,494
Bikes: Specialized Roubaix
Mentioned: 3 Post(s)
Tagged: 0 Thread(s)
Quoted: 42 Post(s)
Sounds like a place I would love to ride, thanks for sharing.
__________________
George

06-20-07, 08:51 PM
Surly Girly
Join Date: Mar 2007
Location: SoCal
Posts: 4,117
Mentioned: 0 Post(s)
Tagged: 0 Thread(s)
Quoted: 2 Post(s)
Great pictures, very inspirational! I love Italians... wonderful people.
__________________
Specialized Roubaix Expert
Surly Long Haul Trucker

Posting Rules
You may not post new threads
You may not post replies
You may not post attachments
You may not edit your posts
---
HTML code is Off
---