Both Velodiva and I agreed this was our best vacation yet. We had perfect sunny weather for cycling with temperatures in the 70s and light winds. We met interesting people and made new friends and toured one of our favorite countries. This was our fifth trip to Italy and Santana did a wonderful job of creating unique bicycle touring and dining experience that would be difficult to impossible for us to do on our own.
Since bikeforums only allows 10 pics per post I created three posts.
Cycling Metrics from Garmin:
7 days: 270 miles: 36,800 feet of climbing: Average climbing; 138 feet per mile.
Elba loop - 37.5 miles: 7,250 feet of climbing
Elba to Volterra - 60 miles: 5,400 feet culminating in a 6 mile Category 1 climb to the walled city of Volterra
Volterra to Sienna - 44 miles: 5,480 feet
Sienna Loop - 20 miles: 2,654 feet
Sienna to Castellini-in-Chianti: 40 miles: 6,580 feet
Castellini-in-Chianti loop: 35 miles: 5,080 feet
Castellini-in-Chianti to Florence: 31 miles: 4,395 feet
Photography: 550 digital pictures taken
Rome:
We flew into Rome and were greeted by Bill and Jan McCready, owners of Santana, and we were bussed to our hotel in Rome and our bike was put on a truck, which we would receive once we arrived in Elba. We had a pre-tour of Rome, which included the Vatican, the Colliseum, the Catacombs and numerous other sights. Rome provided a great chance to recover from our jet lag and get ready for cycling. The weather in Rome was overcast and humid.
We decided to go to a gym located about 1 mile from our hotel while we waited for our room to be ready. The outside was nice and featured several clay tennis courts. The inside consisted of old fashioned gym amenities which Velodiva equated to showering at the LA County Jail, although she has never been there.
We had a guided tour of the Vatican but the amount of art and information was formidable.
Inside the Vatican
Elba:
We took 3 large buses loaded with 53 tandem teams and luggage from Rome via a 3 hour bus drive to a coastal port for a one hour ferry ride to Elba. On the bus, Bill McCready, President of Santana, reviewed the Italian traffic laws, meaning of traffic signs and the rules for cyclists. We got to observe cyclists on the road to see how they handled various traffic situations with cars and intersections to confirm Bill's instructions. It is too complicated to discuss, but is different than the US and Bill's advice was essential and very valuable. We thoroughly enjoyed our cycling experience on the Italian roads. The drivers were great and behaved exactly as Bill explained. The roads in Tuscany and Elba were smooth and in excellent condition for cycling.
Coastline of Elba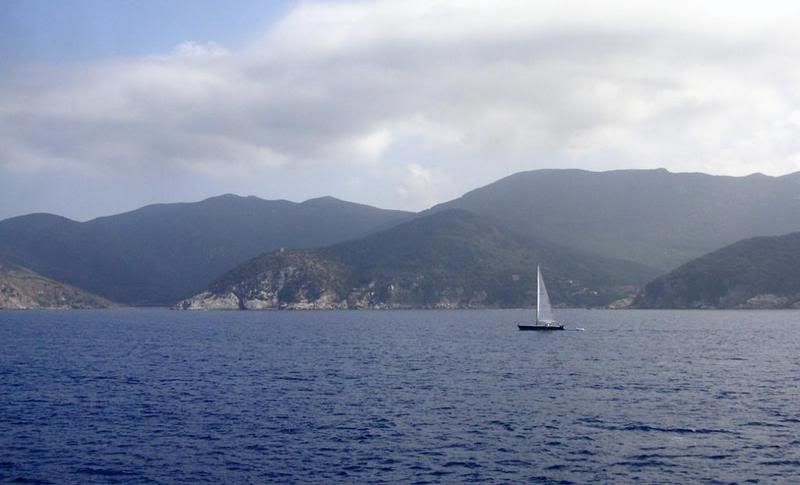 Upon arriving in Elba, we re-boarded our buses and got our first taste of the terrain. We climbed a 7% grade for several miles to the top of a ridge and descended a curvy road descending several hundred feet to our hotel at the coast located in a beautiful cove at secluded Biodola Bay. It was a magnificent setting but there certainly was a buzz among the teams about the terrain.
View from our hotel room balcony
One of the pools looking onto the beach.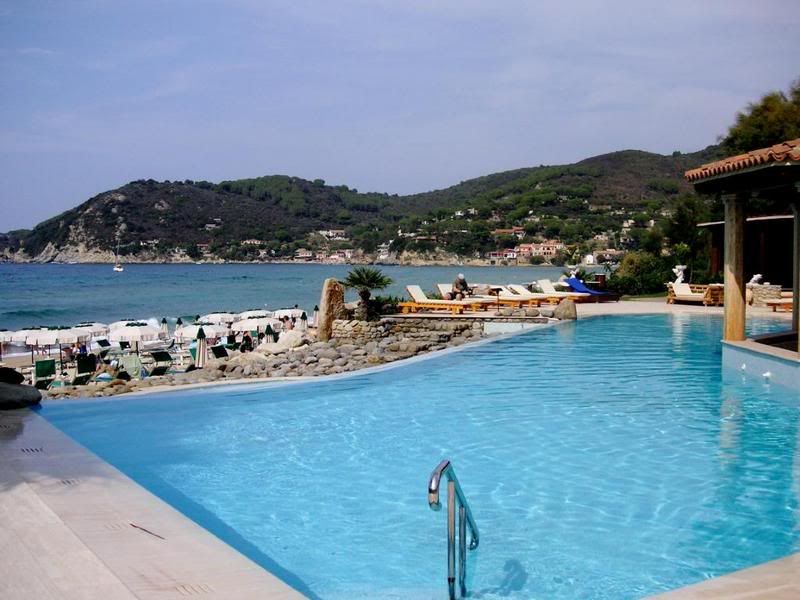 We chilled out at the beach and waited for our bikes to arrive. At 4PM, we received our bikes and 53 couples began the assembly. Santana had a mechanic, their European distributor, Wolfgang, and of course, Bill to assist, if necessary, in the assemble of the bikes. I think most everyone was finished by 6 PM.
Building bikes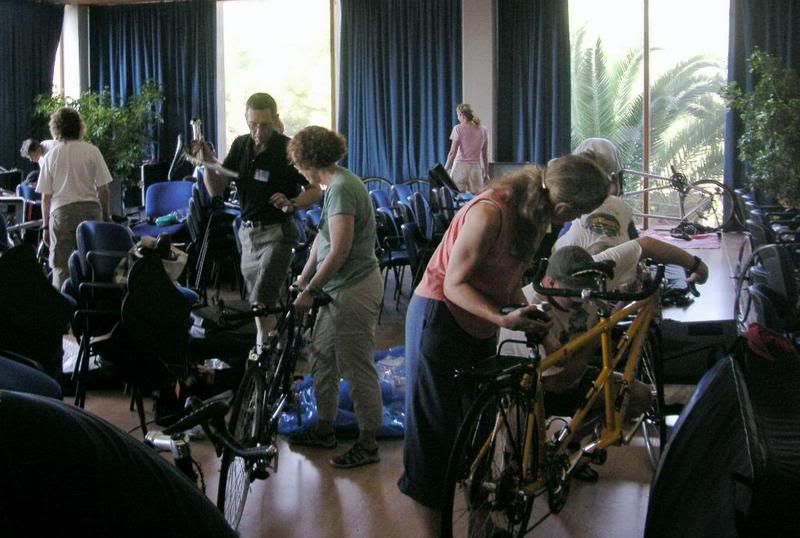 Each day begins with a ride talk where Bill goes over the route and key points of interest. This location was interesting in that it started with a 500 foot climb in 2 miles to get back to the top of the ridge from the hotel. Velodiva and I were sooooo rested with so much adrenaline; we were ready to get on the bike and go and we zoomed up the hill and we began the trip across the island to the coast and the first major climb.
Ride talk from Pope Bill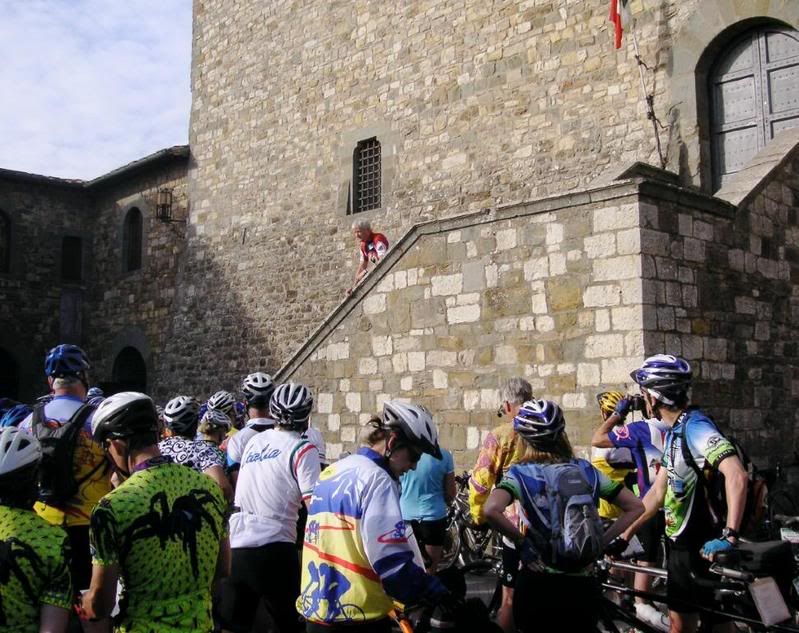 Along the way, we stopped for a picture with some other teams and then continued on. We arrived at a small town right before the climb and stopped for a cappuccino and to refill water bottles.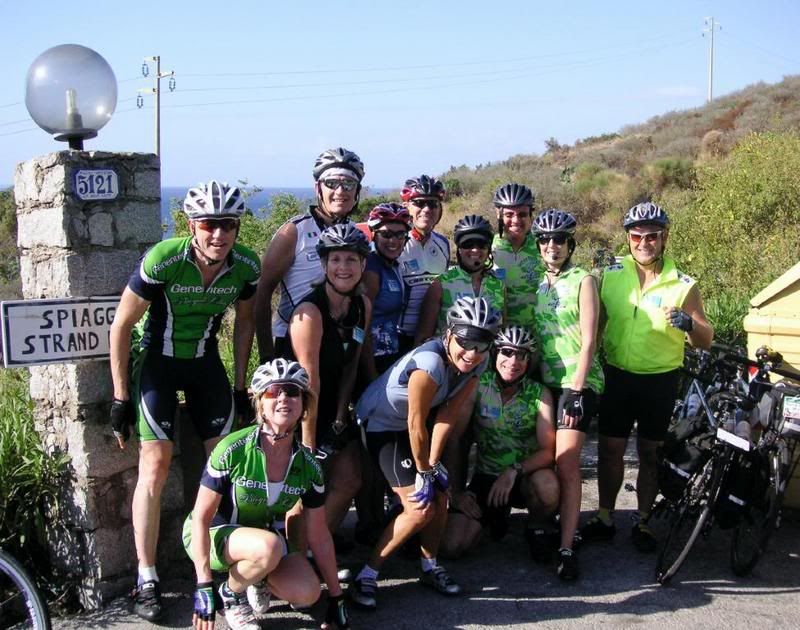 We started the climb and the views were breathtaking along the coast. The combination of air temperature, sun, scenery, wind and elevation were exhilarating. We approached the top and stopped for a few pics.
The climb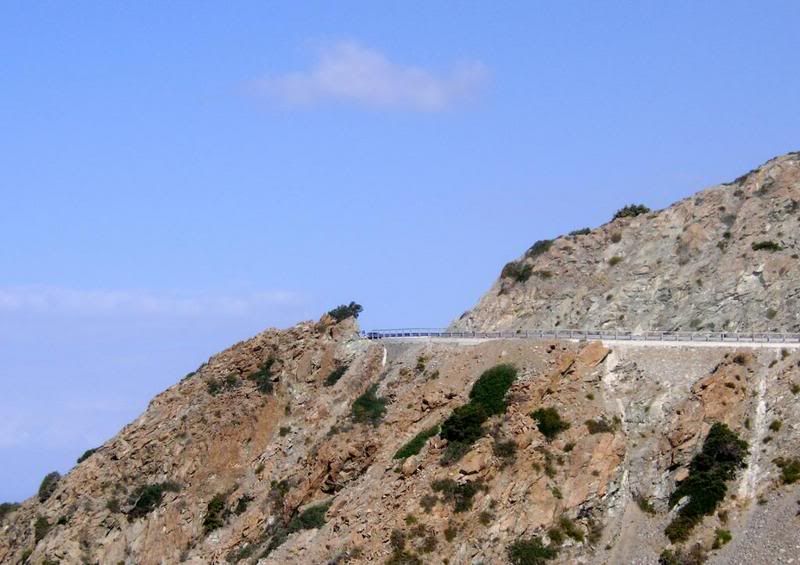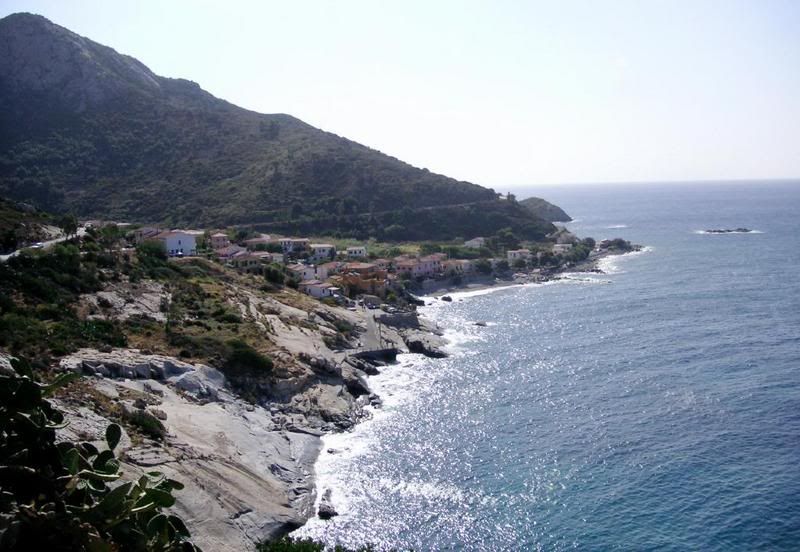 We continued on to the summit where lunch was scheduled. Another bike forum team, Sevenrider and his wife and Velodiva and I were the first to arrive and scoped out the town, shot some pics and hung out together waiting for the rest of the teams.
View from the top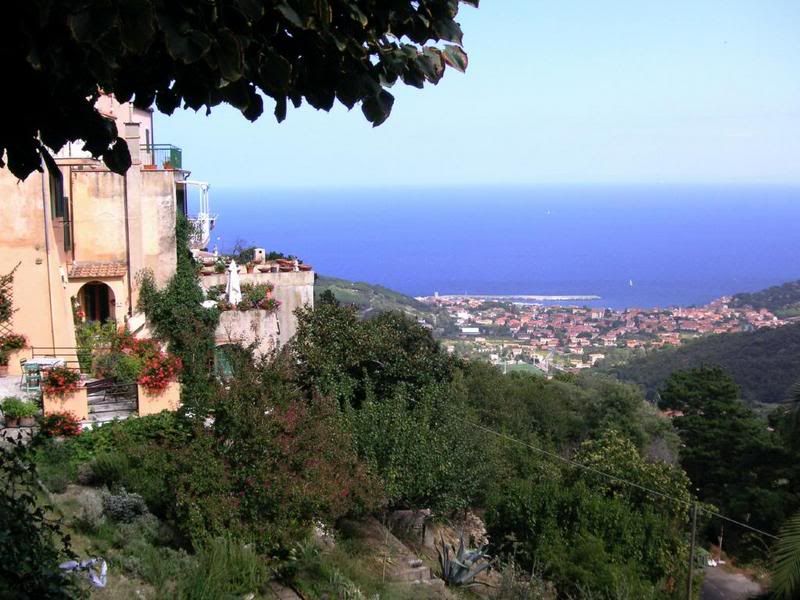 Lunch was a 5 course extravaganza and we could not believe the amount of food that just kept coming. It was wonderful, but we still had some cycling and climbing to do.