Yummmm!!

11-23-07, 09:01 AM
Let's do a Century
Join Date: Oct 2004
Location: North Carolina
Posts: 7,352
Bikes: Cervelo R3 Disc, Pinarello Prince/Campy SR; Cervelo R3/Sram Red; Trek 5900/Duraace, Cervelo P2C/Duraace, Cannondle Tandem/Ultegra, Lynskey GR260 Ultegra
Mentioned: 36 Post(s)
Tagged: 0 Thread(s)
Quoted: 328 Post(s)
Yummmm!!
---
My mouth waters even seeing the pics of the wonderful spread the day after. Here's a pic of some of the food we set out (didn't capture the pies and cakes we set up on the bar in the kitchen). The big fellow is my daughters boyfriend-a marine now safely home from Iraq until his next mission. He is talking to my oldest daughter who is in Az and missed her first Thanksgiving with us.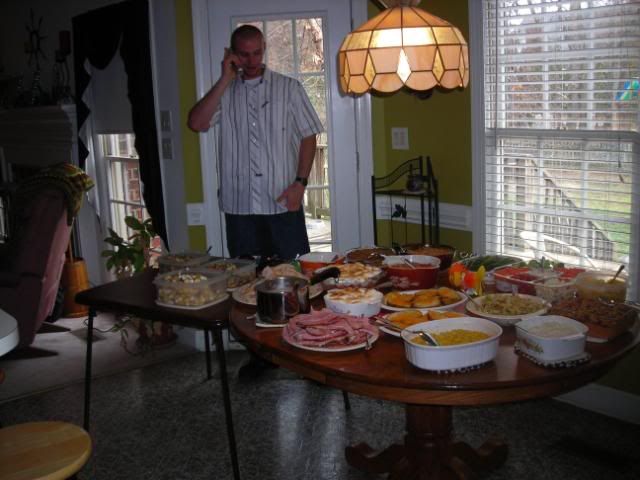 We had 20+ folks over and had to set up another dining table in our "office" plus a card table here and there-along with the dining table in the dining room (notice the nice warm homemade sourdough bread peaking our of the basket!).
With the health issues our family has had this year it was wonderful just getting folks together. Today will be a nice long bike ride in cool and breezy weather.

11-24-07, 01:28 AM
Time for a change.
Join Date: Jan 2004
Location: 6 miles inland from the coast of Sussex, in the South East of England
Posts: 19,914
Bikes: Dale MT2000. Bianchi FS920 Kona Explosif. Giant TCR C. Boreas Ignis. Pinarello Fp Uno.
Mentioned: 2 Post(s)
Tagged: 0 Thread(s)
Quoted: 2 Post(s)
Likes: 0
Liked 0 Times in 0 Posts
The spread looks inviting, but didn't see any pie there- or a bike. Thought that would make an appearance.
One thing about our family get togethers are that they are held in the summer (No thankshiving in November for us over here). Then the bikes do take centre stage as the bike shed gets turned into the bar.
__________________
How long was I in the army? Five foot seven.


Spike Milligan

11-24-07, 06:35 AM
Senior Member