Completed first century yesterday,(sorry,jppe).

12-02-07, 08:46 AM
Senior Member
Completed first century yesterday,(sorry,jppe).
---
Well, the first since crashing my mtb 6 weeks ago. It was called "The Tour de Francis", named after the organizer Francis Ignacio, who is a long distance racer and all around great guy. Our club was invited to participate for free! The route was 100 miles through the mountains above Castaic Lake with 9500 feet of climbing. Tough enough, but throw in temps in the 30s and low 40s and wind, whoa.
The support was great, better than some rides I have paid $50 for, with lots of variety at the stops, including hot chicken soup at lunch! I gotta tell you, when you are cold and demoralized, some hot soup will get your spirit back, especially when followed by some tailwinds!
My group dropped me, so I rode the last 25 miles alone into the cold headwind. But at the finish was a huge spread of food and warm clothes in my car, so I felt good again, and glad to be done. Did I mention the steep 1.5 mile climb to the finish?
About 75 riders started, many turned back and some got picked up by the SAG vehicles, but I'm happy to be among those that did the whole damn thing.
Almost forgot, BD, my girlfriend and I went out for a wonderful salad and penne pasta in pesto sauce topped with 5 jumbo shrimp, yum!
http://www.bikeforums.net/showthread.php?t=367004

12-02-07, 04:17 PM
Senior Member
Thanks! These guys,(Adobo Velo) made the ride fun despite the conditions. They had a King of the Mountains competition with cheering, cowbells, and timer calling out your number at the tops of the climbs. They also had an awards ceremony after the post-ride feast. They gave trophies and ribbons out to the KOM winners, oldest rider (70), youngest rider (24), and for her first century to one rider. They really helped make it memorable.
There was also a club from the San Diego area, a bunch of strong climbers.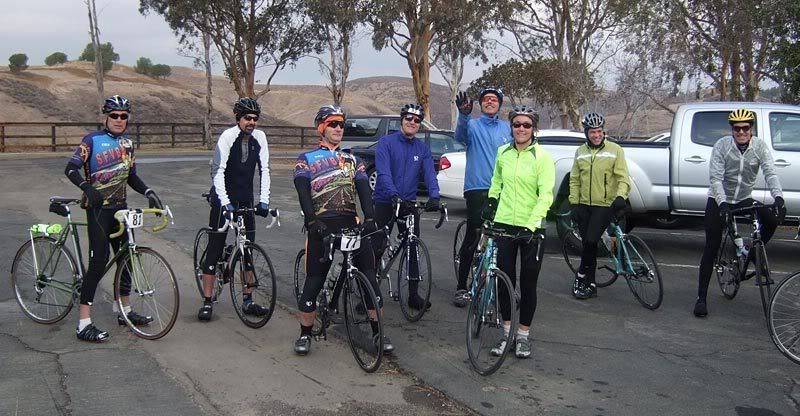 12-02-07, 04:37 PM
Senior Member
Thanks, pprayers, but it wasn't my first century, just teasing jppe about his thread title. It was quite a feeling of accomplishment, however.

12-02-07, 07:50 PM
Let's do a Century
Join Date: Oct 2004
Location: North Carolina
Posts: 7,358
Bikes: Cervelo R3 Disc, Pinarello Prince/Campy SR; Cervelo R3/Sram Red; Trek 5900/Duraace, Cervelo P2C/Duraace, Cannondle Tandem/Ultegra, Lynskey GR260 Ultegra
Mentioned: 36 Post(s)
Tagged: 0 Thread(s)
Quoted: 333 Post(s)
Great job Big John!! Your ride had twice the climbing and in a lot cooler conditions than mine!! But it sounds like what was served up food wise was a whole lot better than the bananas and peanut butter crackers I carried with me.

Now the question is-will you do it 4 more times this month!!!!

12-03-07, 04:36 PM
Senior Member
4 more times this month? I'm thinking not, but I am taking a week off this month soooo.....
The ride photogs have posted 600 pics from Saturday. I guess they love their cameras.
Thread
Thread Starter
Forum
Replies
Last Post

Posting Rules
You may not post new threads
You may not post replies
You may not post attachments
You may not edit your posts
---
HTML code is Off
---