Manayunk Metric

04-07-08, 07:20 AM
Guest
Posts: n/a
Mentioned: Post(s)
Tagged: Thread(s)
Quoted: Post(s)
Manayunk Metric
---
An account of my ride Saturday:
Well, it wasn't a metric century in Manayunk. But I did pass through this trendy part of Philadelphia, Pennsylvania. And I did ride 100 kilometers. So the title is partially correct.
The ride began back at the Pawlings Road trailhead on the Schuylkill River Trail in Audubon. My friend JT and I set off at 8:47 AM under cloudy skies to ride down to Philadelphia, loop around the Art Museum, and head back. It's a 49 mile ride, largely off-road with the exception of about five or so miles through Manayunk. It's also largely flat with the exception of several hill climbs in Manayunk. While there is a Manayunk Canal towpath that's flat and reduces the road mileage for the trip, the gravel surface wouldn't have been good for JT's 23cm tires or his carbon-fiber Fuji, so we used the road routing the Bicycle Club of Philadelphia recommends.
The 'inbound' part of the trail is on a slight downhill grade, and there's usually a slight tailwind from the west, both of which helped us make excellent time. We reached the Art Museum and Lloyd Hall by 10:43, taking less than two hours for the inbound trip of 24.35 miles. This included about a five minute rest stop at Conshohocken, halfway to the city, and negotiating traffic and stoplights - I hit every red light I came across in Manayunk. I felt in fine shape, although I struggled to keep up with JT. My extra winter weight was telling against me, along with my spotty riding these past few months. Plus JT is about ten years younger than me, and about 50 pounds lighter.
After hydrating, eating, and 'unhydrating', we headed back at 11:00 AM. All of a sudden the uphill and the headwind caused me problems. My speed slowed to a crawl, and JT pulled ahead, gradually increasing his lead to a half-mile on Main Street in Manayunk.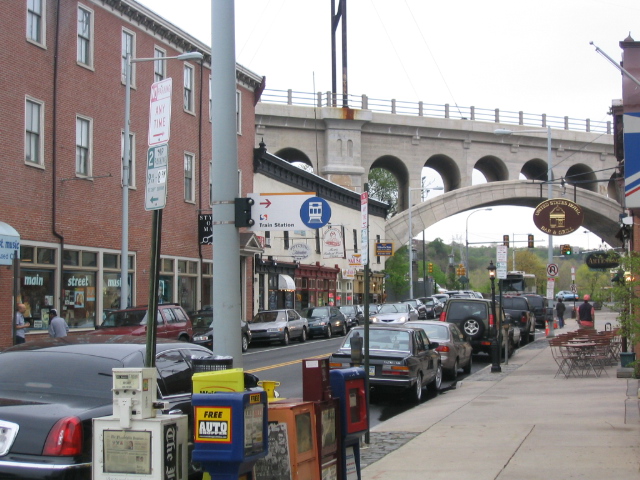 During one of the hill climbs, I had to stop at a red light to make a left turn, and I chose to walk part of the hill because I knew I wasn't going to safely negotiate the intersection. I barely made it up another hill on Shawmont Avenue, getting over the crest as my legs began to fail me.
Eventually I got out of the city and back to the trail, where JT was waiting for me. As I pulled up I did what I do best.
"JT, I'm sorry I'm not in better shape. I'm slowing you down."
"Nah, I'm happy to have someone to ride with."
Having gotten my obligatory apologizing out of the way, we continued north and west out of the city, slowly climbing and fighting the headwind. We stopped for an extended break at The Outbound Station trail store in Conshohocken, and again in Valley Forge at Betzwood. We reached our cars in Audubon at 2:00 PM, where JT packed it in for the day with 49 miles ridden.
I felt like packing it in too by this point. My legs were spent, my back was slightly bothering me, and my butt was sore. Still, I wanted to get a metric under my belt, and so I mounted the bike again, and headed off into Lower Perkiomen Valley Park to get more miles. Between riding on the Perkiomen Trail, back down the Schuylkill River Trail to Betzwood, into Audubon, and searching for a decent lunch, I reached 62.20 miles at about 5 minutes to four PM.
Now, seven hours later, my butt hurts, my legs are sore and stiff, my back feels stretched, and I am dehydrated and fatigued. Isn't cycling wonderful?

04-07-08, 09:21 AM
Senior Member
Join Date: Feb 2007
Location: S.E. Pennsylvania, USA
Posts: 1,737
Mentioned: 0 Post(s)
Tagged: 0 Thread(s)
Quoted: 2 Post(s)
Likes: 0
Liked 0 Times in 0 Posts
From your photo I can see you were only a few blocks from the famous Manayunk Wall. Maybe next time?

I know the left hand turn of which you speak. If you don't hit the left green arrow on that traffic light, it can be a nightmare. I've learned to pace my riding coming around the right hand turn before the traffic light to avoid getting a red there. It works maybe 7 out of 10 times.

04-07-08, 10:58 AM
But on the road more
Join Date: Jun 2006
Posts: 864
Bikes: Bianchi Volpe '07
Mentioned: 0 Post(s)
Tagged: 0 Thread(s)
Quoted: 0 Post(s)
Likes: 0
Liked 0 Times in 0 Posts
Yeah, I know that turn too- it's a painful one. No one should have to take that climb from a dead start. Dang red lights- what were they thinking?

Great report, Neil- you had a good day for a rid, that's for sure! I biked from West Philly to Manayunk and back- -just a short 20mi, with a break at a sidewalk cafe, of course. Unfortunately, with this week's weather forecast, it looks like Saturday was just a tease.

04-07-08, 09:44 PM
Senior Member
Join Date: Mar 2008
Location: Sale, Victoria, Australia
Posts: 665
Mentioned: 0 Post(s)
Tagged: 0 Thread(s)
Quoted: 0 Post(s)
Likes: 0
Liked 0 Times in 0 Posts
Nice ride report. I enjoyed reading it and congrats for attaining the target

I also read with interest your topic on recovery rides, elsewhere on the board where a little bloke like me is a second class citizen. Not too much 'science' about me but I'm a bloke who has stressed and strained his body a fair bit over the years, and I'm all for the principle of "take it easy" regarding recovery activities. It's all too easy, when you've warmed and loosened the muscles up again following a bout of strenuous activity, to get the impression that you're good to go again, but it's usually an illusion methinks. Too much too soon and you only end up hurting yourself and delaying the development. UMO that principle holds true no matter what the activity might be


04-07-08, 09:48 PM
Lincoln, CA
Join Date: Sep 2004
Location: Lincoln, CA
Posts: 2,229
Bikes: 94 Giant ATX 760, 2001 Biachi Eros, 2005 Giant OCR2 Composite +
Mentioned: 0 Post(s)
Tagged: 0 Thread(s)
Quoted: 0 Post(s)
Likes: 0
Liked 0 Times in 0 Posts
__________________
Truth is stranger than reality.
'96 Giant ATX 760 MTB
'01 Bianchi Eros
'05 Giant OCR Llimited Carbon Fiber + upgrades

04-08-08, 06:00 AM
Senior Member
Join Date: Feb 2007
Location: S.E. Pennsylvania, USA
Posts: 1,737
Mentioned: 0 Post(s)
Tagged: 0 Thread(s)
Quoted: 2 Post(s)
Likes: 0
Liked 0 Times in 0 Posts
Originally Posted by
Mojo Slim
Why do we feel this way? There is some special "warm"(?) feeling from pushing ourselves a bit, and the addition of ugly conditions just make it all the better. I did a century in the wind, rain and hail. We all agreed it was one of the best times we had every had (on a bike)!
Perhaps our helmet straps are too tight?