I think Jet Travis was right

04-11-08, 07:40 PM
Let's do a Century
Join Date: Oct 2004
Location: North Carolina
Posts: 7,357
Bikes: Cervelo R3 Disc, Pinarello Prince/Campy SR; Cervelo R3/Sram Red; Trek 5900/Duraace, Cervelo P2C/Duraace, Cannondle Tandem/Ultegra, Lynskey GR260 Ultegra
Mentioned: 36 Post(s)
Tagged: 0 Thread(s)
Quoted: 331 Post(s)
I think Jet Travis was right
---
Sometimes I guess I just gotta stick my finger in the boiling water to see if it's hot.......
JT's advice was to avoid hammering for a bit with the "back pain" I picked up last Saturday. However, it got a lot better in a couple days. I was even able to play golf Monday and Tuesday. I did the Time Trial Wednesday night and while it was a little stiff I managed. Today we did the ride below and I was probably the lead anchor in a group of 8. I had to really work to stay with the group. About 20 miles into the ride I could feel the "twinge" in the lower back again.
However too far into the ride to make any adjustments so I just "hammered away"-including a time trial up the first 6 mile climb, and then pushing through two 17% stretches on the second climb.
I was amazed at how much time I spent in my upper HR zones. Max heart rate was 190+......I'm pretty trashed tonight!! Not to mention the stiff lower back!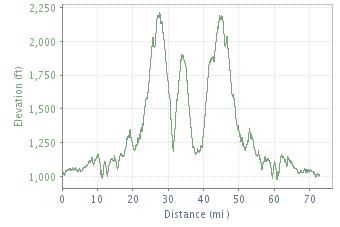 Edit: One of the guys that rode with us is 65 or 66 and is an incredibly strong rider. He did the 10 mile TT Wednesday night 2 minutes faster than me and averaged 27 mph versus my 25 mph. I was working pretty good to get up the hills on the route above using my 50/34-12/27. He was running a 53/39 with a 12/25 cassette. He struggled a little on the 17% section but breezed right along on everything else. Just incredible in my book.
---
Last edited by jppe; 04-12-08 at

06:12 PM

.

04-11-08, 07:50 PM
Small Member
One of my exercises (I was down for a month in 1980) is to lay on my back on the floor with my legs elevated to a sitting position (viewed from the side as if you were in a chair but laying on your back). An old round hassock works well for this. The leg elevation straightens out your spine and takes all the pressure off of the muscles that support the back. As long as the floor is firm and not cold, the back will get a good rest this way. Sometimes when your back is tired, 30min to a hour is great.

Resting the muscles helps to do away with the spasms and pain. The pain is from tired muscles that are working at the command of your brain to straighten you spine. Your brain knows that the nerves in the spine are being pinched and works the muscles to make the pinch go away.
__________________
We are an empire. Be sure to use it wisely.

04-11-08, 10:31 PM
Version 3.0
Join Date: Oct 2006
Location: SD
Posts: 11,250
Bikes: Too Many
Mentioned: 282 Post(s)
Tagged: 0 Thread(s)
Quoted: 541 Post(s)
Great ride as always. Good luck with your back. i am sure it will be better in the future.

04-12-08, 02:35 PM
Time for a change.
Join Date: Jan 2004
Location: 6 miles inland from the coast of Sussex, in the South East of England
Posts: 19,914
Bikes: Dale MT2000. Bianchi FS920 Kona Explosif. Giant TCR C. Boreas Ignis. Pinarello Fp Uno.
Mentioned: 2 Post(s)
Tagged: 0 Thread(s)
Quoted: 2 Post(s)
Likes: 0
Liked 0 Times in 0 Posts
Reckon you must have been mad to do a ride like this so soon after a back injury so hopefully you are paying for it now.


Me saying that and whenever I have the back problem- I find it comfortable riding the bike.
I have tried Ibuprufen and it affects me and I do not suit it- Tried Various linaments and all it does is give me distance from others due to the smell of it. Heat does not seem to help either- but a bag of Frozen peas works wonders. I was passed on this tip many years ago and if it heat does not help in pain relief- then try cold.
Luckily- our freezer is full of frozen vegetables from the Garden from last year- so I guess I had better get the peas in this weekend. All I had last week were Corn on the cob and Tomatoes. Didn't have the same pain relieving qualities.
__________________
How long was I in the army? Five foot seven.


Spike Milligan
Thread
Thread Starter
Forum
Replies
Last Post
General Cycling Discussion
General Cycling Discussion
General Cycling Discussion

Posting Rules
You may not post new threads
You may not post replies
You may not post attachments
You may not edit your posts
---
HTML code is Off
---