Fantastic Experience with Fellow Forum Member

09-03-08, 12:09 PM
Senior Member
Join Date: Jun 2008
Location: Far, Far Northern California
Posts: 2,874
Bikes: 1997 Specialized M2Pro
Mentioned: 0 Post(s)
Tagged: 0 Thread(s)
Quoted: 0 Post(s)
Fantastic Experience with Fellow Forum Member
---
Just had a fantastic experience with someone from this forum.
Simplygib is riding his bike from Portland to Sacramento, along the coast. He mentioned this
here on the forum
, and I suggested he stop by my house and spend the night.
Along the way, he's met up with several other cycling tourists, and I suggested that they all stop over. They did and we had a great time. Here we are eating dessert after a big dinner:
L to R:
Gary (Simplygib), who is blogging the entire adventure, entering all the text in his smartphone! You can read the whole thing
here
.
Mike and Jenna, who are on their honeymoon: riding their bikes from Vancouver to Chile (their blog)! Mike just finished his Ph.D. You can read about his research, about TV drug advertising, in next Tuesday's USA Today. He was doing cell phone interviews while on the trip. Mike and Jenna met while on solo bike tours across Canada.
Yours Truly + Ms. TromboneAl
Marisa aka "The Rocket" - She's from Germany, but speaks English with an Aussie accent. She's riding down to San Luis Obispo, at which point she'll hang a left and ride through Death Valley to Las Vegas.
A wonderful group, and we all enjoyed one another's company.
The next day DW and and rode along with them: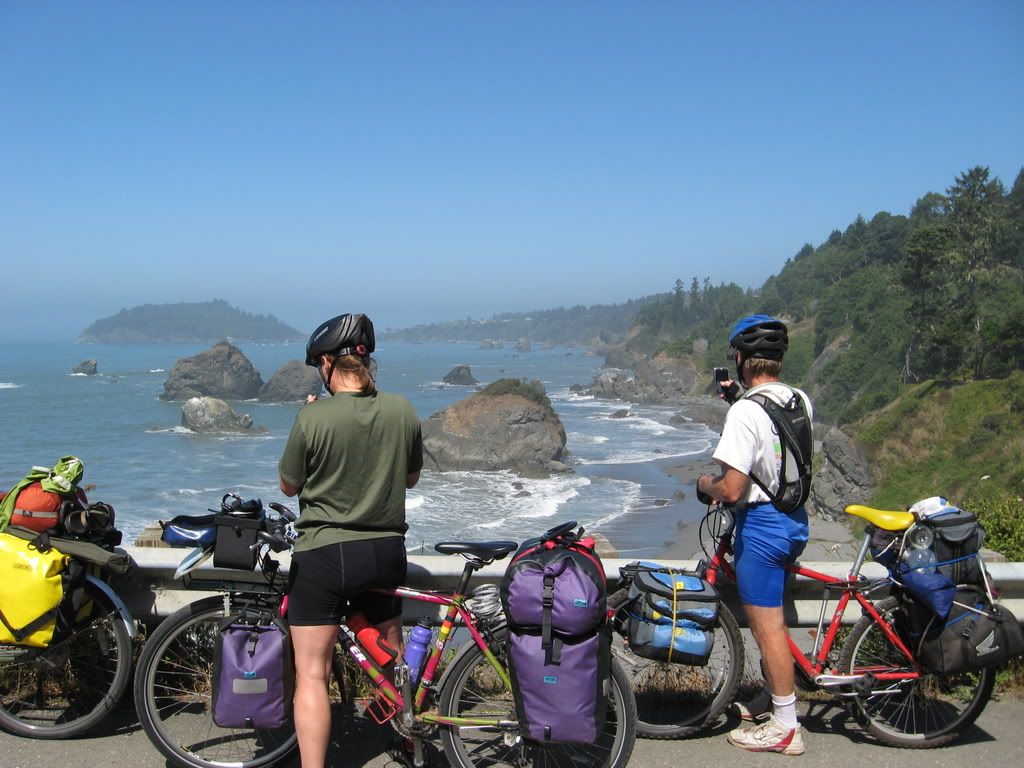 It was an unforgettable experience.

09-03-08, 02:08 PM
Senior Member
Join Date: Mar 2008
Location: Montreal, Quebec, Canada
Posts: 730
Bikes: 1976 Apollo Mk IV, mid-'80s Miyata touring bike, mid-'80s Miyata mtn bike, 2007 Trek 6500 mtn bike, 2008 Trek Madone 5.2
Mentioned: 0 Post(s)
Tagged: 0 Thread(s)
Quoted: 0 Post(s)
What a great experience.

With all those long distance cyclists in the house, it's a wonder if you have any food left at all.

09-03-08, 02:26 PM
Time for a change.
Join Date: Jan 2004
Location: 6 miles inland from the coast of Sussex, in the South East of England
Posts: 19,915
Bikes: Dale MT2000. Bianchi FS920 Kona Explosif. Giant TCR C. Boreas Ignis. Pinarello Fp Uno.
Mentioned: 0 Post(s)
Tagged: 0 Thread(s)
Quoted: 1 Post(s)
There was recently a program on the TV about a British rider that cycled round the world. I know you must eat and he was doing 100 miles a day for around 200 days- but he was eating 3 meals- straight after the other whenever he could. Something like 5,000 calories at a sitting so hope that Tromboneal had a big enough kitchen to cook for this lot.
Great to meet up with other riders-
__________________
How long was I in the army? Five foot seven.


Spike Milligan

09-03-08, 10:30 PM
Lincoln, CA
Join Date: Sep 2004
Location: Lincoln, CA
Posts: 2,229
Bikes: 94 Giant ATX 760, 2001 Biachi Eros, 2005 Giant OCR2 Composite +
Mentioned: 0 Post(s)
Tagged: 0 Thread(s)
Quoted: 0 Post(s)
Cyclists unite! It would seem that everyone had a wonderful and special experience. I'm guessing there will be more contact with that group in the future.
__________________
Truth is stranger than reality.
'96 Giant ATX 760 MTB
'01 Bianchi Eros
'05 Giant OCR Llimited Carbon Fiber + upgrades

09-04-08, 06:41 AM
TCR Advanced SL
Join Date: Oct 2007
Location: Ulah Proper N.C.
Posts: 1,043
Mentioned: 0 Post(s)
Tagged: 0 Thread(s)
Quoted: 0 Post(s)
Wow ---- really cool mix of cycling folk. I'm sure there was some very interesting conversation around the table. Lane Lp

09-04-08, 08:49 AM
Senior Member
Join Date: Feb 2007
Location: S.E. Pennsylvania, USA
Posts: 1,737
Mentioned: 0 Post(s)
Tagged: 0 Thread(s)
Quoted: 2 Post(s)
I envy such experiences. The look of your faces are those of people having a grand time. Thanks for sharing this rewarding experience with the rest of us.

09-04-08, 10:08 AM
Senior Member
Join Date: Jul 2007
Location: Memphis
Posts: 246
Bikes: 2008 Specialized Roubaix Elite Compact, 2004 Giant Cypress, 1981 Specialized Sequoia
Mentioned: 0 Post(s)
Tagged: 0 Thread(s)
Quoted: 2 Post(s)
Great post . . . good-looking group . . . fantastic coastal scenery pic . . .

And good luck to the travelers . . .

09-04-08, 02:24 PM
Senior Member
Join Date: Jul 2006
Location: Katy Texas
Posts: 5,491
Bikes: Specialized Roubaix
Mentioned: 3 Post(s)
Tagged: 0 Thread(s)
Quoted: 41 Post(s)
What a crowd of heavy duty riders. I know if they were at my house, I might be talked into going, or doing some of the trip with them. Thanks for the post.
__________________
George

Posting Rules
You may not post new threads
You may not post replies
You may not post attachments
You may not edit your posts
---
HTML code is Off
---