Let's do a Century
Join Date: Oct 2004
Location: North Carolina
Bikes: Pinarello Prince/Campy SR; Cervelo R3/Sram Red; Trek 5900/Duraace, Cervelo P2C/Duraace, Cannondle Tandem/Ultegra
Posts: 6,862
Mentioned: 6 Post(s)
Tagged: 0 Thread(s)
Quoted: 141 Post(s)
Photos of a BIG CHECK!!
---
Some of you may have heard of General Sadler who is a regular on the John Boy and Billy show. Among his many duties, General Sadler is Chairman of the Speedway Children's Charities. Today, we had the privilege of presenting him with a BIG check for $12,000 from our Carolinas Cycling Time Trial Association. Our group organizes and puts on a Time Trial Series at Lowes Motor Speedway with the Speedway Children's Charities being one of the main beneficiaries.
General Sadler was very interested in the events and asked lots of questions. He said he was going to research our event on our web site and hopes to give us a shout out on Monday's John Boy and Billy's Big Show.
Here are a couple photos of the official check presentation: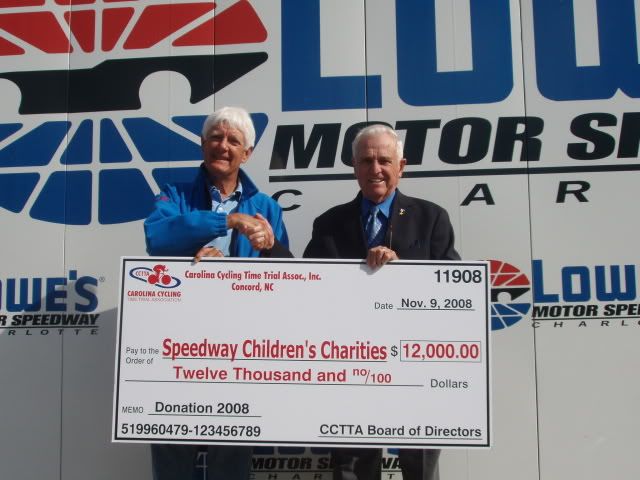 We had a record number of riders in this year's series which included 9 regular season races plus a Championship event yesterday. We're now getting cyclists that are traveling from Florida, Virginia, Georgia, etc on a regular basis to participate. Not only did we have the regular races which consisted of 10 miles over 7 laps, we did two kids events (under the age of ten), a Team Time Trial race plus we added five 40k events (24 miles) for those riders who really wanted to suffer. We have riders that range from ages 10-80 years old....and the 80 year old set another personal record this past year!! We also had a Professional Cyclist set a new Track Record where he averaged over 32 mph for 10 miles.
The leadership at the Speedway has been a tremendous supporter of the events which has provided the Speedway with another wonderful avenue for them to give back to the community at large.
The events require a tremendous amount of coordination and a large number of volunteers just to put them on. We're hopeful the series will continue in the future even with the change in track leadership.
Watch the CCTTA website for events in 2009!!